Personalised & Custom Textile & Clothing Labels
Create labels for your fashion brand
Add a professional flourish
Premium printing
10 shapes, 10 materials and 4 finishes
Easy to apply. Come on SRA4 sheets
Perfect for logos, product labels and messaging
Delivery within 5 working days
Personalised & Custom Textile & Clothing Labels
Create labels for your fashion brand
Add a professional flourish
Premium printing
10 shapes, 10 materials and 4 finishes
Easy to apply. Come on SRA4 sheets
Perfect for logos, product labels and messaging
Delivery within 5 working days
Use Our Designs and Templates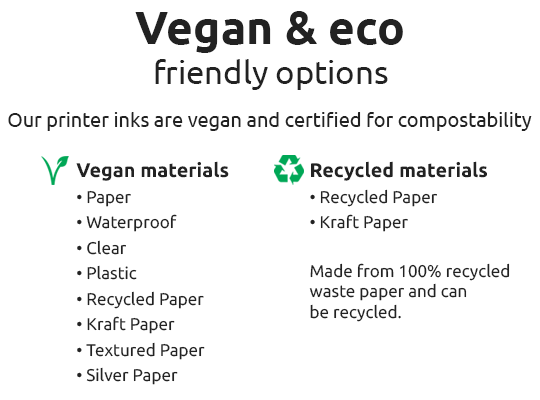 Make your own personalised textile and clothing labels
Are you looking for personalised textile labels to go on clothing or fabric? Maybe with your customised logo or product details to help your customers see what you are selling, we help many fabric and textile customers customise to find the right label for the job so get in touch if you have any questions. These labels are fully customisable so you can do whatever you like with them.
We would highly recommend if you're going to stick a label directly onto your clothing or fabric that you use our waterproof label material as it has the strongest durability properties and will be the longest-lasting label. All are labels permanent adhesive however fabric and its fibres can mean some labels don't adhere perfectly.
If you would like to try a sample pack, we offer a free version with all-out materials. Let us know and we can send it to you directly. Once you have made up your mind, we can help with any questions about the print or design process. We always like to hear from our customers.