Personalised & Custom Pottery & Ceramic Labels
Add brand personality to your handmade pottery and ceramics
Add the Finishing Touch to your Handmade Pottery or Ceramic Products
Premium printing
10 shapes, 10 materials and 4 finishes
Easy to apply. Come on SRA4 sheets
Perfect for logos, product labels and messaging
Delivery within 5 working days
Personalised & Custom Pottery & Ceramic Labels
Add brand personality to your handmade pottery and ceramics
Add the Finishing Touch to your Handmade Pottery or Ceramic Products
Premium printing
10 shapes, 10 materials and 4 finishes
Easy to apply. Come on SRA4 sheets
Perfect for logos, product labels and messaging
Delivery within 5 working days
Use Our Designs and Templates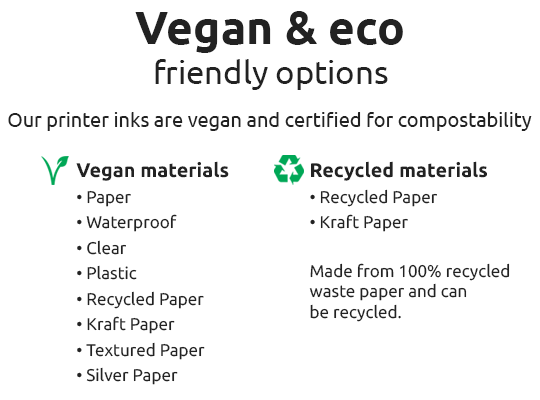 Make your own Personalised Pottery and Ceramic Labels
You've made your beautiful creations and you're now thinking of personalising a label for the final touch. We make many labels that suit pottery and ceramics.
If you would like a label to go on packaging such as tissue paper around your pottery, we would suggest looking at our range of paper labels which includes luxury cream textured paper which is perfect for upselling if you want your pottery to look fancy. If you would like a recycled label with more of a rustic feel we would recommend our brown Kraft paper which is perfect for looking organic and handmade. If you would like your design to sit on paper we have simple plain paper labels too.
As all our labels have permanent adhesive we would suggest that you do not stick any of our labels directly to your ceramics as there is a high chance they will take off pottery. If you'd like any more information on our label material, please feel free to give us a call and we will happily send out a free sample pack.