Personalised & Custom Pet Food Labels
Compliment your pet food packaging
Compliment your pet food packaging
Premium printing
10 shapes, 10 materials and 4 finishes
Easy to apply. Come on SRA4 sheets
Perfect for logos, product labels and messaging
Delivery within 5 working days
Personalised & Custom Pet Food Labels
Compliment your pet food packaging
Compliment your pet food packaging
Premium printing
10 shapes, 10 materials and 4 finishes
Easy to apply. Come on SRA4 sheets
Perfect for logos, product labels and messaging
Delivery within 5 working days
Use Our Designs and Templates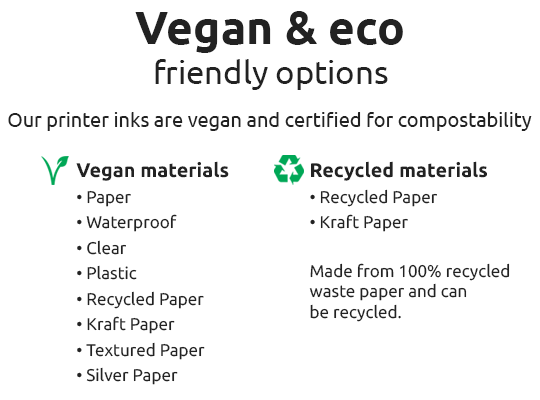 Make your own personalised pet food labels
Are you looking for personalised pet labels to be professionally printed? Many of our customers customise labels for their pet shop, pet food bags and tins. Whether you run your own homemade pet food affair and sell online and if you are a vet clinic that makes specialist food for dogs with alleges, we have a large collection of label materials, shapes and sizes to help you make your perfect label. Take a look at customers we highlighted above, maybe see if one of their labels are similar to what you looking for. If you have paper pet food bags ready to be labelled up then we would suggest you look at our paper range. This includes plain white paper, cream texture paper and our brown Kraft paper. If you think your pet food labels will come into contact with a large amount of water then we would recommend our 'waterproof' material.
All labels are completely customisable with any design you would like to add. All our labels are permanent and stick well to many different types of materials - plastic, aluminium, card, paper. If you have any questions about the design or print process then please get in touch with one of the team as we're always here to help. We have many different pet food label queries so we can expertly help.
Many of our customers run a short test order to first double check font size against their product. Sometimes fonts can look much bigger on the screen than on the label in reality so you may be interested to do the same thing, once everything is good with your label you can o ahead and make you larger order.