Make Your Own Personalised Branded Labels
Helping your brand stand out
Customised labels for your branding
Premium printing
10 shapes, 10 materials and 4 finishes
Easy to apply. Come on A4 sheets
Perfect for logos, custom product labels, stickers and messaging
Delivery within 5 working days
Make Your Own Personalised Branded Labels
Helping your brand stand out
Customised labels for your branding
Premium printing
10 shapes, 10 materials and 4 finishes
Easy to apply. Come on A4 sheets
Perfect for logos, custom product labels, stickers and messaging
Delivery within 5 working days
Use Our Designs and Templates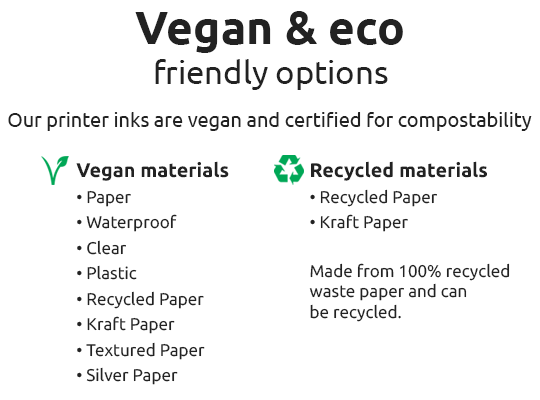 Make your own personalised branded labels
We help many of our customers with their branded labels. Adding a logo to their products helps customers know who they are combined with our high spec printer means our customers look professional. Look at our full range of material, finishes and shapes to ensure your label suits your brand perfectly.
All our branded labels stick onto a wide range of products including plastic pots, glass bottles, jars, paper, wood, metal and more. Add a little something special to your product All our labels have permanent adhesive.
We have six materials to choose from. Our paper range includes cream textured paper, original paper and brown Kraft paper. If you're looking for something more durable and hardy look towards plastic, clear and waterproof material types for your brand logos. Give us a call any time if you need extra information on materials or sizes as we have a free sample pack we can send out to you. We always love hearing from our customers.