Personalised Removable Clear Plastic Labels & Stickers
Stylish and easy to remove, with no sticky residue left
Personalised Removable Clear Plastic Labels & Stickers
Stylish and easy to remove, with no sticky residue left
Use our Designs and Templatesd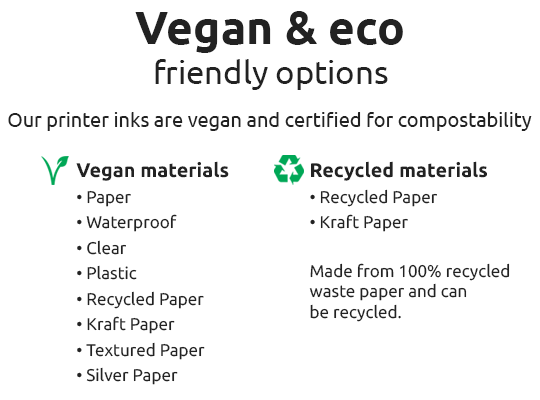 Make your own Removable Clear Plastic Labels
Love the look and style of a clear label but only need it to stay for a little bit? Then our removable clear plastic labels will be perfect for you! What's even better is that these labels are both waterproof and oil resistant, meaning you can pretty much use them wherever you want to. When it's time for the label to be taken off you can be sure that it'll be removed in one go thanks to its tearproof nature. These labels are great for packaging or for providing additional information to your customers and once removed, these labels are recyclable (and did we mention vegan?). Removable clear plastic labels are printed with our special white underprint technology to make sure that your design pops. Just make sure that when designing your label to leave the background transparent!
The finish of your label can change the feel a lot, our clear removable material is naturally glossy (no finish) but you can amp that up by using a gloss finish or add a more muted shine (matt); the choice is yours. We even offer an anti-microbial finish, to make sure that your labels stay germ-free, perfect for keeping your environment safe. Struggling to choose the right material? Worried about how clear it is? Get a material sample pack or test your design by ordering 2 sheets, our minimum order amount, to make sure you're happy before placing any large orders.
Removable clear plastic labels are perfect for a variety of situations, where you only need a temporary label. You can use them on windows, or glasses with your logo or any special information, and when you remove them, no residue will be left. They also work great if you have a sale going on or if you just want to mark some prices, without having to fight to take a label off. These labels also add a sleek and stylish touch to any products that you need a temporary label for, and won't look tacky. If a clear finish isn't what you are after why not try a removable paper label, or if you want something more permanent how about a regular clear label?