What Material should you choose for your Candle Labels?
Thinking of making or selling candles and want to know what material you should be using for your custom labels and stickers? Well, you're in the right place! We've got lots of material options suitable for candle labels, from recycled paper to waterproof plastic, you'll find what you need to make your brand stand out whilst being safe.

Don't just trust our word, thousands of our customers use different materials for their candle labels, we've compiled a list below of all the materials used; not to worry they're all heat resistant.
Eco-friendly Label Materials
Many small businesses are conscious of their environmental impact and try to reduce it as much as possible whether that be using paper packaging, soy wax or more. That can also extend to your product labels, our eco-friendly materials are made from 100% post-consumer waste.
Premium Paper Materials
Need a high-end finish for your candles or to add a bit of glam for Christmas? Our premium papers aren't just suitable for candles but they look great!
White Paper - Our Most Popular Material
Our standard paper is not only our cheapest option but also comes with a matt or gloss finish that really elevates the look. These finishes also provide protection to the print, making it long-lasting and enhancing the colour. 
Plastic Label Material in Two Finishes
These plastic candle labels with gloss or matt finish are waterproof and durable. Upgrade the white plastic by printing in full colour, making your brand stand out. 
Transparent material with matte or glossy finish
Clear plastic candle labels are probably the closest you can get to a printed-on look. They don't distract from the lovely candle container you use as they allow your label design to seamlessly blend in, especially on clear glass containers.
Waterproof or Silver Plastic Material
If you are looking for durable and conformable (stick to odd shapes and angles) for your candle labels, choose our waterproof material. Another flashy durable option is our silver plastic film labels, super thin and strong with a metallic shine.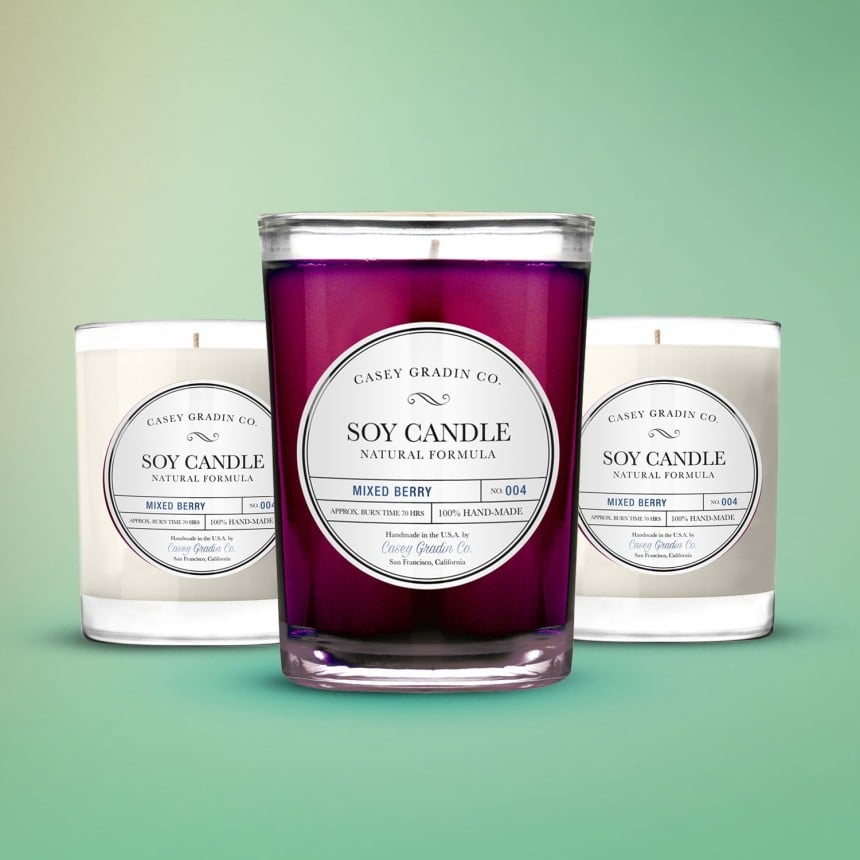 What material is used for candle labels?
Any material can be used for candle labelling as long as it is temperature resistant. The melting point of wax tends to be 50 to 80 degrees celsius so it is reasonable to assume the top temperature for a candle jar would be over 80°C. Our label materials and adhesives are temperatures tested for both minimum and maximum temperatures; they'll also say stuck during temperature fluctuation.

Here's a list of materials that are used for candle labels: 
Papers: textured paper, white paper, kraft paper, gold paper, recycled paper
Plastics: white plastic, clear plastic, waterproof plastic, silver film,