Reward Stickers
Reward stickers are a great way of encouraging children to work towards a goal. Whether you are a teacher looking for motivational stickers for students, or a parent looking to encourage chores, a star reward chart is a great way for children to learn. 
From celebrating attendance and good behaviour, to sports days and birthdays, personalised reward stickers can make all the difference when motivating and rewarding. Our custom reward stickers are available in various shapes and sizes so you can have teacher reward stickers for all occasions!

Plus, by using our Design & Print software, you can also print your reward stickers at home, or we can deliver them to you with FREE DELIVERY on orders over £40.
Design your Reward Stickers & Labels
Whether you need reward stickers to motivate children, or simply to celebrate their great work, we have made it easy to create the perfect sticker chart! At Avery, we have two customisation options:
Our blank labels come in a variety of different shapes and sizes, with one of our most popular shapes being the round reward stickers! We highly recommend using our free Design and Print software for your Avery products to get the best results when customising at home!
Upload your own design from any of your devices on our personalisation tool. You can choose from a range of colours, materials, sizes and shapes to add a personal touch to your reward stickers.
Not sure what design to use? We have our own Twinkl Design Gallery for your child's favourite characters. Or take a look at our range of templates for a range of design inspirations for your reward stickers.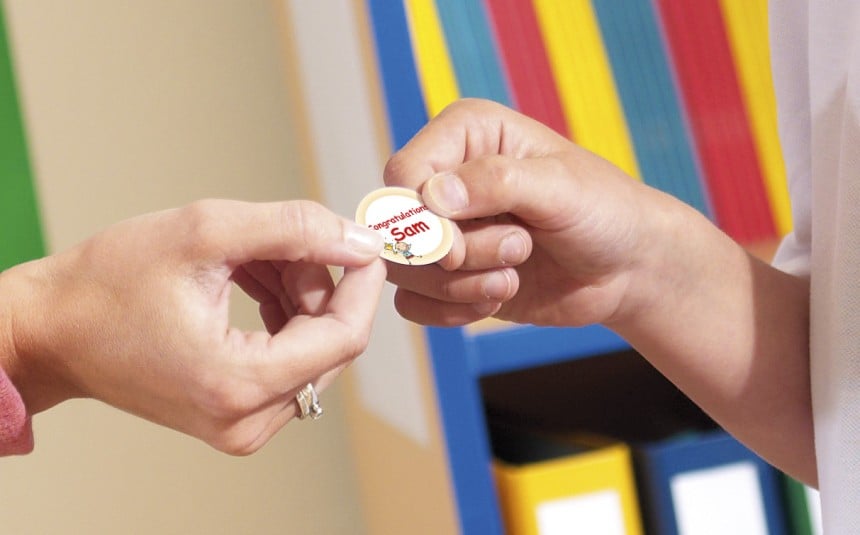 What can Reward Sticker Labels be used for?
Using reward stickers at home or school can be a great way to celebrate achievement, increase emotional well-being and self-confidence!
A star reward chart is eye-catching and universal to celebrate all achievements! We have a range of gold and assorted colours stars to choose from so you can also pick different colours for different achievements! We also have a range of recycled and eco-friendly labels so you can ensure that once your child has reached their goal, you can dispose of them in an eco-friendly way!
You can use our sign pockets to protect, display and store your sticker chart while having it easily accessible. Check out our guide which includes tips and recommendations when making your own teacher reward stickers and charts.

Plus, with our Design and Print software, you can design your own reward stickers and print them at home! We highly recommend using our Avery products while using our free design software for the best results.
FAQs
What is a reward sticker?
Reward stickers are used for motivating children and acknowledging good behaviour. They are great for celebrating achievements with young children, and personalising a sticker chart can increase their self-confidence and give them a sense of pride!
Do reward stickers work?
Reward stickers are great to use within a home and school setting, but there are a few important things to note when making your reward system:
 
Be clear which type of behaviour they are working to improve
Make the reward clear and achievable from the start
Ensure it's meaningful and personalised
If you need more support with creating the perfect star reward chart, check out our guide on making reward stickers and charts.
What should be included in a reward chart?
A sticker chart can come in the form of a poster, calendar, star reward chart or game and shows a child that they will be rewarded when they do something positive.
When creating a sticker chart for younger children, include bright colours and their favourite characters. Use our Twinkl Gallery for a range of character templates for your sticker chart.