Sign Pockets, l7083, 10
221 x 304 mm, repositionable
Content
10 Labels / 10 Sheet
£18.44
Free for UK orders over £40
Standard Delivery £3.98
All prices incl. tax and if applicable plus shipping costs.
Ideal for frequently changing signs and notes
Perfect for events, menus, certifications and much more
Sign pockets are adhesive plastic wallets into which you can insert A4 sheets of paper
Sign pockets adhere with strong, but removable adhesive, which won't ruin your walls or windows
Save time with our FREE, easy-to-use template software; Avery Design and Print
Description
Save time and avoid laminating with Avery Adhesive Sign Pockets. These hard wearing plastic pockets protect information instantly. Peel off the backing paper and stick on a smooth surface. Then simply slip your A4 sheets in and out when you want to update. No need to laminate your signs, or hunt around for sticky tack or glue. The adhesive backing is safe for all surfaces and is removable without residue. Ideal for regularly updated information, eg. Food safety certification, for weekly menus, rotas or messages.
With our free template software, Avery Design & Print, it's even easier to design and print your signs to go inside these handy pockets. Choose from customisable template or create your own completely new design for a smart, professional looking sign.
Specification
Adhesive Type
repositionable
Content
10 Labels / 10 Sheet
Facts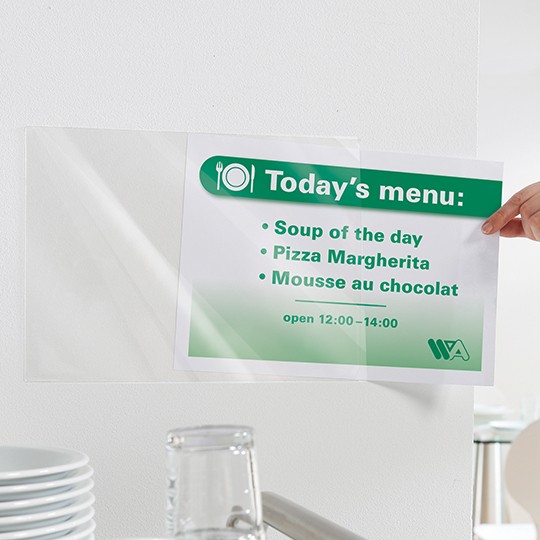 Changeable signage
Where information gets changed a lot, notice boards and walls can become worse for wear. Avery Sign pockets solve this problem, by giving you a way to display information that is easily changeable. The sign pockets adhere well but are removable meaning they wont damage your walls or windows.

Removable labels
Perfect for your short term labeling requirements. Avery removable labels will easily peel away without leaving behind any residue or marks.