Personalised & Custom Address Labels
Save Time and provide a Great Finish
Perfect your Address Labels
Premium printing
10 shapes, 10 materials and 4 finishes
Easy to apply. Come on SRA4 sheets
Perfect for logos, product labels and messaging
Delivery within 5 working days
Personalised & Custom Address Labels
Save Time and provide a Great Finish
Perfect your Address Labels
Premium printing
10 shapes, 10 materials and 4 finishes
Easy to apply. Come on SRA4 sheets
Perfect for logos, product labels and messaging
Delivery within 5 working days
Use Our Designs and Templates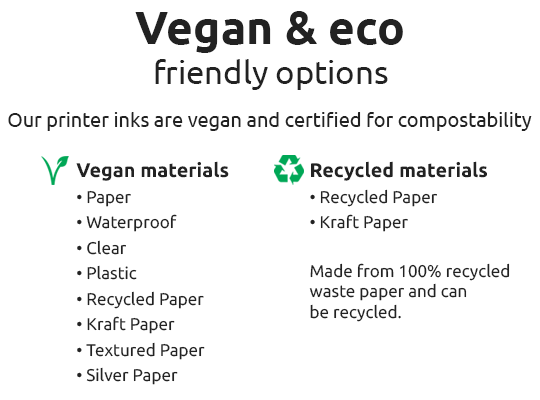 Make your own personalised address labels
Many of our customers are small businesses or professionals looking to send out packages with professionally looking address labels. We print premium quality labels which you can customise to include a logo, branding or messaging when sent in the post.
We would like to make you aware that you cannot upload one address per label as our software only allows batches. For example, if you choose a minimum quantity of 80 x 45mm you have to order 24 labels with the same address. To get around this you can order address labels with your logo included and leave the address blank and write this. The benefit of this is that you can get professionally printed labels that include your logo and you can be flexible with the addresses you need.
If you think your address labels will get wet please use a waterproof material however if you think your packages will only get moisture at best then all our materials will suit you. If you would like a free sample pack with all materials, sizes and shapes get in contact. We are always happy to help.