Make Your Own Personalised Tea Labels
Get ready to show off your tea!
Make Your Own Personalised Tea Labels
Get ready to show off your tea!
Use Our Designs and Templates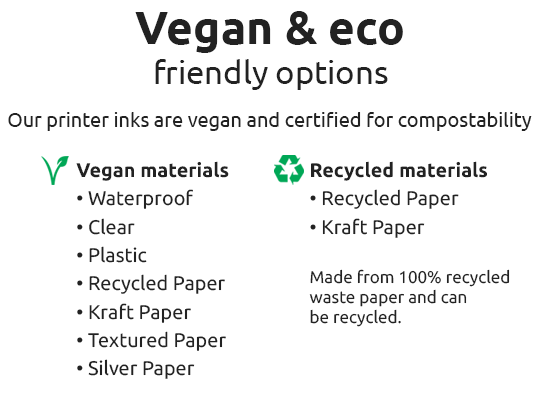 Make your own personalised tea labels
Are you a small business or individual looking to personalise tea labels? Completely customise labels for tea bags, tins, pots and packets. We have many tea shop customers who use labels for their logos, messages or ingredients. If you're looking to differentiate yourself against the crowd then look at our different range of label shapes, perhaps try a straight oval if you're looking for a rectangle for packaging but with large curved edges. We have a big collection of simple rectangle labels too, right up to A4 so you can display them on the front of your tea boxes.
Our personalised round labels come in all sizes up to 200mm. If you're thinking of sealing tea bags, you can add your logo labels over the seam to hold tight. If you're looking for a crafty or rustic tea shop look for brown tea bag packages then we recommend you look at our brown Kraft labels. They are made from 100% recycled waste paper and are biodegradable. They are the most eco-friendly and 'sustainable' label materials we offer. Take a look at our plain white paper and cream textured paper if the brown colour may not work well with your product.
Many of our customers make a small first order just to check their tea font size and design looks correct, if at this stage there are any final amendments that we can help with then give us a shout and we'll be more than happy to help out before you proceed with your final larger order. If at any point you would like a free sample pack with all our tea label materials, sizes and shapes then get in touch and we'll happily send it out to you.