Make Your Own Personalised Juice Labels
Professional Labels for all your Juice Batches
Get the Right Label for your Product
Premium printing
10 shapes, 10 materials and 4 finishes
Easy to apply. Come on A4 sheets
Perfect for logos, product labels and messaging
Delivery within 5 working days
Make Your Own Personalised Juice Labels
Professional Labels for all your Juice Batches
Get the Right Label for your Product
Premium printing
10 shapes, 10 materials and 4 finishes
Easy to apply. Come on A4 sheets
Perfect for logos, product labels and messaging
Delivery within 5 working days
Use Our Designs and Templates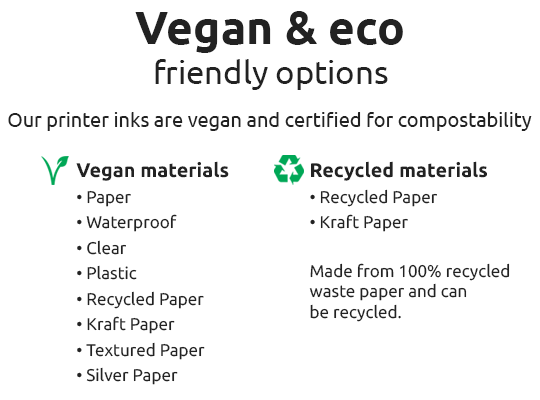 Make your own personalised juice labels
We help many juice makers and small businesses look professional in the marketplace. Whether you make carrot juice, tropical juice or peppermint juice you can order a small test order of labels to see the results before coming back once you're happy to purchase a larger order. Let us help you personalise juice labels so your juice stands out from the crowd by looking both professional and eye-catching.
First, we recommend you look and measure your juice bottles or cartons to get an idea of the label size you're looking for. Would you be interested in our 'wrap around' label? This is a long thin rectangle shape commonly used on bottles - 125 x 35mm. If you match your design to these dimensions, the print will come out look high quality. Alternatively, we make all-round labels up to 200mm. Maybe also have a look at different label shapes to stand out from the crowd (straight oval, hexagon, scallop). Standing out from the crowd is important especially when you're beginning. So think carefully about your design and your label shape.
Secondly, we suggest you look at the materials, all are permanent and long-lasting. If you need your juice label to be waterproof take a look at our waterproof, clear and plastic materials. Give us a call if you need help through the design or print process, we always love hearing from our customers.