Make Your Own Coffee Cup Labels
Add Luxury to your Coffee Packaging
Create the perfect label for your coffee
Premium printing
10 shapes, 6 materials and 3 finishes
Easy to apply. Come on A4 sheets
Perfect for logos, product labels, stickers and messaging
Delivery within 5 working days
Make Your Own Coffee Cup Labels
Add Luxury to your Coffee Packaging
Create the perfect label for your coffee
Premium printing
10 shapes, 6 materials and 3 finishes
Easy to apply. Come on A4 sheets
Perfect for logos, product labels, stickers and messaging
Delivery within 5 working days
Use Our Designs and Templates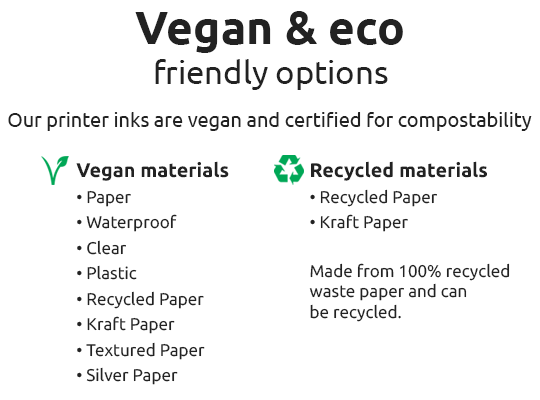 Make your own personalised coffee labels
re you a small business or individual looking to customise your own coffee labels? Completely customise labels for coffee bags, tins, pots and packets, we have many coffee shop customers who use labels for logos, messages or ingredients. If you're looking to differentiate yourself against the crowd then look at our different range of label shapes, perhaps try a straight oval if you're looking for a packaging seal.
If you think your coffee labels will come into contact with a considerable amount of water then we suggest you look at our waterproof labels that are long-lasting and reliable. If you think they need to be water-resistant but not as heavy duty and hardy as waterproof, then our clear or plastic will suit you. If you would like to use one of our three paper materials (cream, white and brown Kraft), these give a more handmade or handcrafted feel. These three can withstand water but not a large amount, your design will not be damaged if you wipe away water with a dry rag quickly.
If you have any questions about the design process or would like a free sample pack, then please get in touch. The sample pack includes all materials, shapes and sizes so you can choose at-home before ordering online.