Make Your Own Smoothie Labels
Customise with Professional Smoothie Labels
TREAT YOUR CUSTOMERS WITH SMOOTHIE LABELS AS UNIQUE AS YOUR PRODUCTS
Premium printing
10 shapes, 10 materials and 4 finishes
Easy to apply. Come on A4 sheets
Perfect for logos, product labels and messaging
Delivery within 5 working days
Make Your Own Smoothie Labels
Customise with Professional Smoothie Labels
TREAT YOUR CUSTOMERS WITH SMOOTHIE LABELS AS UNIQUE AS YOUR PRODUCTS
Premium printing
10 shapes, 10 materials and 4 finishes
Easy to apply. Come on A4 sheets
Perfect for logos, product labels and messaging
Delivery within 5 working days
Use Our Designs and Templates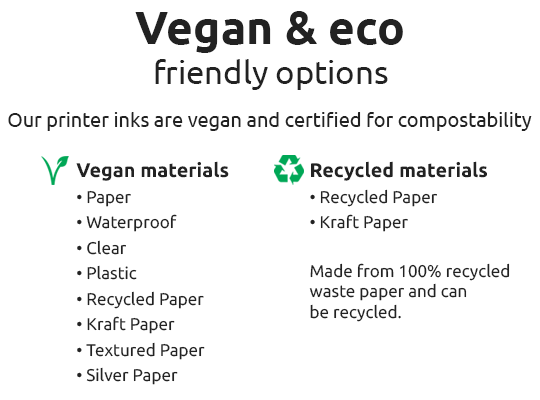 Make your own personalised smoothie labels
You make smoothies, do you? Well, you're very fashionable right now and on-trend in the drinks world. We help many smoothie makers and companies with the labels making sure they look professional when they take their smoothies to market whether in a small local shop, supermarket or sell online.
The first step we recommend is to measure your smoothie bottles. Find the label area and match it to our label range. Maybe you would like to think outside the box and have a square or round label instead of a rectangle. You may think we are crazy but if you want to catch the eye of new customers it is a good idea to stand out amongst your competitors. If you don't have a design, then look online to get inspiration. If at any point you need to double-check our range against your bottle then why don't you order a free sample pack from us? We will happily send out our pack which includes all our materials, shapes and sizes.
Once you have your design, take a look at our materials and work out if your smoothies will come into contact with water. This will help navigate through our selection. If you need a waterproof label then choose from our waterproof, clear and plastic range. If it doesn't need to be waterproof then pick from out paper range which includes our cream textured paper, paper and brown Kraft paper which are very popular for professionals looking for an organic or rustic style.