Make Your Own Plastic Bottle Labels
The taste of satisfaction with our labels
Get professional labels for your bottles
Premium printing
10 shapes, 10 materials and 4 finishes
Easy to apply. Come on A4 sheets
Perfect for logos, product labels and messaging
Delivery within 5 working days
Make Your Own Plastic Bottle Labels
The taste of satisfaction with our labels
Get professional labels for your bottles
Premium printing
10 shapes, 10 materials and 4 finishes
Easy to apply. Come on A4 sheets
Perfect for logos, product labels and messaging
Delivery within 5 working days
Use Our Designs and Templates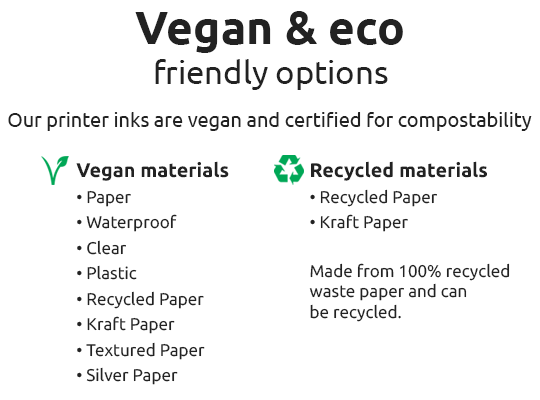 Make your own personalised plastic bottle labels
Are you a small business or individual looking to label up your plastic bottles? Are you on the hunt for the perfect label for your bottle? If you have your design finalised, it's time to look at the label materials and shapes to match your plastic bottle. The first step we recommend is to measure your plastic bottle to see the area where you would like your label. This will help with the size. Think about other shapes rather than just rectangle, maybe you would like to branch out and think about using a round or square to look a little more unusual against your competitors. It's important to catch the eye of new customers.
Whether you're making juices, smoothies or homemade apple juice, if you're plastic bottles will come into contact with water we recommend you use our waterproof material which is fantastic against ice, in the fridge, freezer and can be submerged into water for many hours and not lose ink or adhesive. Whether a small business or a corporate company we cater to everyone, we offer small order runs for home producers who may only have a small batch. That's why we start at £12 so check out the lower levels if this suits you.
Give us a call if you need any help labelling your homemade products, we're always here to help and can send out a sample pack with all-out plastic bottle labels inside (materials, sizes and shapes). If you are looking for a label to wrap around your bottle then check out the 125 x 35mm, this is designed specifically for bottles.