Personalised & Custom Bath Oils & Bath Salts
Add the finishing touch to your handmade bath oil
Customise your bath products
Premium printing
10 shapes, 10 materials and 4 finishes
Easy to apply. Come on A4 sheets
Perfect for logos, custom product labels, stickers and messaging
Delivery within 5 working days
Personalised & Custom Bath Oils & Bath Salts
Add the finishing touch to your handmade bath oil
Customise your bath products
Premium printing
10 shapes, 10 materials and 4 finishes
Easy to apply. Come on A4 sheets
Perfect for logos, custom product labels, stickers and messaging
Delivery within 5 working days
Use Our Designs and Templates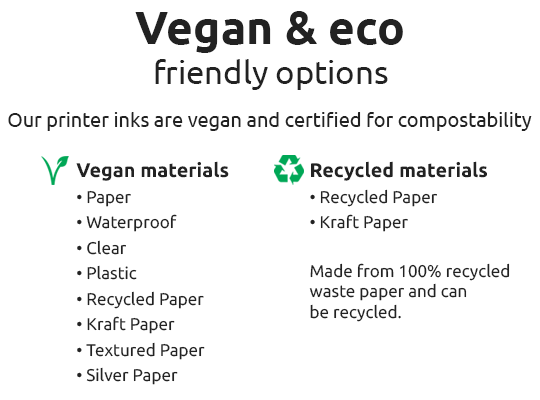 Make your own personalised bath oil labels
Many of our customers use us for both oils and bath salts labels, we have a range of waterproof labels that look professional and premium for customers who are selling online, at a market or in a shop. Our premium printing suits small businesses looking for colourful and vibrant labels in many shapes and sizes.
We recommend that you first work out if your bath oil and salts labels will need to be 100% waterproof or if you can just need to be wipeable. All our materials of wipeable however if you're looking for a specialist waterproof material we suggest picking the waterproof as this label can be submerged in ice or water for many hours and still adhered to the bottle and have no ink changes. Check out our customer Fizzy Fuzzy
When it comes to size and shape, many customers use round. Our round labels go all the way up to 200mm, ideal for logos or ingredients. Once your design is ready perhaps order a small sample quantity to test you are happy before ordering a larger number. Feel free to call us at any point if you need any help with materials shape or sizes. We always love hearing from our customers.