Matt Labels or Gloss Labels
Everything you need to know before choosing a label finish.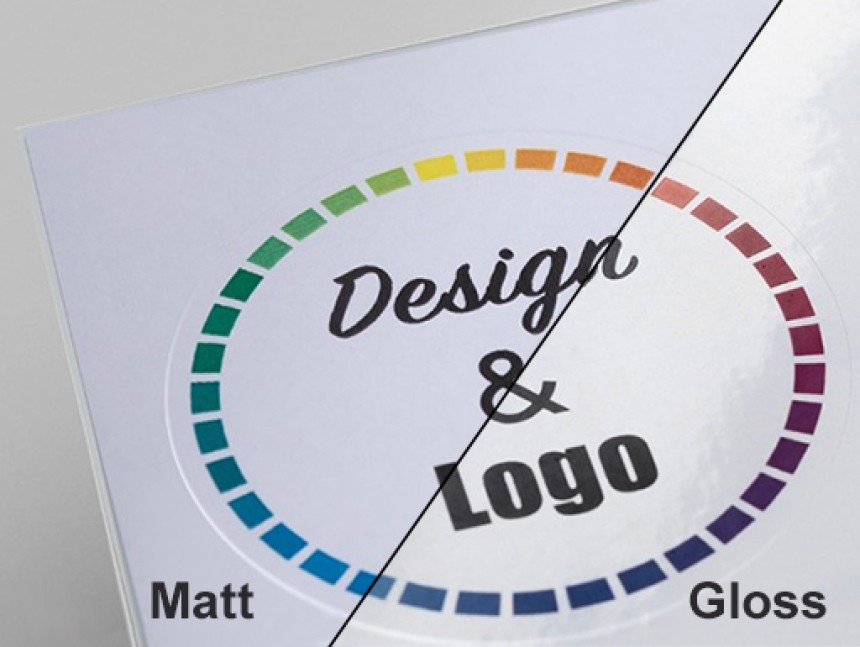 Matt labels : pros and cons
The most popular choice! Matt labels give an elegant muted look to your products and packaging. Depending on the design, they can look authentic or sophisticated.
Pros :
Colours come out soft and luxurious
Pleasant velvety feel
Improve text legibility
No glare when exposed to direct light
Cons :
They can come across as plain and flat: play with your design and your colour palette to make the labels stand out.
Dark colours can appear lighter than on glossy labels
We offer both matt blank labels and matt custom printed labels.
Glossy labels : pros and cons
Time to shine! Glossy labels reflect light from every angle and give a shiny polished look to your products and packaging. Depending on the design, they can look playful or premium.
Pros :
Colours come out bright and vibrant
Photo-finish quality
Eye-catching effect guaranteed
Smooth to the touch
Cons :
Their reflective surface may prevent barcodes and QR codes from scanning correctly and can make text harder to read under direct light
Fingerprints are more visible
We offer both glossy blank labels for inkjet or laser printers and glossy custom printed labels.
Matt or gloss: how to choose ?
How do you want your brand to be perceived? What emotions do you want your customers to feel? Here are a few tips to help you choose between matt and gloss labels.
First, think about eye shadows, cashmere sweaters and suede shoes. Their deep colours and silky textures give them a comforting and elegant look. If you are looking for something authentic, timeless and sophisticated, we recommend matt labels.

Now think about nail polish, car paint and fashion magazines. Their gorgeous luminous colours and reflective surfaces grab your attention. If are looking for something playful, bold or glamorous, glossy labels would be a perfect choice.


Matt or glossy clear labels: what is the difference?
Matt clear labels are more translucent than transparent. Think of it in terms of a frosted window where you can see through it but items are not clearly visible. That's a good choice for frosted glass containers.
Glossy clear labels are completely transparent. When you apply glossy clear (personalised or blank) labels to a glass or plastic jar or bottle, it disappears, making it look like your design was directly printed on the container.
Should I add a varnish to my custom-printed label?
If you want a natural look with texture, you can get your labels printed without varnish. However, to keep them looking good for a long time, we highly recommend considering a protective varnish. Our matt and gloss varnishes extend the life of your labels by protecting them from exposure to moisture, abrasion, light, scuffs and smudges.
To summarize, matt labels or gloss labels, what should I choose?
Matt labels are authentic yet sophisticated, colours come out soft and luxurious
Gloss labels are eye-catching, colours come out bright and vibrant
Choosing your label finish depends on the brand image you want to convey
Matt clear labels have a frosted look and gloss clear labels become invisible
Adding a protective varnish to your labels when using our print service will extend their life