How to Print Labels
All you need to know about designing and printing labels
If you have ever wondered how you can print using blank labels and turn a blank sticker sheet into a printed label, this comprehensive guide is here to walk you through the entire label printing process. Avery has had decades of label printing experience and has collected our knowledge to give you all the information you will need on how to print labels from home or the office.
Step 1. Choose the right label for your printer.
The first step towards printing labels successfully is making sure that you're buying the right labels for your printer. Inkjet and laser printers work differently and while some labels will work with both, many have been engineered to work with one or the other for the best print quality. If you use laser labels in an inkjet printer, the printer ink will not absorb into the label properly which causes smearing. Likewise, if inkjet labels are used in a laser printer, the toner will not adhere properly and will begin flaking. Always check your Avery packaging to see what printer your labels are made for.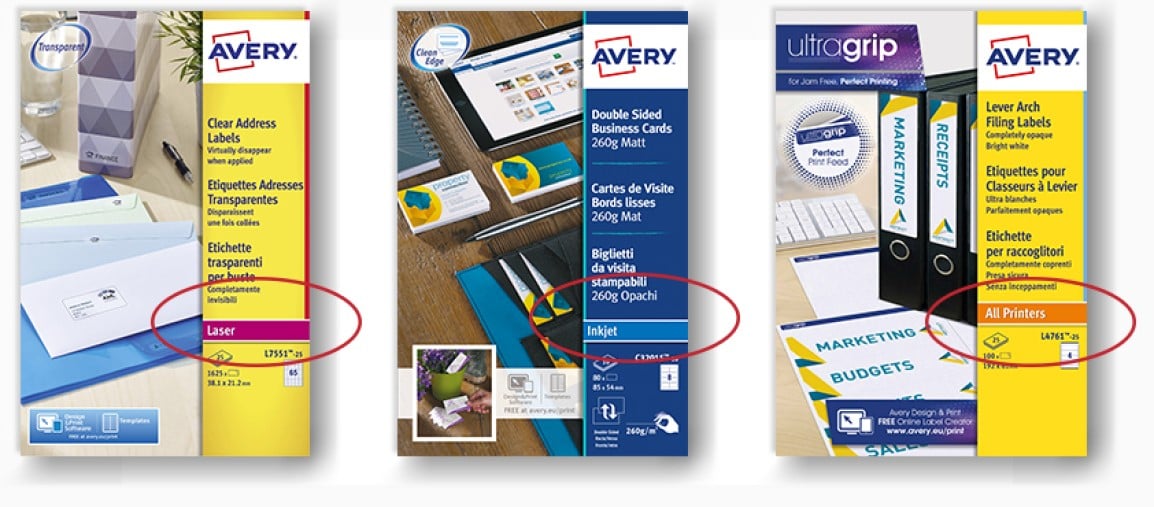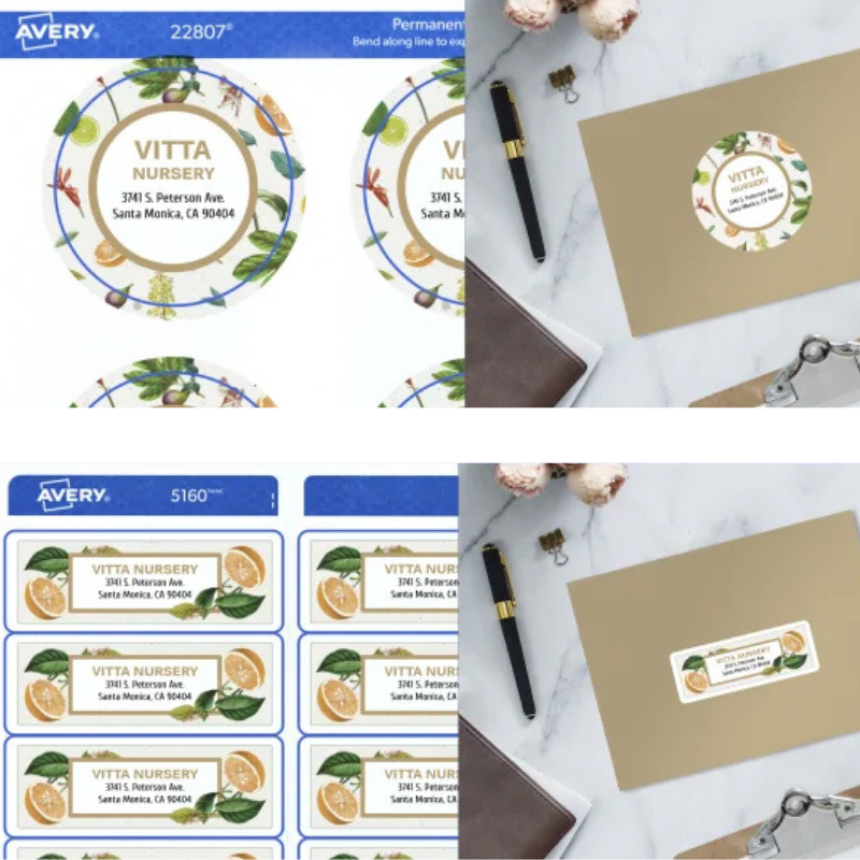 Step 2: Choose the right label shape and size.
Before purchasing your labels, think about what might look best for what you will be applying your printed labels too. Do you just need to add text? If so, you can use an Avery label where the label edges touch each other. These labels are ideal for projects that are less design-intensive because no print will go beyond the edge of the label into the next label. This condensed layout allows for more labels per sheet, making them a more cost-effective option.

Do you want your design to have a full-colour background? Or do you want images to print to the edge of your labels? If this is the case, it is really important to purchase Avery labels that support "Full-Bleed" or "Print to the edge". Make sure that on your label sheet that none of the labels touches each other. This will mean your design can flow beyond the cut-line of the label, so when you peel it off the backing sheet there is no white border.
What size should my label be? Check out our specific guide on how to select the correct label size. This guide will walk you through the various options depending on what you want to use your label for.
Once you have bought the right labels, keep them stored in the original packaging and in a cool, dry location, as humidity can cause your label sheets to curl up. Having the original packaging will be helpful when you need to reference the template number or check the printer type.
Step 3. Use the correct Avery Template
A common mistake that leads to print misalignments is using the wrong label template with the wrong product. Check your label packaging or the sheet of Avery labels itself to find the product or template number. You can then use that code to search our Design & Print label designer for the exact label template that you need. You can also see our blog on where to find my Avery Software Code for further instructions.
Step 4. How to design your Label
Our free to use, Avery software: Design & Print Online is the best way to design your Avery labels. Not only does Design & Print offer thousands of pre-designed templates for you to customise, but it will also guide you through the designing process.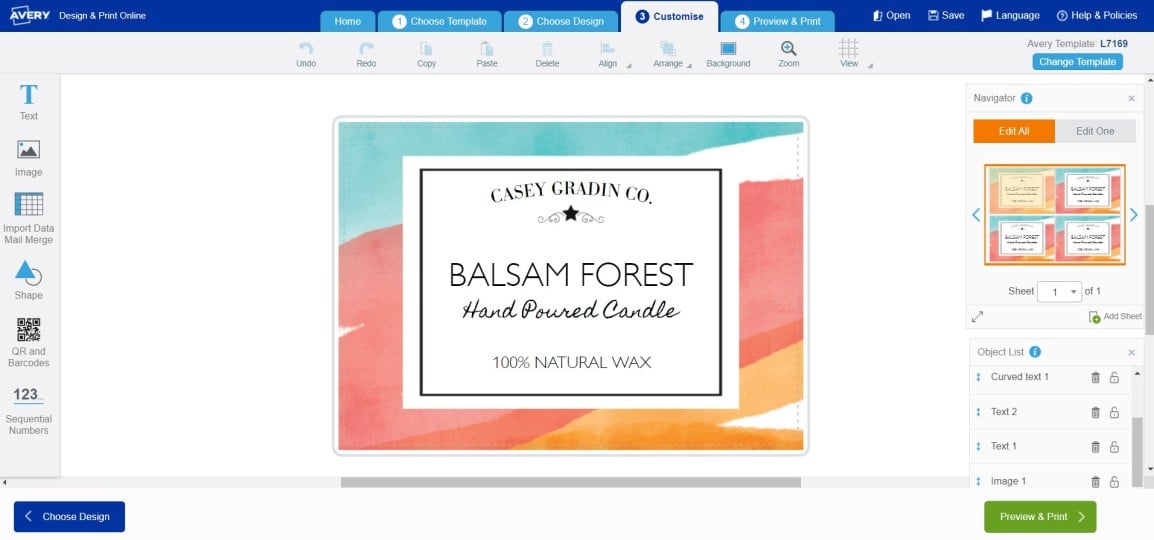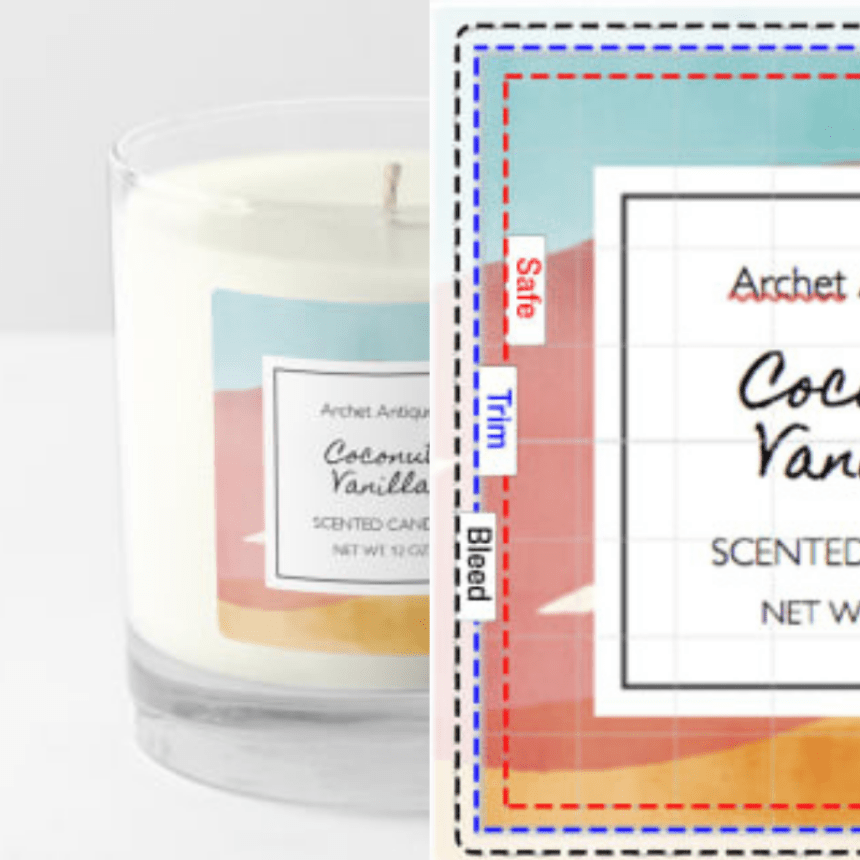 It's important to understand how much of your label space is printable to prevent crucial parts of your design from getting clipped when printed. The printable area of a label will be divided into three sections:
Safety Area: The section that is guaranteed to print. Keep all of your important content such as text and business logos within this area.
Trim The physical border of the label. This border will give you a good approximation of where your design will be cut off.
Bleed or Print-to-the-Edge Area: The extra design space outside the trim line that full-colour backgrounds, images and other content fills in order to have a print-to-the-edge or full-bleed effect. Filling in this area ensures that there will not be any blank margins around your final label. Not all labels are compatible with full-bleed designs so this line will only appear if the product you are printing on can print to the edge.

Keep vital information like names and addresses within the safety area of your label to reduce the chance of anything getting cut off.  Design & Print makes this easy to do by showing a warning when your content is out of the printable area.
You should also make sure that your text will be legible when printed at the actual size. Your font may seem readable when the entire label is filling your screen but it can look very different once printed. Try to use 7pt font or larger depending on the size of your label. Design & Print will display a warning if your font size seems like it will be too small to read.

Also make sure that your font colour will stand out and won't blend into the background. If you want to learn more, you can check out our article on how to choose the right font for your labels.
We have many other articles and demonstration videos on how to use Design & Print to design your labels. You can find them all in our Design & Printing help hub. This article will continue to concentrate on how to get the best print results when printing labels.
Step 5: Pre-Print Procedure
Before you print labels, the top three printer settings to check are your paper size, paper type and the page scaling. However, this can be tricky since these settings can be named in different ways depending on your printer manufacturer.
Paper Size
In printer settings, the "sheet size" or "paper size" setting controls how your design is scaled to the label sheet. Make sure the size selected matches the size of the sheet of labels you are using, otherwise, your labels will be misaligned. Most Avery labels come on an A4 sheet (210mm x 297mm)… but watch out, some printer defaults are set to "US Letter size" which is 8-1/2″ x 11″.
FYI - We have a separate guide for printing labels that are not A4 in size.
Paper type
The "paper type" or "media type" setting changes the speed at which the sheet is fed through your printer. Change this setting to the "Labels" option to slow down the speed and reduce the risk of misalignment. If your printer does not have an option for "Labels," you can select one of the options for "Cardstock," "Heavyweight" or "Premium" instead. In some printers, the "Labels" or "Cardstock" option will also mean that your sheet will need to be fed through another tray like the manual feed tray. The manual feed tray will provide the best results since the sheet will be fed through the printer flat. This avoids having the sheet bend and curl while travelling up multiple printer rollers.
Page Scaling
The page scaling setting should always be set to 100% or "Actual Size." Never use the "fit to the page" option, which will cause your design to shrink to the wrong size and result in misaligned labels.
Once you have these options set correctly, we recommend you make a test print on a blank sheet of printer paper to see how they come out. Mark your blank test sheet beforehand to show which side is facing up and which direction the sheet is being fed so that you can confirm exactly how to feed the label sheets.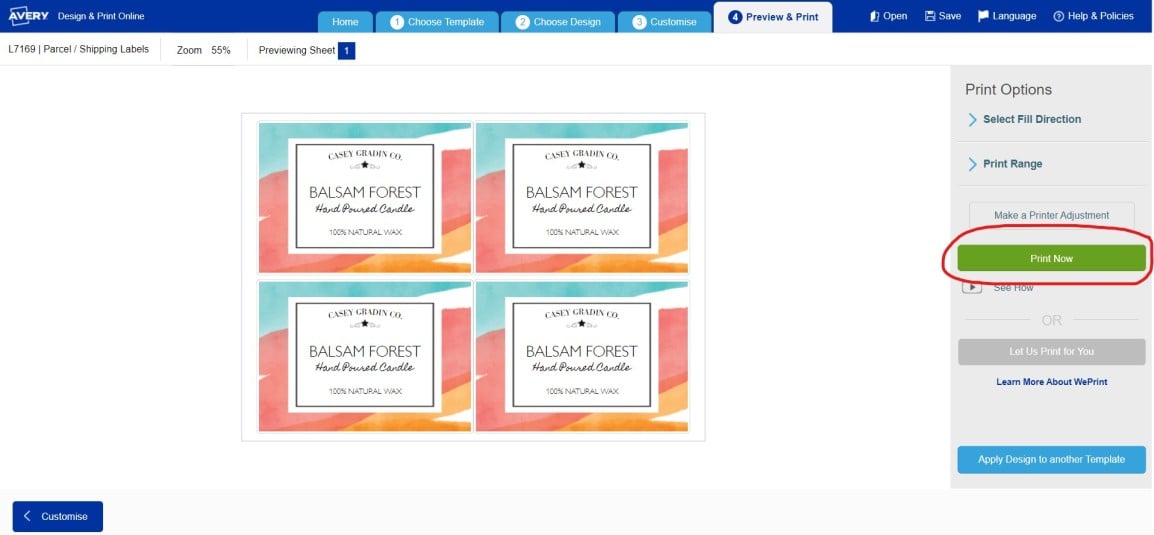 Step 6: Print your labels
You are now ready to print! Place your label sheets in the printer, according to the printer manufacturer's instructions. Back on your computer, on the Design & Print Preview & Print Tab, click Print Yourself then Print Now
For best results we recommend downloading your Print PDF and opening it with Adobe Acrobat Read, as you get more control, however you can also open the PDF in your internet browser.
When the Print PDF opens, make your final checks:
Everything on my label design is spelt correctly
All important information on my label is inside the safety line
My printer settings are set to A4 paper, Labels and scaling is set to 100% (or "actual size").
If you still need help, you can contact our consumer centre for assistance or browse our Help Hub for more answers. Not sure if printing labels is for you? Why not have our team of experts print your projects at the best quality with our WePrint printing service?
How to Print Labels - Summary
Here are short answers to our most asked questions
How do I print a sheet of labels?
Check your Avery label pack to find the template software code
Open Avery Design & Print and enter the software code
Customise the template with your text and images
Click Preview and Print and Print now
Ensure your printer preferences are set to printer settings are set to A4 paper, Labels and scaling is set to 100% (or "actual size")
Make a test print on a blank sheet of printer paper to see how they come out to confirm exactly how to feed the label sheets
How do I get my printer to print labels?
All Avery labels can be added to your printer like regular sheets of paper. You can either add them to your paper tray or feed them into the printer via a manual feed tray (if you have one). We recommend that before you print on your labels you check which way up the labels need to be (this will vary depending on your printer manufacturer). Run a test beforehand by marking a blank sheet of paper to see which side it prints on and which direction you need the label sheets to face.
What is the easiest way to print labels?
Avery have developed our own online design software called Design & Print. We recommend designing your labels using this rather than using downloaded templates because you can add images to your labels more easily and have more control with our alignment tools. Design & Print holds over 700 different Avery label templates and thousands of pre-designs for you to customise.
Can you print labels with a regular printer?
You absolutely can! Simply treat Avery label sheets like you would blank sheets of paper. Insert them into your printer's paper tray or feed the sheets through the manual feed tray. All printers are different, so make sure you check which way up to place the labels into your printer so they are printed correctly.