Warehousing Labels
Custom warehousing labels and stickers are available in all sorts of shapes and sizes. So whether you're looking to improve health and safety, increase productivity, or meet other specific needs, we have a wide range of warehouse labelling solutions that can be custom printed for you.
From hazard warnings and wayfinding signage to barcode labels, shelving and warehouse rack labels, warehouse labels are integral to an effective warehouse management system.
Choose from various types of standard blank self-adhesive labels or purchase customised warehouse stickers in an even wider choice of colours and finishes, professionally printed and delivered to your door. You can print your warehousing labels in-house with our Design & Print software, or enjoy free delivery on orders over £40.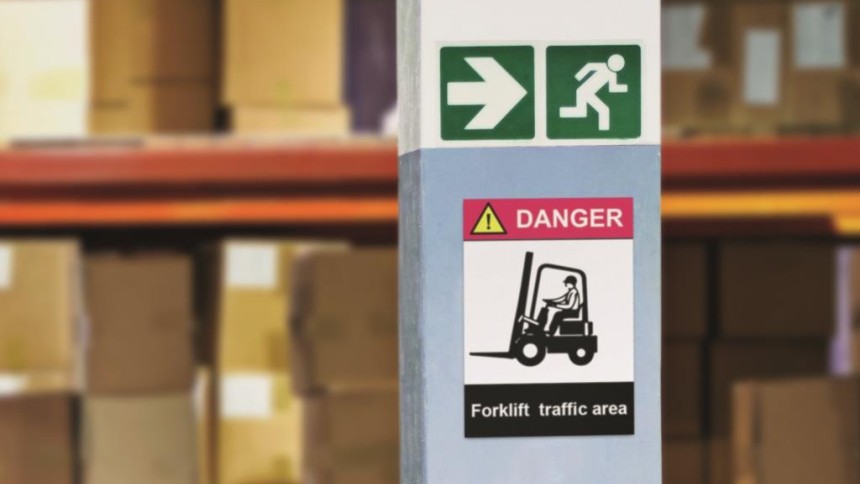 Design your warehousing labels & stickers
Creating your own custom warehouse labels is quick and easy. Simply choose your preferred label size, shape, colour and materials, and whether you want to print your own, or use our fast UK print and delivery service.
Using our free online label design software you can either upload your own artwork if you already know what you want your warehouse stickers to look like, or choose from our ready-made templates to get started today. We have a brilliant selection of templates to choose from, including warehouse rack labels and labels for warehouse shelves.
What can warehousing labels be used for?
Self-adhesive warehouse stickers offer a low-cost, flexible solution to almost any warehouse labelling need.
Starting from just £8.90, our waterproof, tear-proof and oil-resistant labels stick to almost any surface - including glass, plastic, metal and polycarbonate, and are suitable for indoor and outdoor use.
Our Ultra-Resistant label range benefits from super strong plastic that sticks to curved, rough and oily surfaces and are perfect for chemical containers, available from £15.60 for 4.
An efficient warehouse uses labels for many purposes, using a combination of permanent labels, magnetic stickers and removable signage for general warehouse identification, asset management and security tagging of manual handling equipment - even wayfinding decals and signage to reduce risk and improve staff and visitor safety.
Removable labels are ideal for managing inventory, temporary labelling and resealable packaging. Magnetic labels allow rapid updates to shelf/bin/basket contents. Opt for high durability and resistant materials to guarantee long-lasting quality signage and racking labels that look great in any modern warehouses and logistics facilities.
Be inspired and start creating your warehousing labels today with our example templates and free design tool.
Warehouse label FAQs
Where can I buy warehouse rack labels?
Whatever quantity you need, you can buy blank and custom labels for your warehouse shelves and racks from Avery online, and in-store from select retailers. 
Browse our extensive range of adhesive materials for your brand new warehousing labels, all of which are available at a great price and with a choice of print and delivery services to choose from.
How can I make warehousing stickers?
Rack identification labels and other warehouse stickers are quick and easy to make with Avery's free Design & Print software.
Need to create GHS-compliant labels? Let our GSH label wizard do the heavy lifting for you!
Our warehousing labels are available in a wide range of adhesive materials, including cream textured paper, recycled, waterproof and clear.
What type of warehousing labels are there?
Rack labels identifying locations and shelf contents make for easy stock control and inventory management, structural maintenance, and all-around more efficient warehouse logistics. 
Bold, highly-visible signage helps ensure your team, customers and suppliers can navigate their surroundings in safely, and helps ensure you remain compliant with industry regulations.