Catering Food Labels and Stickers
Whether you're tracking food rotation and use-by dates, highlighting pack quantity and contents, or simply warning of hot contents and allergens, our self-adhesive catering food labels and stickers make managing your stock and keeping customers safe, a breeze.
Sustainable or sophisticated, fun or formal, whatever message you need to convey, you can do it your way with over 1000 combinations of labels for catering food products. From simple catering stickers to personalised plaques and seals, whether you're selling your food products at a local market, or providing catering for a party, Avery has a fast and easy solution for all your catering food labelling needs.
Our Design & Print service provides a fast and easy way to add branding, dietary and safety information to pre-packaged food and drinks - just print, stick and go!
Design your catering labels & stickers
Creating your own catering stickers couldn't be easier. Simply choose from our huge range of blank labels, or take inspiration from our ready-made templates.
Use our free Design & Print service, and you'll have your new catering food labels ready in no time - plus there's FREE DELIVERY when you spend over £40.
Get started with a free template today.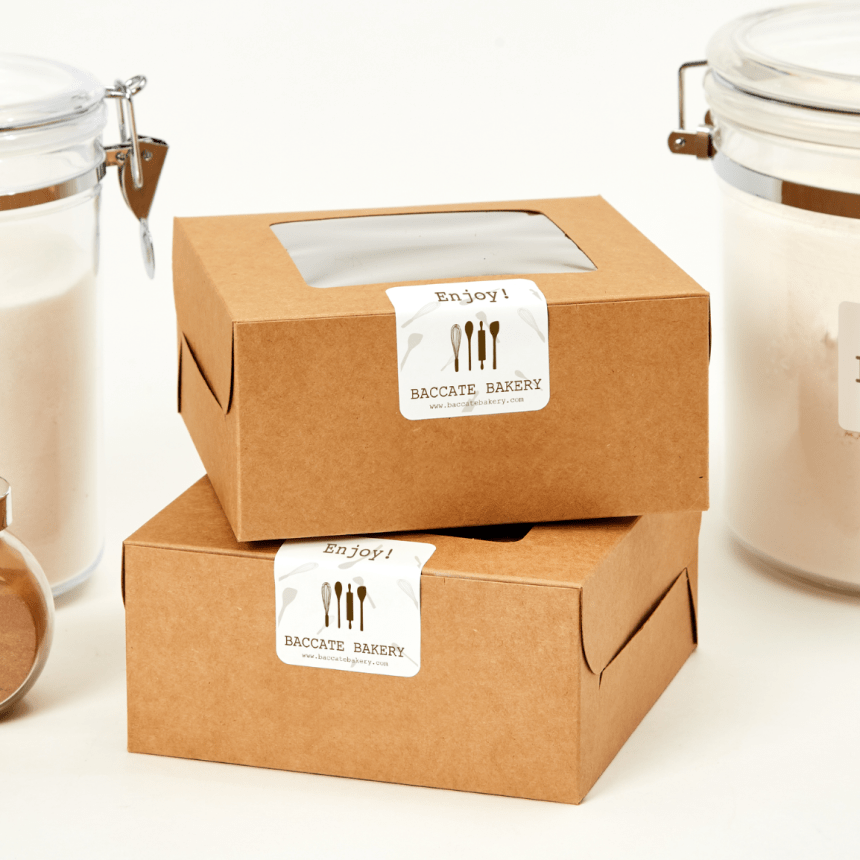 What can catering labels be used for?
With a choice of materials and adhesives, you can create catering food tags for almost any material - paper, plastic, glass, and more. Resealable paper labels and stickers are perfect for outdoor events, and we also have premium options for even the most special of occasions that you may be catering for.
Our food catering labels can be used for a wide range of products. We have everything from custom nutrition labels to keep customers safe, all the way to food packaging labels which are ideal for adding to catering containers.
Whether you need catering food tags for a birthday party, wedding, market or any other occasion, we've got you covered. Learn more about what our catering food labels can be used for.
Catering Labels FAQs
Where to buy catering sticker paper?
With a variety of materials, colours, shapes and sizes to choose from, including recyclable, waterproof and freezer-friendly options, Avery is the go-to supplier for catering food labels and sticker paper for caterers everywhere. Take a look at our range of adhesive materials for blank labels, and adhesive materials for custom labels.
How to make catering stickers?
Making catering stickers and labels for your food supplies is simple with Avery's free and easy-to-use Design & Print software. 
If you want personalised catering food tags you can upload your own design, or you can choose from one of our free templates to get started.
What type of catering labels are there?
Depending on the size and nature of your catering business, your labelling requirements may include everything from basic branding, ingredients lists and allergen labels, to consumption, storage and cooking guidance.
At Avery, we have many catering stickers to suit your requirements, from waterproof labels which are chemical resistant, to plastic labels which are ideal for bottles.
What information do I need to include on a food label?
When creating catering food labels, you'll need to include some standard information about the ingredients. For information and inspiration on food labelling, we've put together a handy guide explaining everything you need to consider when labelling food to help get you started.