Full guide to Honey Jar Labels
Starting a honey business is pretty sweet — so let's make sure your labels are the bee's knees
Maybe you are thinking small - village fetes, local food festivals. Or maybe you're going big - supermarket shelves, TV adverts, influencer campaigns. Whatever your goal, first you need to get your custom labels and stickers right.
Missing things off your label can go against certain regulations. This can land you in a sticky situation. That's why we have created this guide to creating honey labels. We're going to kick off with the regulations that apply to all foods then go into honey specific regulations.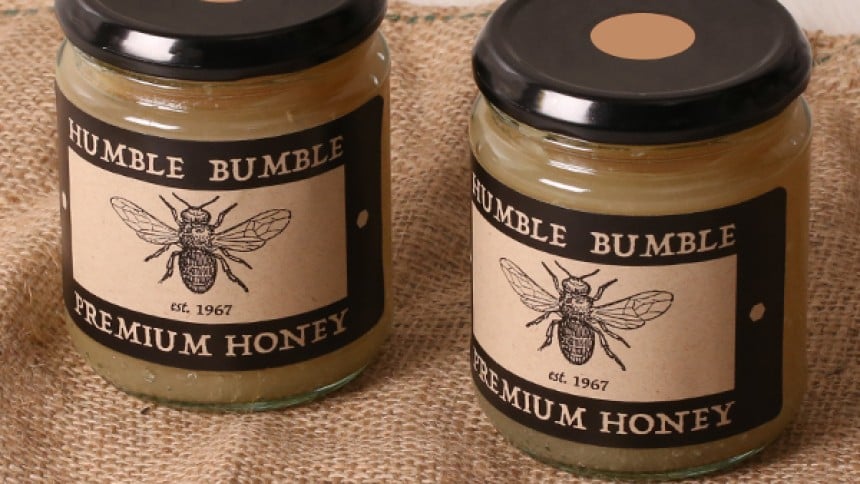 Mandatory food information
Under the Food Information Regulations 2014, the following must appear on honey labels:
The name of the food and ingredients (both are the same in the case of honey)
Net quantity (honey is measured by weight rather than volume)
A date of minimum durability i.e. best before or use by date
Country of origin or place of provenance
Name and address of the producer
It's not just the content of the label that you need to worry about, it is also the positioning. Make sure the name of the food and the net quantity appears on the same label or same side of the jar.
You might find it tough to nail down the best before date for honey as it can last a few years when stored correctly. Beekeeper associations usually say two to five years of shelf life. No need to put a use-by date on honey as this says it would be unsafe after the date.
Honey regulations
As well as mandatory food regulations, honey also has its own set of regulations to follow. Let's look at the key things you need to follow when labelling your jar.
The makeup of the honey
You probably don't have the equipment at home to measure the exact makeup of the honey. However, the honey you extracted from the hive is likely to be within the requirements. If you're not sure about the moisture level then mark it as 'baker's honey' and label it as 'intended for cooking only'. (You cannot put the geographical or floral origin on this type of honey.)
Place and country of origin
You can write the village, town, farm or county where the honey is from. Make sure you also add the country of origin to the label.
Floral origin
If the honey is wholly or mainly from a particular type of plant and contains characteristics of the source such as 'heather honey', you can label it as such. It's generally accepted that named sources should constitute more than 75% of the honey.
Weight
It is really important to get the weight of your honey right and label it correctly too. You can sell your honey in any metric weight. You can write grams or abbreviate to g. You can't write gr or gm.
Minimum letter size for weight
This is an important one to know when it comes to label design. The minimum letter size for stating the weight on honey labels is 4mm for contents weighing 200g to 1kg; 3mm for 50g to 200g; and 2mm for contents of 50g or less.
Use readable fonts for weight markings. In our software font 12 is 4 mm, however, this might be different in other design programs.
Images
You can use pretty much any image on your honey label. Just make sure you've got the right to use the image.
Lot marking
You need to have the lot clearly marked on your label. 
This is covered by The Food (Lot Marking) Regulations 1996. The best practice is to make lots as small as possible to minimise any recall.
Note: The Honey Regulations 2015 are based on an EU Honey Directive and state what can be sold as honey. There are specific terms for different types of honey: baker's, blossom, chunk, comb, cut comb in honey, drained, extracted, filtered, honeydew, nectar and pressed.
Time to start creating your labels
Now you understand what to include on your label, you're ready to get designing!  At Avery, we try to make designing labels a little more simple. If you prefer to spend your time in your hat and veil among the bees then you might appreciate ready-made templates.
If you are keen to try your hand at design, start from scratch and choose from a selection of shapes and sizes. Oh, and you can also sleep easy at night knowing that because of the high-quality materials used, your labels are built to last – even in a larder cupboard for 2-5 years!
Honey Label Design Templates
Choose the right label size
Now you've got your label designed, how do you choose the right size? Well, that all depends on the container you're using and the type of label you need. We offer two types of labels here at Avery front labels and lid seals- labels with a round top and thin neck which provide extra security to your product. We've created a size guide for honey labels that tells you the right size depending on your container shape, size and the type of label you want. Don't forget to take a look at our sizing guide before printing to ensure you've got the right size. 
Find out more
If you want to know more or are unsure of anything then get in touch with your local trading standards officer.
Or, if your Kindle's out of battery and you fancy some bedtime reading, follow the links below to read the key regulations in full: