How are labels made?
Revealing the science behind blank and printed stickers

If you want to know more about how labels and stickers are made, you knocked on the right door! We are completely passionate about labels, so we love it when people are a bit curious about the science behind it.
In this article, we aim to answer your most frequent questions as simply as we can:
2. How are custom-printed labels made?
What are labels made of ?
Labels are made of lots of different layers, each of them playing an important role. We like to think of them as cakes (yes, if you follow our @averyweprintuk on Instagram, you'll notice we are foodies who can't resist sweets).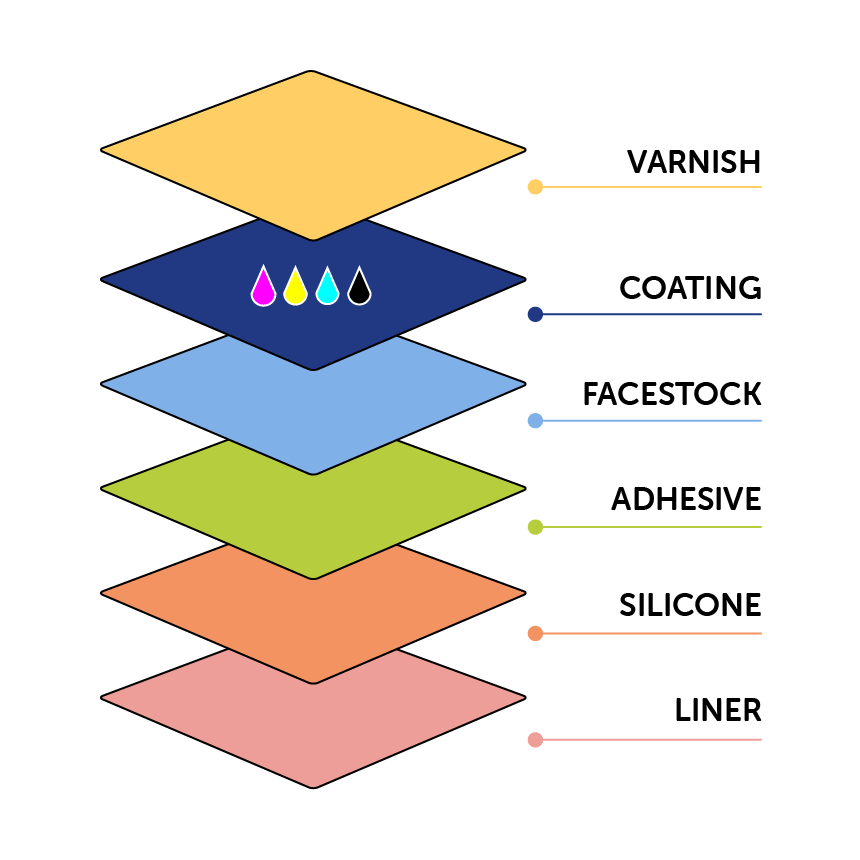 LINER: the same way you need a tin to bake your cake, you need a liner to print your labels. It keeps the labels together and makes the sheet rigid enough to go through a printer. Most Avery labels have liners made of white kraft paper.
SILICONE: we guess you butter your baking tin to ensure you can easily remove your cake? It's the same idea with the silicone layer. It ensures labels will stick to the liner (so that you don't get some adventurous labels lost in your printer) but not too much so that you peel them off (we assume your plan is to stick them somewhere else!)
ADHESIVE: think about the caramelised sugar layer that appears on the edge of your cake. It is the sticky layer that transforms materials into labels. Read our article to help you choose between permanent and removable labels.
FACESTOCK: like the main part of your cake (vanilla biscuit, chocolate ganache, sponge cake…), it gives labels their colour, their texture and most of their properties (such as being waterproof or recycled). It can be made of virgin paper, recycled paper or plastic. Have a look at our large range of blank label materials and print service materials.
COATING: like the icing on your cake, it covers your labels with a smooth layer that provides superior print quality. To get the best result, some coatings are designed for specific printers (such as laser or inkjet printers).
VARNISH: if you are using our print service, then you can choose a matt or gloss varnish. Like an edible glitter spray on your cake, it provides an extra wow effect while protecting the labels to expand their lifespan.
How are custom-printed labels and stickers made?

Here are the 3 main steps to produce custom-printed labels:
1. We print your labels with a professional digital press. It is like a giant printer that has a much higher printing quality than standard inkjet and laser printers. It also allows us to print white ink on clear and coloured materials.
2. We cut your labels to the desired shape and size using a laser beam. It is more flexible than using dies (cutting tools made of metal). That's why we can custom sizes at an affordable price, even for small quantities.
3. We apply a varnish to protect your labels while giving them the desired matt or glossy finish.
Order your custom-printed labels now and get them within 3 to 5 working days!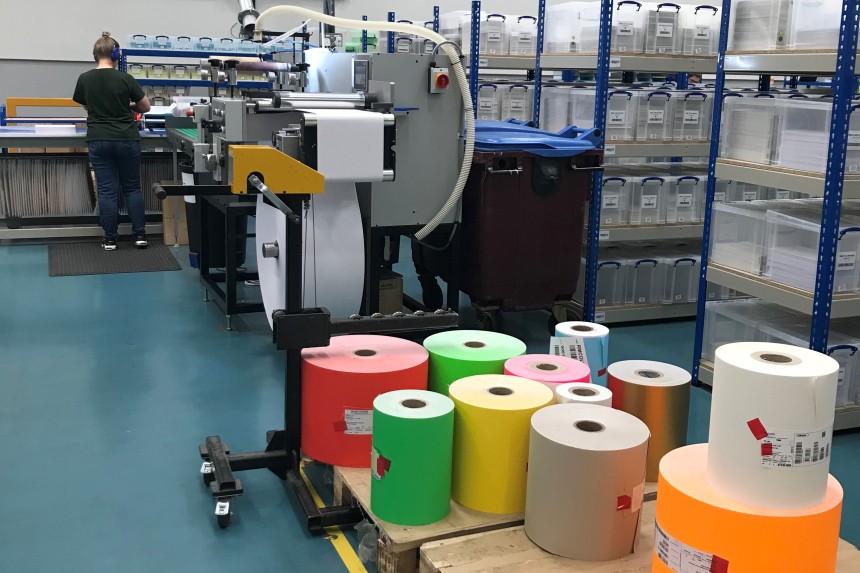 How are blank labels made?
We use a huge machine with cylindrical cutting tools made of metal (called "dies") to transform rolls into A4 sheets and cut labels to your desired blank label template.
Our operators need to apply the right pressure: with too much pressure would cut through the silicone and the liner (you would get single cut labels that you can't put in your printer), without enough pressure, you would not be able to peel off the labels.
Order blank labels online today and get them delivered to your door within 3-5 working days.