Wedding Invitations & RSVPs Labels
Easily create labels for your wedding stationary!
You've created beautiful wedding invitations - so why settle for boring address labels?
We've pulled together our recommended labels for wedding address labels, from our traditional bright white and cream premium labels to our modern clear film and recycled labels - we have the perfect label for your wedding invites.
You can also completely personalise the labels and stickers with your wedding theme or colours, it's completely free using our Design and Print label creator. You can even use our amazing mail merge tool to create your address labels with your guest's information in minutes!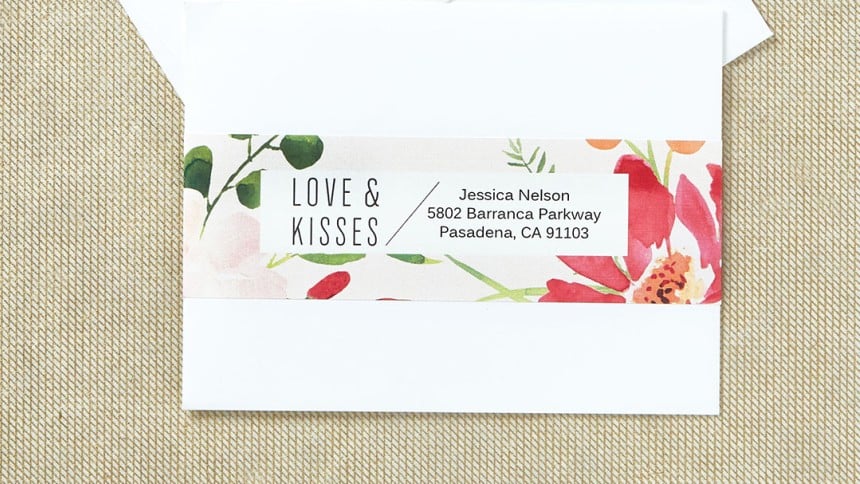 Design & Print your own wedding invitation address labels. Order from as little as 1 sheet!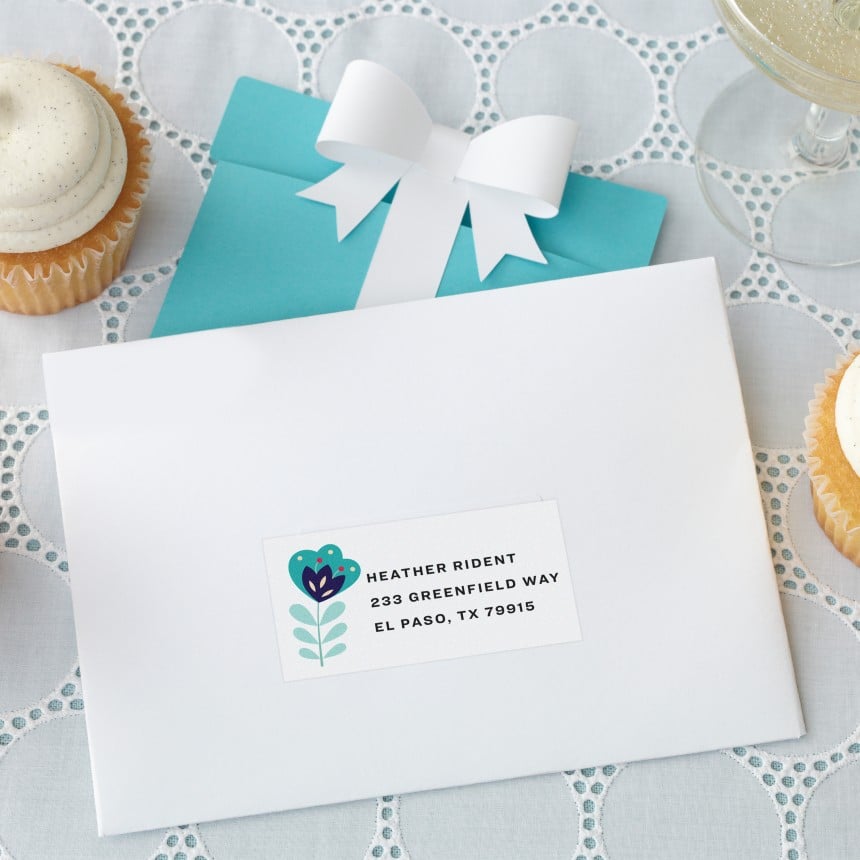 Create your own Wedding invitation address labels
Print your own invitation address labels in minutes with Avery!
Looking to print your own address labels for your wedding invites? It's really easy to do with Avery!
We have a wide range of materials, shapes and sizes for you to choose from, so you can easily match your label to your wedding theme. You can then print the labels in the comfort of your own home using our FREE Design & Print online software.
Why print them yourself?
Well it's up to you but we think it's much cheaper and easier to print wedding invitation address labels yourself, it also means that you can print extra ones in the exact same design should you need to!
Also, our software and all of our templates are FREE to use! Meaning you only pay for the blank labels.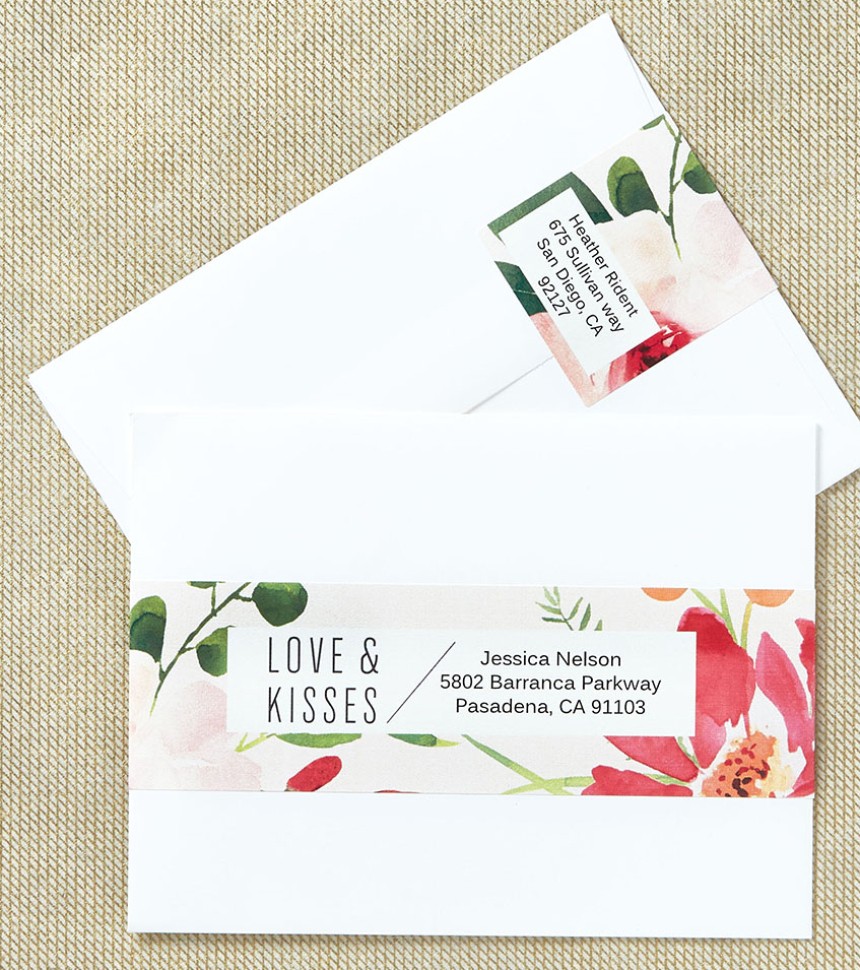 How do I make address labels for invitations?
Let Avery Design & Print do the hard work for you!
Creating address labels for invites is really simple and easy to do.
1. Order your blank labels - there is a huge selection of sizes, shapes and materials
2. Create an excel spreadsheet of all the addresses - read our Mail Merge guide for further guidance on this.
4. When your labels arrive, go to our FREE Design & Print software and enter in your product code.
5. Either chose one of our free templates or click the blank template to start your own design or to upload a design.
6. Click on 'Import Data Mail Merge' on the left-hand side
7. Browse for your chose addresses file.
8. Follow the steps to import the data
9. Once the import is done you can change the text size, font or colour!
10. When you're happy with your labels, simply pop the labels sheets into the printer and press print!
Wedding Invitation Return Address Labels
Design & Print your own wedding return address labels. Order from as little as 1 sheet!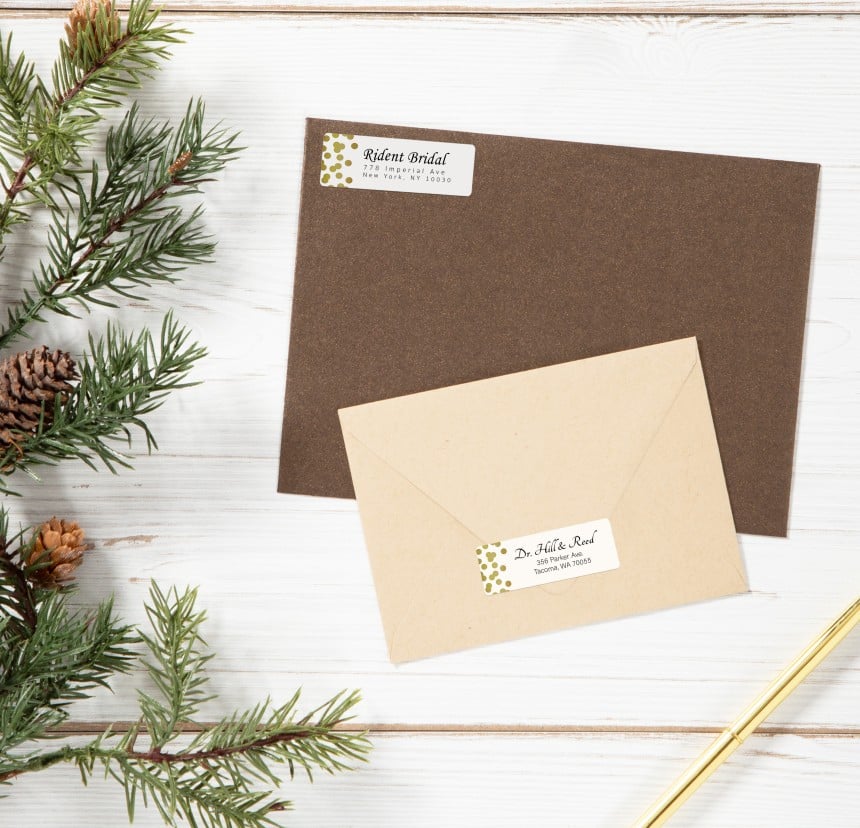 Print your own wedding invitation return address labels
Make sure your guests can RSVP!
Creating your own return address labels for invitations is really simple with Avery.
Our recommended return address labels are the perfect size for the address to be readable without taking up too much space on your envelope. With have a wide range of label materials to choose from so you can pick the right label for your invitations.
You can also use the same design you have used for your wedding invitation address labels - simply use the 'Apply to a different product' guide. 
How do you address a return label for a wedding?
The address should be whoever is dealing with the RSVPs, whether this is the bride and groom, the bride or grooms parents or even the maid of honour.
Traditionally the return address label can either go in the top left-hand corner on the front of the envelope or on the back of the envelope...but we don't think it really matters that much so long as you can see it!
Your wedding, your way!
Design and print your wedding stationary using our free designs & software
Free Wedding Templates
Select one of our pre-designed templates to customise to suit your Wedding's special look and feel.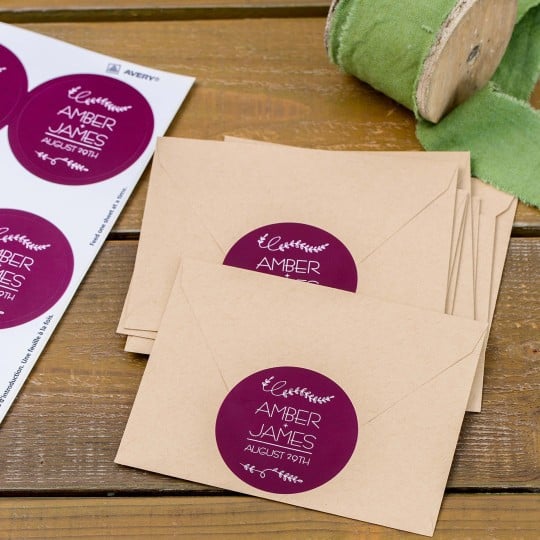 Print your wedding stationary at home
Create personalised invitation labels, favours and decorations with Avery's Free Design & Print software.