Make Your Own Plastic Jar Labels
Make your plastic look fantastic
Premium printing
10 shapes, 10 materials and 4 finishes
Easy to apply. Come on SRA4 sheets
Perfect for logos, product labels and messaging
Delivery within 5 working days
Make Your Own Plastic Jar Labels
Make your plastic look fantastic
Premium printing
10 shapes, 10 materials and 4 finishes
Easy to apply. Come on SRA4 sheets
Perfect for logos, product labels and messaging
Delivery within 5 working days
Use Our Designs and Templates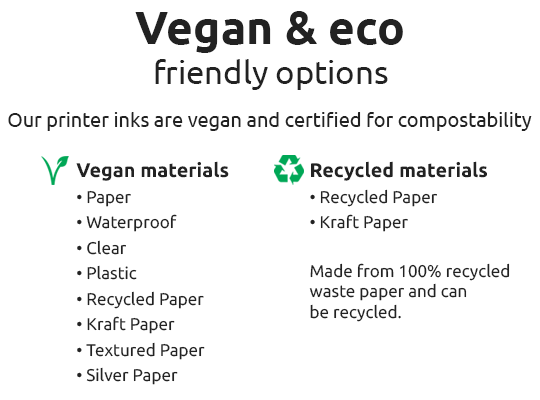 Make your own personalised plastic jar labels
Our professional customised plastic jar labels come with any design you choose. Many customers get in touch, looking for labels for plastic jars. First, we suggest considering if your plastic jar labels will come into contact with water. If your plastic jars will be submerged in water, ice and a high level of moisture, then we recommend the waterproof label material. This is the hardest material in our range and it can take on all the elements easily without losing its position or for the ink to start running (the freezer, oven, ice). It should be noted all our materials are permanent on plastic surfaces and therefore long-lasting.
If your jar will not be submerged but still come into contact with water, you will suit our clear or plastic material labels. These two materials are hardy, clear look particularly good on clear plastic jars as you can see the contents behind the label. At the other end of the spectrum, we have three paper materials that are wipeable but not waterproof. This includes our cream textured paper, paper and brown Kraft paper. If you wish to add handwritten extras onto your label such as 'Self Raising Flour' then any of the paper range will be right up your alley and perfect for the job.
All our labels are entirely personalised to showcase your jars. Every label is professionally printed and delivered to your door in as little as three working days. Get in touch with our team if you need any help, we always enjoy hearing from our customers, we can even send you our free sample pack.