Personalised Ecofriendly Clear Plastic Labels
Compostable Plastic Made from Wood Pulp
Personalised Ecofriendly Clear Plastic Labels
Compostable Plastic Made from Wood Pulp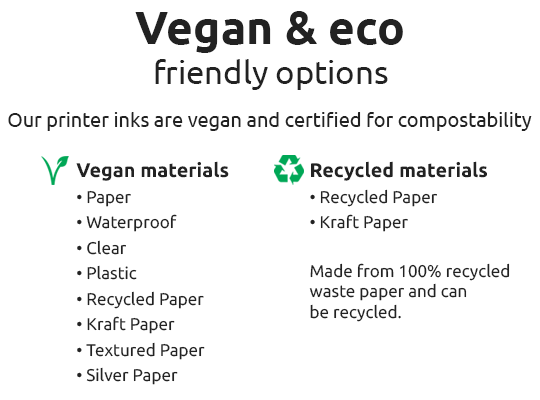 Make your own Ecofriendly Clear Labels
Everyone cares about the environment, but actually caring for it can be hard. This is why we developed our eco-friendly clear labels to make it that bit easier to care for the planet, without having to sacrifice your style. These labels are certified compostable, which is why they only have the no-varnish option, to make sure that they remain compostable. Don't let the fact that they are compostable scare you though, as they are still water and oil resistant, meaning that they are perfect for use on toiletries, beauty products or food packaging, where moisture or oil might be. The uses of these labels are endless, whether in packaging, products or storage. Once the label has served its purpose it can be thrown away in the compost bin or the regular bin, helping you and your customers help the environment.
When designing your labels, after choosing shape and size, remember to leave parts of your label transparent to make the most of the clear part of these environmentally friendly labels. A great step to include, before any big orders, is to order our minimum quantity of labels to make sure they are exactly as you've dreamed they would be!
These eco-friendly clear labels have so many uses, that we thought we would give you some suggestions for inspiration! These labels look stunning on candles and really emphasise the candle in a subtle classy way. Or perhaps you want to use it on your packaging when you ship out your products? Well, good news for you as these labels are also recyclable. You can also use these on windows or glass thanks to the transparent nature of these labels for that sleek clean design. Or perhaps you don't want clear labels why not try our brown kraft labels or our recycled paper labels, which are also recyclable and compostable, as well as being made from recycled materials!