Personalised Removable White Plastic Labels
Perfect for temporary use - no residue left behind
Personalised Removable White Plastic Labels
Perfect for temporary use - no residue left behind
Use our Designs and Templates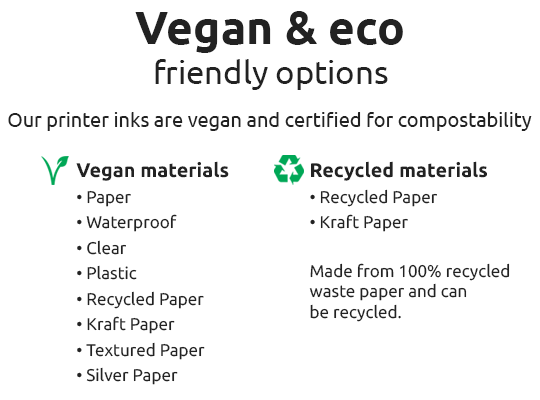 Make your own Removable White Plastic Labels
Sometimes labels don't need to be permanent but still need that high-quality finish. In these cases a removable white plastic label is perfect. What's even better is that these labels, whilst temporary, are waterproof and oil-resistant meaning that they are pretty durable. Ideal for keeping that sleek look until they are removed. Did we mention that they are also tearproof? So when it's time for them to be removed they'll come off in one piece, nice and clean, with no residue left behind. These removable white plastic labels are also vegan and whilst not biodegradable due to the plastic content they are recyclable!  If having a biodegradable label is important to you why not try out the removable white paper labels or brown kraft labels?
When choosing removable white plastic labels there are 4 finishes matt (to make the label look less glossy), gloss (to give a higher shine), no finish for a a subtle shine and anti-microbial, to protect you from germs and bacteria; perfect for use on products where hygiene is key like beauty or food labelling. If you are having a hard time deciding which shape, size and finish to choose (we know there's a lot), why not try printing our minimum order quantity of 2 sheets to see how your label looks in person?
Removable white plastic labels are great for a variety of situations where a temporary label or sticker could be needed. Some uses for these stickers can be: marking a sale (they work great on books, leaving behind no residue),  labelling containers that you or your customers can reuse. These labels are also handy for when you need a temporary label on your product that the customer can take off once they receive it. A great example is decorative candle jars, you're able to place your scent information on and the customer can remove that once they're home with no residue. Removable white plastic labels also work great on glass and windows and leave no trace of a label after use. Unfortunately, these labels don't work in the freezer, and it is better to use a permanent freezerproof material like white plastic in such cases. Or why not try a removable clear label if a sleek and subtle design is what you're after?