Office Labels
Avery has a huge range of office labels suitable for everything from filing and letter tray organisation, to desk accessories and computer hardware, office furniture and even signage.
From Anti-Tamper and NoPEELTM labels which are perfect for asset management, to removable, peelable white paper labels (available in gloss, matt and no varnish finish), we offer a range of sticker shapes, sizes and materials to suit all your office labelling needs.
Choose blank labels to print using your office printer anytime. If you'd prefer for us to deliver, you can enjoy FREE DELIVERY on orders over £40. Our free design tool makes it easy to create great-looking stickers, and with the Avery WePrint service, you're guaranteed a professional finish too.
Design your office labels & stickers
Simple to design and easy to apply, Avery's self-adhesive office labels are a quick and easy way to label your office accessories. Print your own from over 1000 choices of sticker size, shape and materials, or have us print and deliver custom labels for you.

Browse our free templates for inspiration, or upload your own artwork to get started.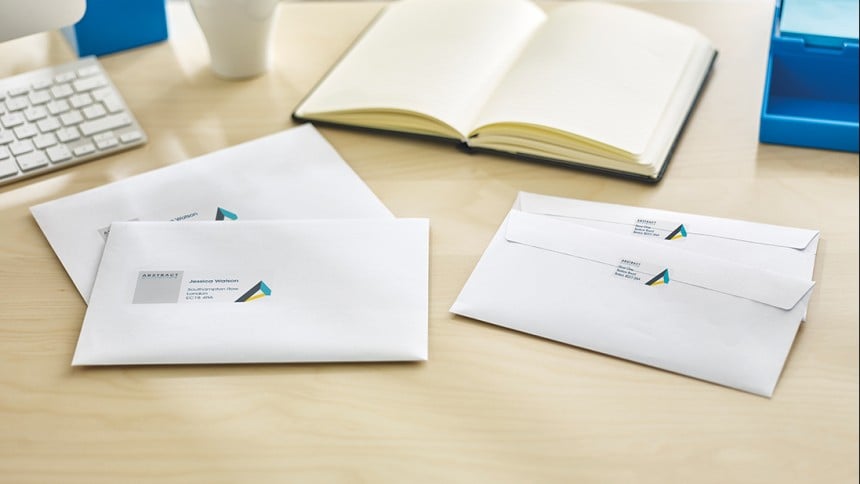 What can office labels be used for?
Self-adhesive office labels are very versatile and can be used to label desk accessories including letter trays, pen pots, literature holders, individual stationery items, office furniture such as desks and screens, key cabinets, staff lockers and more!
Create clearly labelled areas for storing excess office stationery to remove clutter from your workspace and increase productivity. If you want to create fully bespoke office labels, try our free and easy-to-use label customisation tool.
We've even got a range of removable labels on coloured paper and white magnetic sticker papers for those times when sticky notes just aren't quite sticky enough for use on your whiteboards, filing cabinets and storage units.
Our vinyl label range is perfect for high-contact areas and that all-important health & safety signage to indicate first-aider and fire marshal details, safety equipment and other office assets. Plus, if you need something to help fight office germs, there's our antimicrobial-coated stickers and film that kills up to 99.9% of common bacteria.
Office label FAQs
Where can I buy office label paper?
At Avery, we have an extensive range of paper and plastic office labels to choose from. Whether you need a simple solution to sort out your store cupboard, or something to match modern, stylish desk accessories, we've got you covered. We also have a variety of adhesive materials to choose from, including cream textured paper and waterproof.
The hardest part is knowing what label paper to choose! Order a material sample pack to help you decide.

How can I make office stickers?
Create custom stickers for your office accessories using Avery's free Design & Print service. Pick a template or upload your own designs and choose whether to use our professional digital printing service or print to blank labels using your own laser or inkjet printer.

What types of office labels are there?
Office labels come in all sorts of shapes, sizes and materials, and with both permanent and removable adhesives. From simple paper stickers to use on your letter tray and other desk accessories, to clear antimicrobial film, heavy-duty floor decals, and tamper-proof security seals. 

We have a wide range of office accessories to choose from, too, so why not stock up on your office supplies whilst you're here? Don't forget, there's free UK delivery on all orders over £40.