Create Beautiful Custom Christmas Card Labels
Ten Top Tips!
In this digital age, is there anything nicer than receiving something through the post? Everyone loves seeing a Christmas card drop through their door and a way to spread even more seasonal cheer is to make sure your Christmas Cards have magical mailing labels on the front.
We have compiled the best tools, templates and products for creating beautiful personalised Christmas labels and stickers into these ten simple and affordable tips.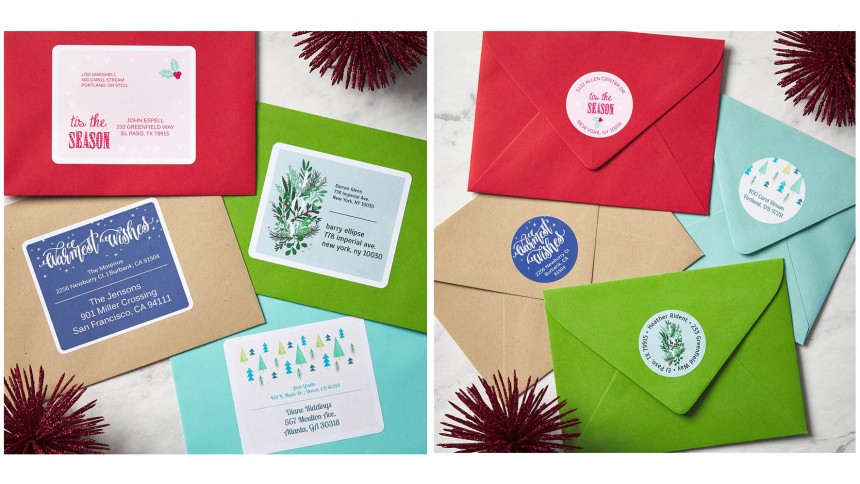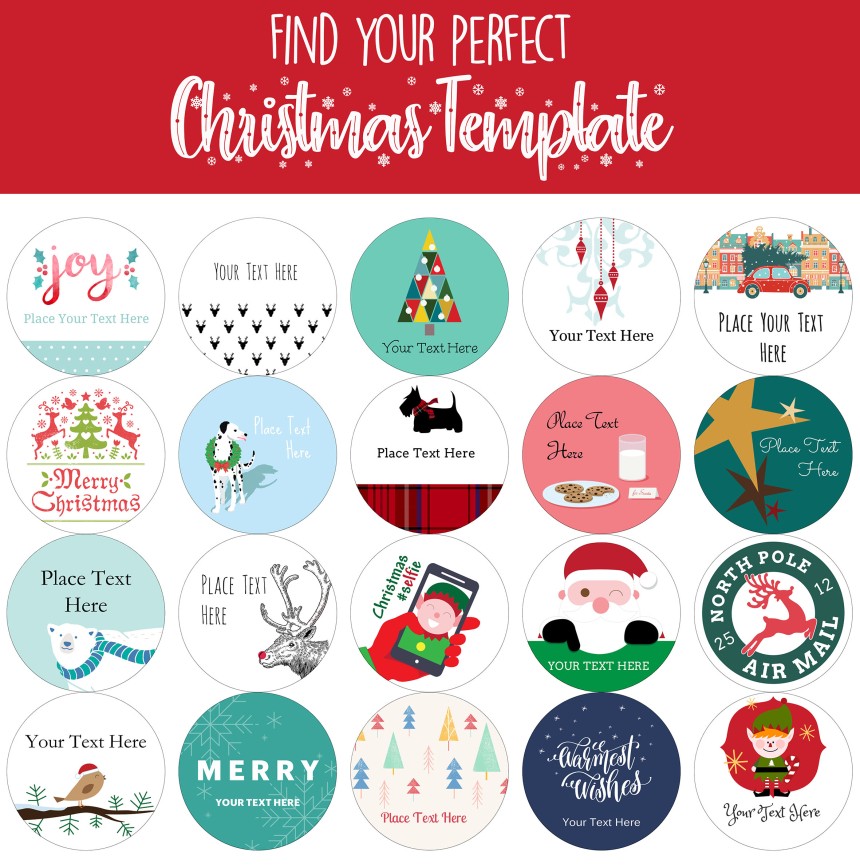 1) Use our free Design Templates 
Customise your Christmas labels by starting with one of our free Christmas designs. Choose from a wide variety of designs based on the latest trends and give it your own personal touch to make them perfect.
Every element in our designs can be moved, adjusted and customised so that you can create exactly what you need. Design & Print gives you an array of design tools to add your own images, edit text, change colours and more. 
To find out more about our free label design software, watch one of our demonstration videos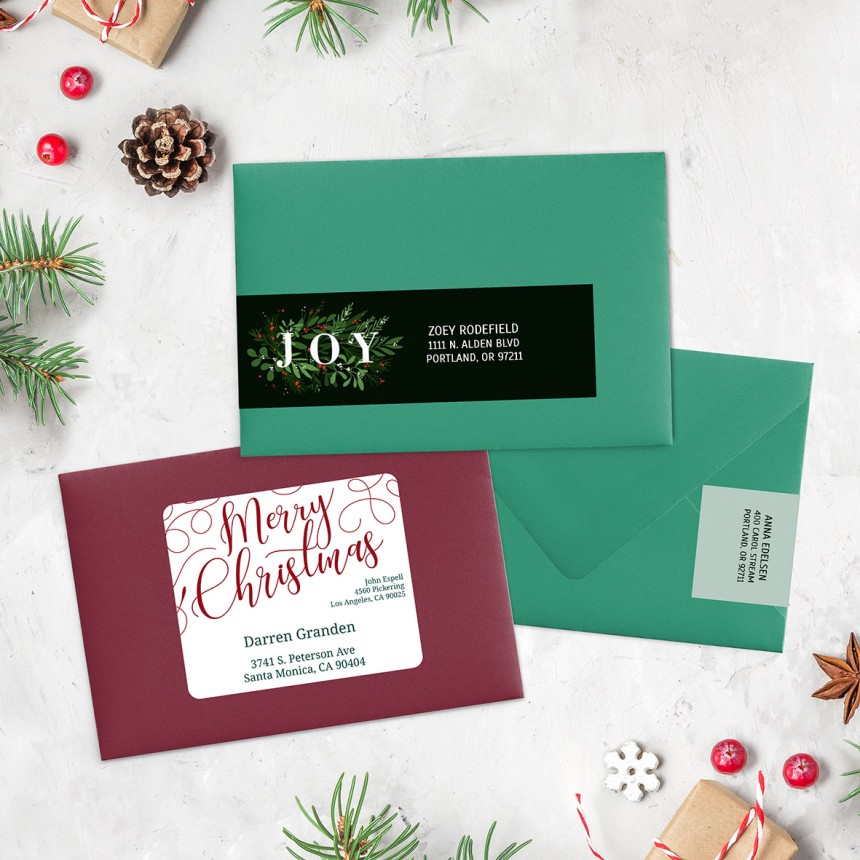 2) Save by using a larger label for both recipient and sender addresses
Save time with a smart design: instead of using a return address label and an address label, print both on a single large shipping label.
Alternatively, a more recent trend that looks really smart, is to print on a long rectangular label (such as one of our Filing labels). On the left hand side of the label, write the address of who the card is intended for. Then on the far right of the label, add your own address. In Design & Print you can rotate text boxes, or make text sizes different to make it clear who the card is to and from.

Once printed, when applying the label to the envelope, wrap the long label around so the "To" Address is on the front of the envelope and the "From" address is on the back.

 
3. Create your labels automatically using Mail Merge
Do you type out each address from your mailing list onto each individual label? If you do, we have amazing news for you: Our Import Data features (also known as "Mail Merge") can do that for you automatically.
All you need to get started is a spreadsheet with all your names and addresses on it. Then upload your list with the mail merge tool in Design & Print so that it can instantly create labels, cards and more.
Take a look at our article on how to mail merge in Design & Print to find out more about this handy feature.
We also have a demonstration video that walks you through the Mail Merge feature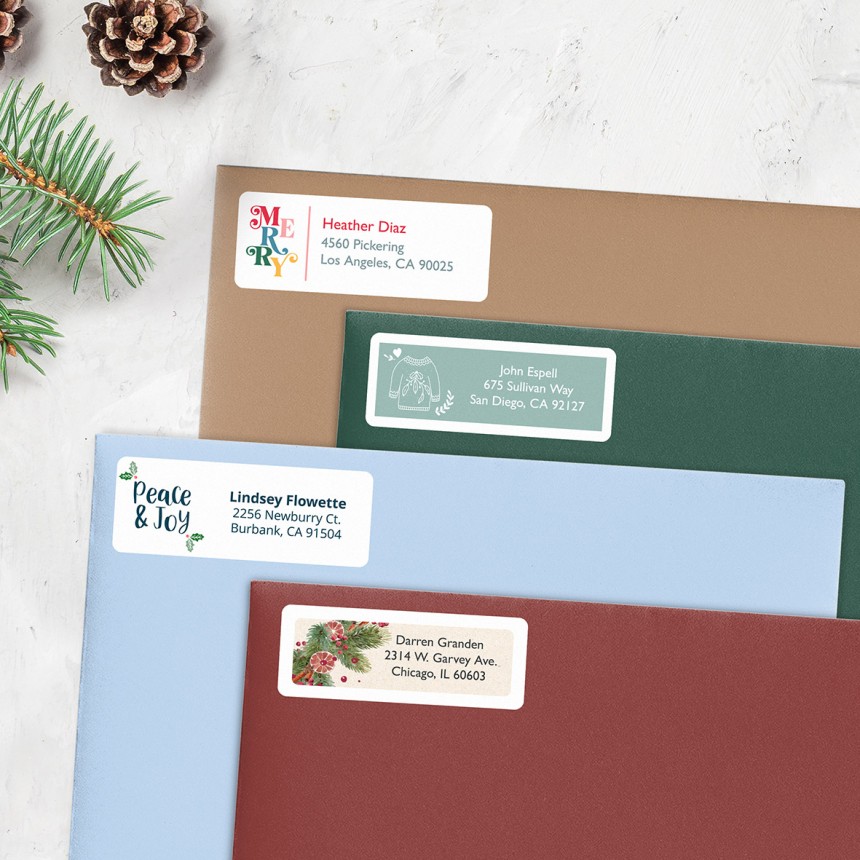 4) Create Return Address Labels in an instant using Edit All
Creating festive return address labels is especially easy with Design & Print Online's "Edit All" feature.
While you're in "Edit All" mode (look at the navigator in the top right of the screen to see if you are in Edit all or Edit one mode), type your return address on one label and our software will automatically apply those changes to the entire sheet.
We have created a demonstration video that explains more about using the navigator and the importance of Edit all/Edit one
5) Find all the label sizes and shapes you need
Whether you're shipping gifts, cards or invitations, it's a good idea to take a survey of what size labels you're going to need and prepare ahead of time. You can filter our labels by size or shape to find exactly what you need to make your Christmas labels perfect.
Blank labels are also available in materials that are not available in stores. Check out all of our blank label options here.  Best of all, you can order the exact number of blank label sheets you need and Avery will deliver them directly to your door.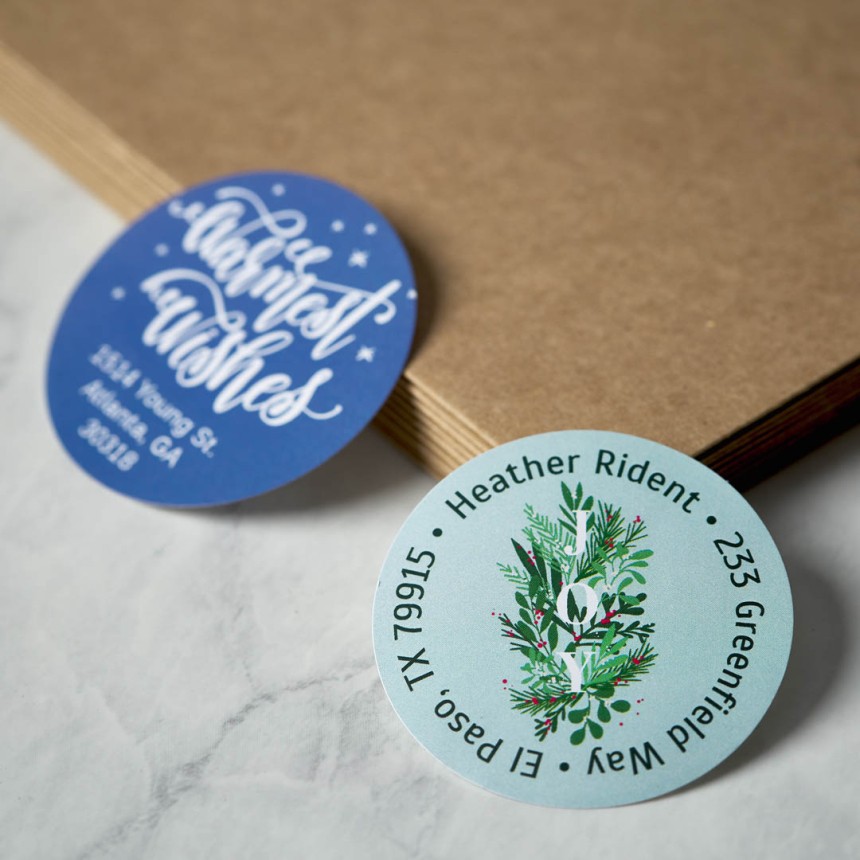 6) Add some personality to your Card envelopes
Along with the design you print on the label, the shape of the label can add more personality to your cards. Classic rectangle address labels can easily be replaced with square, round or oval labels for a more contemporary look. 
Also, who says that return address labels need to be a rectangle? A Round label can look great with your address on it, and also act as an envelope seal for added security.
You can also make a statement by choosing the right label material. Add some shine with glossy white labels. For a premium printed-on look, use clear labels which virtually disappear on envelopes. Kraft brown labels are perfect for a more natural, rustic look.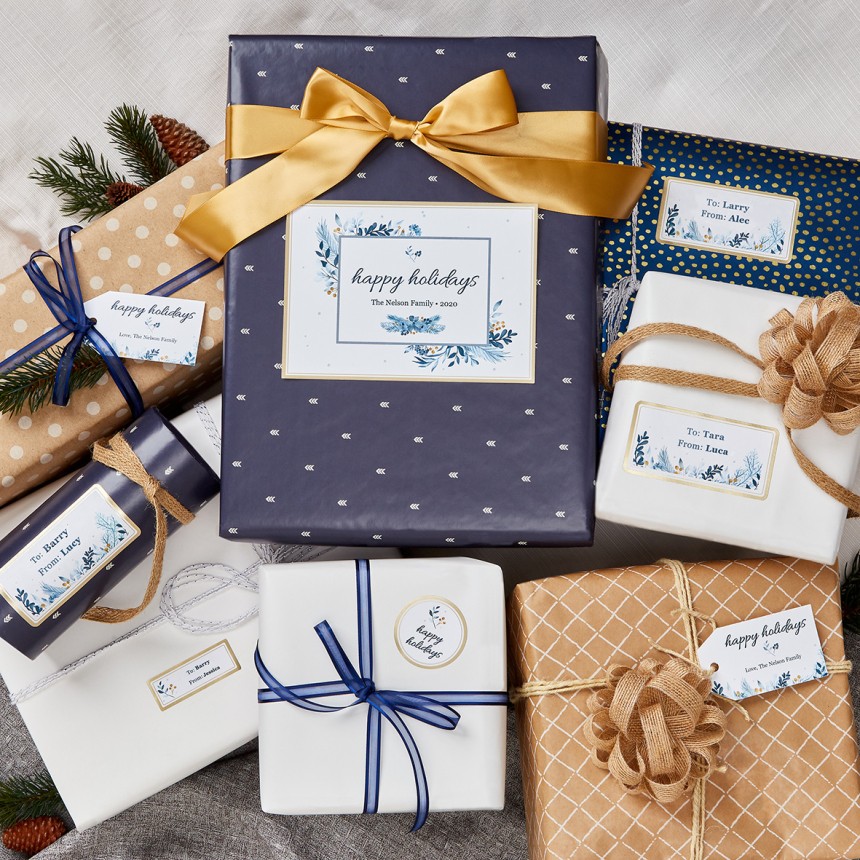 7) Get a co-ordinated look across all your Christmas labels
Our predesigned templates are often created with a full suite of products in mind to make it easier for you to create a coordinated custom look. Try browsing our Christmas templates as a starting point to see if there's a design that will suit your needs. You can then carry this theme over on to your Christmas gift labels and tags, and any invites you might be sending.
You can also create your own custom design and apply it to a suite of products by using the "Apply Design" feature in Design & Print Online. Take a look at our Apply Design - How To article to learn more about how to use this Apply Design feature.
8) Check last mailing dates!
Tick one thing off your Christmas list and make sure you send your Christmas cards and presents in good time The Royal Mail publishes a list of all the key dates each year for both International and country-wide postage timings to make sure your cards and gifts get to their recipient before Christmas.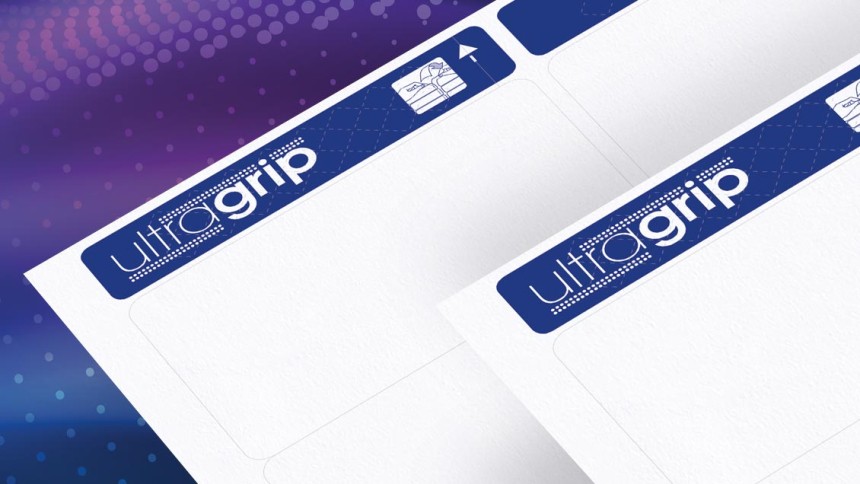 9) Print with ease with UltraGrip™ technology
We all know that our home and office printers aren't perfect. They can jam, sheets can slip and your projects end up paying the price. That's why we invented a proprietary new technology called UltraGrip™ to provide extra grip as the sheet passes through the printer to help prevent jams and misalignments.
You can read all about UltraGrip™ technology here
10) Let us print your labels for you
Although print-to-the-edge full bleed designs are beautiful, they can also use more of your printer ink than you're expecting. Save your printer ink and have someone else print your Christmas card labels for you with our WePrint printing service.
Our expert team can custom print your labels to be perfectly aligned and ship them directly to you. All you need to do is create and submit your design to us and we'll take it from there. With WePrint we can print your greeting cards, Stickers, gift labels and much more.
Get Creative this Christmas
Let Avery help you make a magical Christmas this year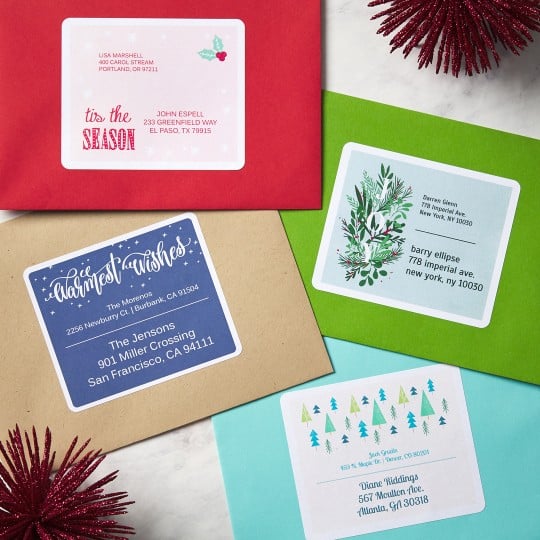 FREE Christmas templates
Our Christmas gallery has lots of free templates for you to customise this Christmas.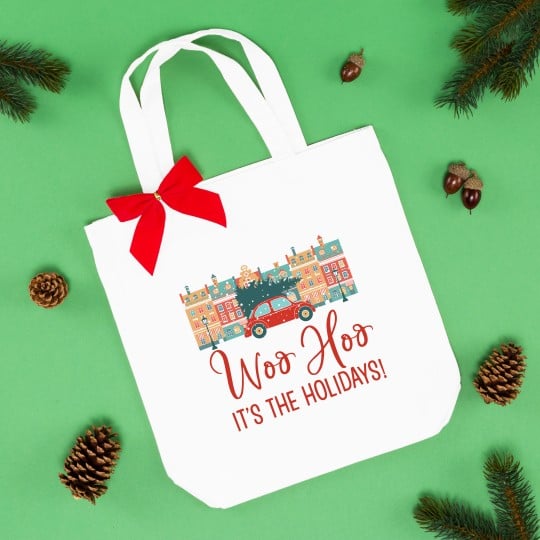 Christmas Inspiration
Whether you're after some festive labels for your Christmas cards or you fancy trying your hand at personalising your gifts, we have the Christmassy craft for you!