Personalised School Labels
Be confident that your child's belongings will come back home with them after a busy day at school with our custom labels and stickers for schools. Whether it is clothing, shoes, lunch boxes, or stationary, you can create personalised school labels to keep organised. 
Our school blank labels are available in a range of shapes, sizes, and materials which you can customise to make the ideal school label stickers that fits your child's needs. 
All of our school labels are printed in the UK and you can even get FREE DELIVERY on kids' school labels when spending over £40. Want your school labels immediately? Using our Design and Print software, you can print your printer labels from home!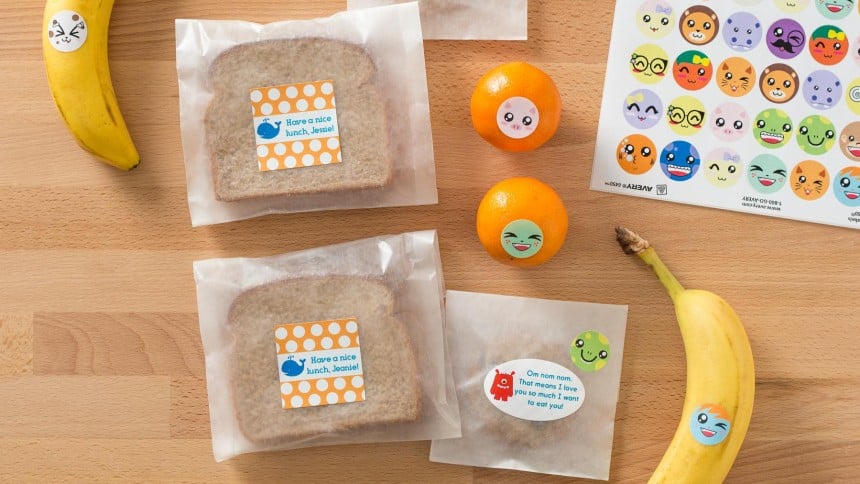 Design your School Labels & Stickers
Personalised school labels can make all the difference at the end of the school day to make sure that your child's belongings come home. Our school labels make it easier for parents, teachers and children. You can choose between two options when designing custom labels for schools:
Our blank labels range in different sizes and shapes. These are ideal for both parents and teachers to use as they are writable so you can include contact information. We highly recommend using our Design and Print software when using Avery products so you can get the highest quality finish on your school labels.
Upload your own design from any device and customise it with your child's name, class name or favourite colours! 
Take a look at our school labelling ideas to give you inspiration on how to use our custom school labels.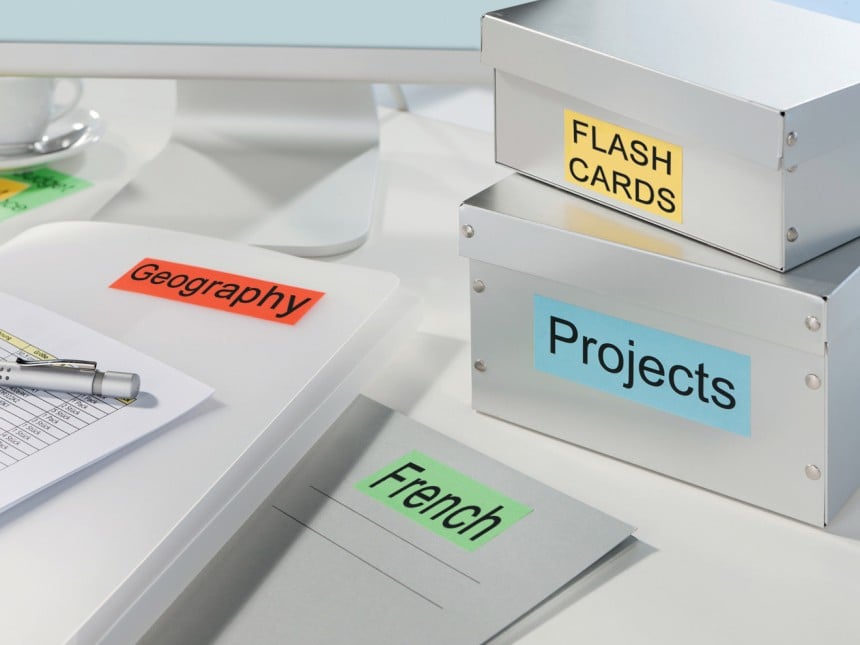 What can School Labels be used for?
At Avery, we understand that labelling school supplies is important to make sure that items are not lost or misplaced. School labels are also great for teachers to keep classrooms organised, help identify a student's work and to motivate children when using them as reward stickers.
Our clothing labels are easy to use as they require no sewing or ironing! With our stick-on labels, you can rest assured that your child's uniform will never see the lost and found box. You can also label shoes with our anti-sweat, friction and water-resistant labels!
With our range of lunchbox and water bottle labels, exercise book labels and stationary labels, our new School range is durable and colourful, making the perfect labels for schools. 
We also offer a range of removable labels for filing and folders, customisable indexing dividers for paperwork and dry erase sheets for making notes. This is great to help your children organise their school work and projects. As a teacher, our personalised school labels are also ideal for planning work, lessons and other activities! 
Design your school labels with our free and easy-to-use Design and Print software!
What's the best way to label school uniforms?
Our speciality clothing labels are easy to use as you don't need to iron or sew them! These super sticky clothing labels stay on clothes for many washes, ideal for uniforms, PE kits and fabric lunchboxes!
FAQs
How do you make school labels?
We have made it easy for you to make your own school labels. You can either buy blank labels straight from our School Name range to ensure that nothing gets lost. Or you can use our customisation tool and pick exactly how you want your label to look! 
Should I label school supplies?
It is recommended by teachers to label your child's school supplies to make sure that they don't go in the lost and found box or get mixed up with another person's belongings!
How do you label school supplies?
It is very common that your child will have the same school supplies as another person when they get to school. To make sure that they don't get mixed up, you can use our exercise book labels and stationary labels range where you only need to add your child's name with a permanent marker!

You can use our customisation tool to create your personalised school labels and enjoy FREE DELIVERY on orders over £40, or you can print directly from home with our Design & Print software.