Retail Pricing Labels
Retail pricing labels and stickers are a necessity for all store owners and customers. Without them, customers may choose not to purchase your products, and you could lose income. As a staple of retail, how can you create a price label that stands out from the crowd and helps your customers understand your business better?
Our custom retail pricing labels are bespoke to your business and give your customers an insight into who you are. Whether you want simple, rectangular retail pricing labels or cream textured labels to make an impact, at Avery we provide the necessary tools to help bring your custom retail pricing stickers to life. 
Using our Design & Print software, you can even create your retail pricing stickers in-house, saving the need for delivery. Would you rather have your labels delivered? No problem, orders over £40 are eligible for FREE DELIVERY!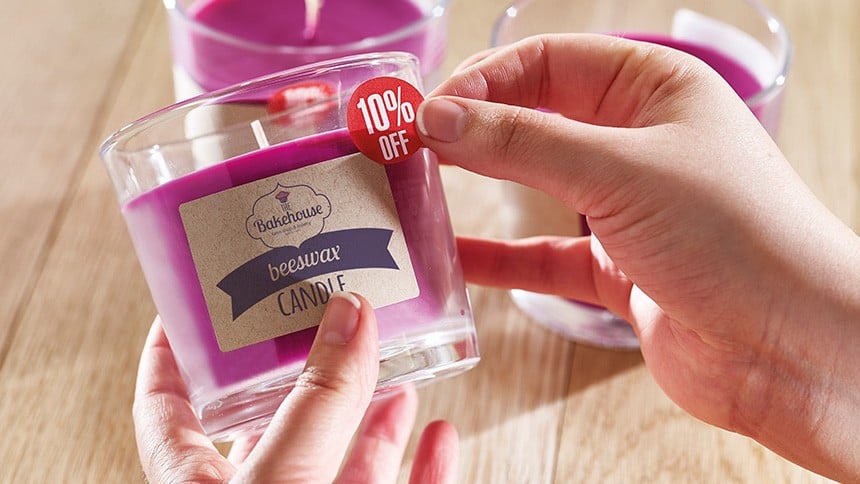 Design Your Retail Pricing Labels and Stickers
So that your price label vision can come to life in the way you want it to, we offer two design options for you to choose from that are free of charge. These options are:
Upload your own design for your retail pricing stickers to the Avery site from your phone, tablet, or computer. Price label designs can be uploaded in image formats or as PDFs. 
Use our online Avery Design & Print service if you're looking for some inspiration for your custom retail pricing labels. 
Both options are quick, and simple and will provide you with custom retail pricing labels that will make your business stand out from the crowd! Do you want more price label inspiration? Take a look at our free templates.
What Can Retail Pricing Labels be Used For?
The primary use of retail pricing labels is to display prices on a range of different products. Prices can be pre-printed on the price stickers for retail products, or they can be handwritten on the price label when marking up. 
Our price stickers can be used on a wide range of products, including fresh produce, homeware, art and crafts, and so much more. At Avery, we have a variety of adhesive materials, shapes, sizes, templates and other important features which means our retail pricing stickers are very versatile. Whether you own a grocery, market stall or homeware store, we've got you covered.
As your custom retail price stickers will be coming into contact with many people each day, ensuring you use waterproof, UltraGrip or antimicrobial-coated labels is a good idea to make them durable and long-lasting.
Additionally, to ensure getting custom retail pricing labels is smooth, we offer different printing options so that you can do what's best for you. You can either use our online Design & Print software to design and then print your retail pricing stickers at home, or you can use our printing service and we'll deliver them to you.
Not the pricing labels you were thinking of? Take a look at our other pricing gun products for more high-volume applications requiring labelling at speed!
FAQs About our Retail Pricing Labels
How do I print my own labels at home?
Printing your retail pricing stickers at home is an easy and convenient option if you have access to your own printer. You can read our guide to home printing retail pricing labels where we give a step-by-step introduction on how to print at home. With our Design & Print software, home printing has never been easier!
How long will it take for my price labels to be delivered?
Our standard delivery time is between 3 and 5 days. However, on selected price label products we offer express delivery which are dispatched the same day and delivered within 2 days*. For more information on delivery you can see our Delivery & Returns FAQ section. You can also receive FREE DELIVERY on orders over £40.
Can I amend my order of custom retail pricing labels if I need to?
We're only able to amend your order if it's not been dispatched from our factory yet. If you need to change your order, you can contact our customer service team by:
Our team is on hand to help from 9am to 9pm every day Monday-Friday.