The effect labels have
Our scientific study into the impact of labels
Avery has completed a detailed and in-depth study of how custom labels and stickers can be used to help small businesses attract attention and encourage purchase. At the start of the study our psychologist read 159 academic papers about previously conducted research to see what was already known about labelling and what still needed to be discovered.
We then used cutting-edge eye-tracking apparatus in controlled laboratory conditions to trace exactly where a label can lead the eye. For our final stage of research, we completed three online experiments, with 1,108 British adults, to examine the logical and behavioural aspects of labels.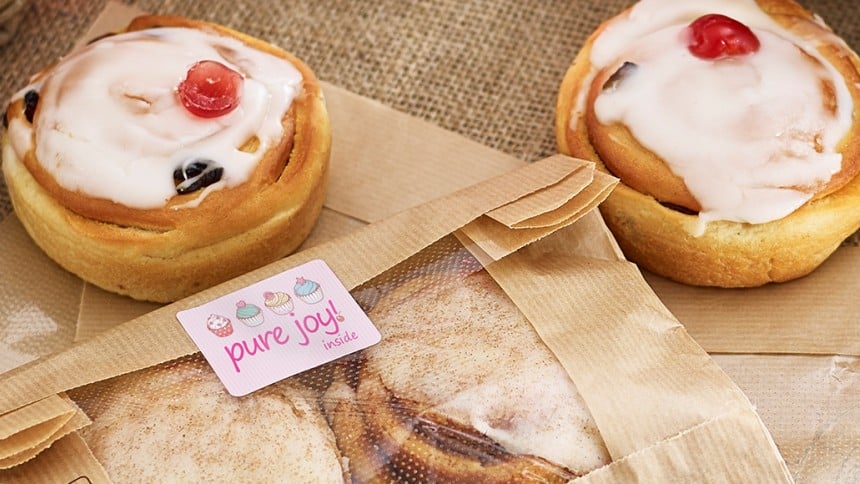 Do you know the true power of your labels?
From creating product labels that will attract attention to your packages being delivered, our research has revealed the importance and power that labels can have.
Fonts, images, messaging and overall design can have a big impact on first impressions, purchase intent, word of mouth and even brand love. Important and fun messaging may seem like a scary task at first, but we have such a range of templates to choose from, including CLP template stickers and stickers you can design specifically around their cut - love hearts anyone?
How can you design your own product labels?
Our scientific research has shown that putting thought and detail into your product labels will help you get your products noticed, increase purchase intent and even spread brand love.
Discover how easy it is to create your own product labels and what you should include on them.
Discover the secrets to successful shipping
How much attention do you give to your labels when sending mail and parcels?
Our research highlighted the importance of multiple labels on packaging, as well as revealing the font styles, images, designs and messages that work best for creating a lasting impression.  
How do you make sure your label copy is right?
What words should you use on your labels to guarantee that customers engage with your brand?
Avery has completed scientific research into how the text on your product or packaging labels can attract attention and engage customers to buy from your small business time and time again. Improve your branding by checking out the hints and tips based on the findings from our label research.
What's the best way to make packages stand out?
When you are sending parcels and packages to your customers, make sure they stand out and attract attention.
Our research highlighted that adding surprise or curiosity to a parcel was an effective way of influencing consumer behaviour. Adding special messages increases brand love, product perception, future purchase intent and word of mouth. Take a look at some examples of these labels in action.
Why should you use more than one label on packaging?
Our extensive research revealed that when sending parcels or mail, you should always try and include more than the address label as this helps, not only attract customer's attention, but also engage them more with your brand.
When used together, address labels, return address, branding and special message labels will increase brand love, perception of quality, word of mouth and purchase intent. See how easy this is to achieve.
Did you know adding images to your label design will have a big impact?
The Avery label design research confirmed people process visual stimuli faster than words. Using bright and colourful images helps focus attention more easily and choosing the right image can play to the primal part of the brain.
Discover what other factors you should consider when selecting images for your product or packaging labels.