Parcel Labels, J8165-100
99.1 x 67.7 mm, Inkjet, white
Content
800 Labels / 100 Sheet
£32.95
Free for UK orders over £40
Standard Delivery £3.98
All prices incl. tax and if applicable plus shipping costs.
QuickDRY™ material ensures smudge free results on standard inkjet printers
Outstanding print quality with vivid colours for creating sharp text and images
Label sizes perfectly optimised for all standard parcels and tubes
Compatible with most ecommerce platforms
Save time with our FREE, easy-to-use template software; Avery Design and Print
Description
Print all your address labels for your parcels with a smudge free result, quickly and easily. These parcel labels come with our special QuickDRY™ promise and dry instantly when printed through your inkjet printer so you can place them onto your packages straight after printing. Whether you are printing in black and white or adding colour, these super white labels will look sharp and smart on your packages.
The label format is 99.1 x 67.7mm with 8 labels per sheet and is an ideal size for applying to large envelopes or small packages. Also great for many E-commerce platforms.
And, with our free template software, Avery Design & Print, you can easily create address labels with your company logo for instant brand recognition. Whether you choose a pre-designed label template or start from scratch with your own design, you can trust our software to deliver smart, stand-out results.
Specification
Content
800 Labels / 100 Sheet
Coating type
Inkjet coated
Facts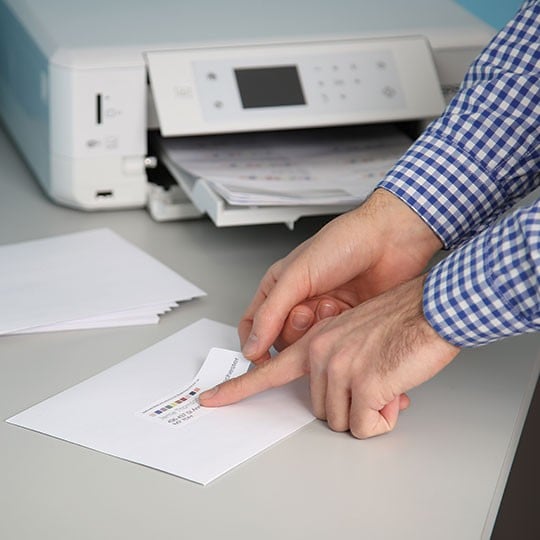 QuickDRY labels
Print and use straight away with QuickDRY labels. Ink dries instantly to avoid smudging when handling and applying your labels, saving you time.