Personalised Labels for Candles

Do you run a handmade candle business and are looking for label inspiration? Avery WePrint is dedicated to helping small business find the correct labelling solution that adds a touch of personalisation to their brand.  Are you looking for personalised candle labels? We help small business find the perfect labelling solution that adds a professional finishing touch.
There is a lot more to a candle's label than meets the eye. Aside from burning quality, the label is the one chance that a candle maker has to communicate with the purchaser or the end-user of the candle. A label is a very important aspect, and actually has a lot going on within that tiny piece of material on your finished product. It is a place for branding your candle, announcing features and benefits, safety instructions, flavours, contact information about the candle maker, website, and anything else that helps sell candles.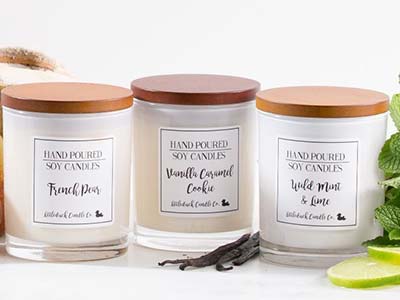 The label that is applied to the actual candle must satisfy a few basic requirements. It should fit neatly on the candle, will not cause risk of fire, does not turn black from the heat of the candles, and must contain all of the elements that satisfy the requirements with regards to safety. Beyond that, it is up to the candle maker to use the label as a chance to communicate with the consumer.
Always keep an eye out when you are in grocery stores or department stores to see how large manufacturers of non-candle related products label their products in hopes to discover a neat idea. Another way to help distinguish your flavours is to be creative with names by naming ordinary scents after appetising or familiar aromas. You can use the scent "lime & lemon" or the word "handmade "to add a point of differentiation. A good label will be concise and informative, yet not too busy.