Food Labels
Whether you're a small business, large organisation, or simply planning a birthday party, our custom food labels will make your packaging unique and stylish! 
Use your new food stickers on delicious products and food containers, to make them stand out from the crowd. Our labels and stickers are also ideal to use as a nutritional facts label or ingredients list.
All of our custom food labels are available in various shapes and sizes which you can personalise to suit your requirements. You can customise every element of your food product label, from the material to the finish.
You can use our Design and Print software to print your food stickers at home or we can deliver them to you, with FREE DELIVERY on orders over £40.
Design your Food Labels & Stickers
A food label can make all the difference when creating a unique food product, whether you need them for cartons, boxes, bottles or jars. At Avery, we've made designing custom labels for food containers simple. You can choose between two options:
Our blank food labels range in a variety of sizes and shapes to fit any container, making them great for creating a food product label. Don't forget, you can create and print your food stickers at home with our Design and Print software.
Want personalised food labels for your business or event? Simply upload your own design from your device and customise with colours, logos and messaging using our free customisation tool.
Do you need some inspiration for your food labels? Check out our range of templates.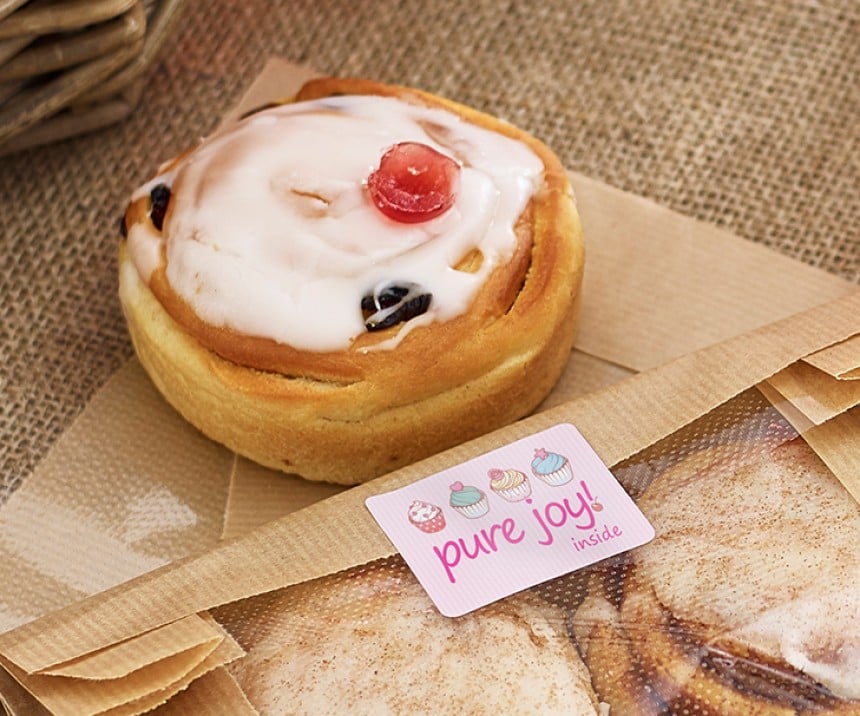 What can Food Labels be used for?
Our food labels are a great way to elevate your products, spark interest and engage with your consumers. Whether you're selling food products or making delicious meals for an event, our custom food labels provide a high-quality option to make your packaging stand out!
We have a wide range of food labels and stickers, from personalised cake labels and chocolate labels, all the way to glass jar labels for herbs and oil labels.
Our waterproof labels are water and tear resistant so you can protect your packaging. Also, our recycled and eco-friendly labels are great for a polished finish while ensuring that your packaging is planet friendly! This is perfect if you're looking for food stickers for takeaway boxes or bags!
For food products that need to go in the freezer, we recommend our resistant labels which are extra durable and can withstand extreme temperatures. Or if you are selling your food products, we have a range of retail labels perfect for pricing and promotions!

If you are unsure which type of material to use for your product, you can check out our sample materials. For more information, take a look at the ways our labels can be used with our list of food label uses.
FAQs
What are food labels?
Food labels can provide information about specific food products. You may find a nutritions facts label, ingredient list or information about the brand. With our custom food labels, you can make your products stand out by adding logos, colours, and more!
What needs to be included on food labels?
For the UK, food labels need to include certain pieces of information such as net amount, ingredients and the best before date. We highly recommend using our custom ingredients labels for a professional finish and to ensure you meet the legal requirements. You can also include nutritional information with a nutrition facts label.
Use our guide on food labelling requirements to make sure that you are including all information required by law. 
What are food stickers made of?
We have a range of different label materials to suit all types of packaging, surfaces and products. For a more environmentally friendly option, you can choose our paper products. Our waterproof and clear labels are also durable and great for adding a stylish and professional touch to custom food label stickers.
Why is food labelling important? 
Food labelling is a legal requirement, however food labels also help consumers make choices about the food they buy. It is important to show pieces of information such as allergies and food compositions to avoid the risk of consuming anything that could cause them harm.