GHS FAQs
Find answers to frequently asked questions about the Globally Harmonized System (GHS) and Avery® Ultra Heavy Duty Labels.
For more information, or if you need help, please visit our Support page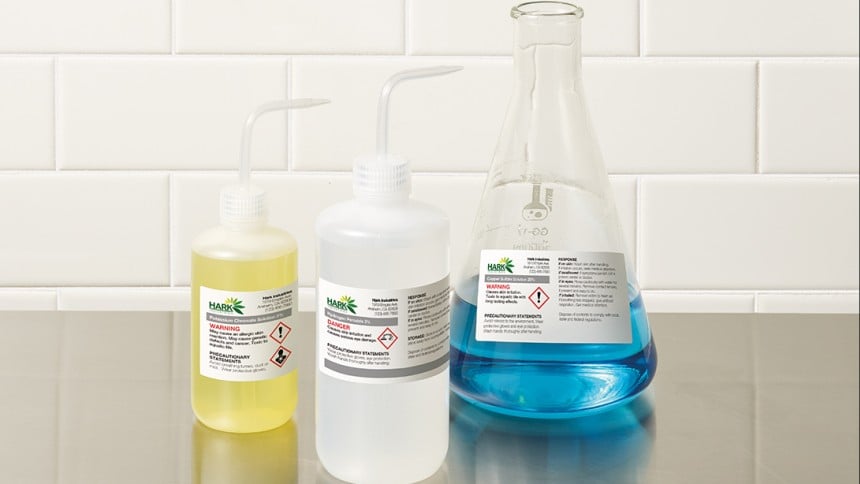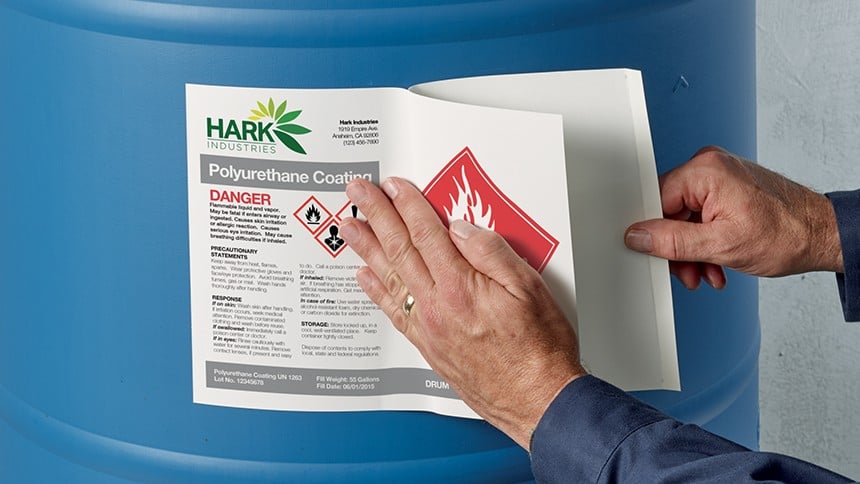 What is GHS?
GHS stands for the Globally Harmonized System of Classification and Labelling of Chemicals. It was developed by the United Nations and its goal is to standardize and harmonize the classification and labelling of chemicals to give universally understood warnings to users. The three major areas of impact are:

Hazard Classification: Definitions of hazard now include specific criteria for classifying health and physical hazards as well as classification of mixtures. It will result in more accurate safety data sheets. Labels: Chemical manufacturers, importers and distributors must use labels that include a harmonized signal word, pictograms, and hazard statement for each hazard class and category. Precautionary statements must also be provided. Safety Data Sheets: Now have a specific 16-section standardized format.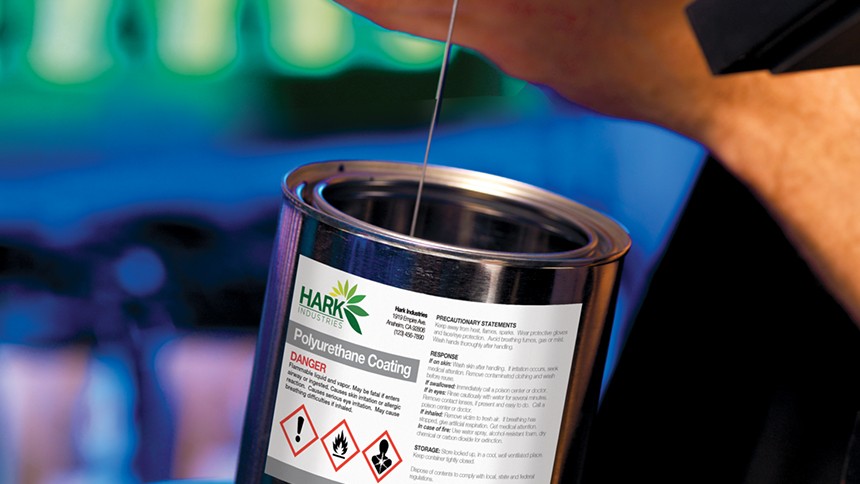 When did GHS take effect?
Key GHS implementation date: 1 June 2015;
All mixtures have to be classified and labelled in accordance with EU CLP regulation/GHS since above date;
GHS for substance: already implemented;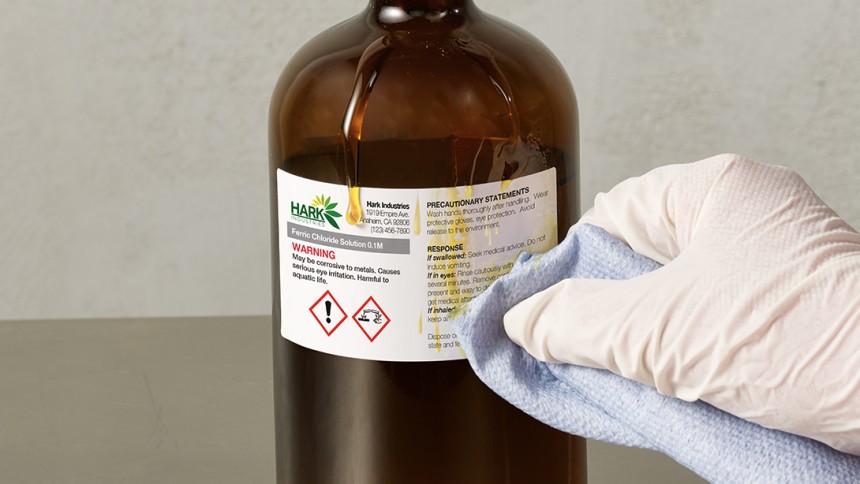 Who does it affect?
GHS affects chemical manufacturers, importers, distributors and any company that has hazardous chemicals in the workplace.

Chemical manufacturers must re-classify their hazardous chemicals based on a common system of chemical classification defined by GHS. They must update their safety data sheets and also use GHS-compliant labels to identify their hazardous chemicals. Chemical Importers/Distributors must ensure the hazardous chemicals they sell have GHS-compliant safety data sheets and GHS-compliant labels. Employers with hazardous chemicals in the workplace must ensure that they have safety data sheets and labels for their exposed workers and that they are trained to handle the chemicals properly.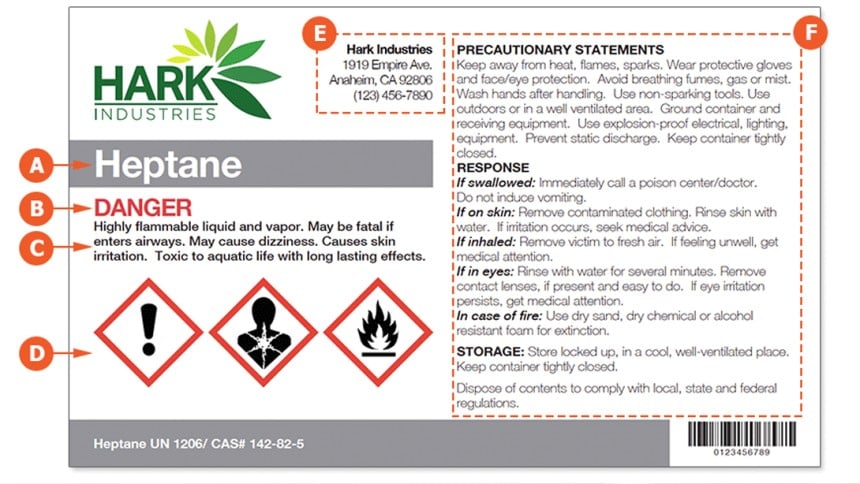 What is required on a GHS label?
A. Product Name/Identifier
Should match product identifier on SDS
B. Signal Word
Indicates relative severity of hazard
C. Hazard Statement
Describes the nature of the hazard
D. Pictograms
Symbols to convey health, physical and environmental information
E. Supplier Identification
Name, address, telephone number of supplier
F. Precautionary Statements
Measures to minimize/prevent effects of hazard (includes first aid)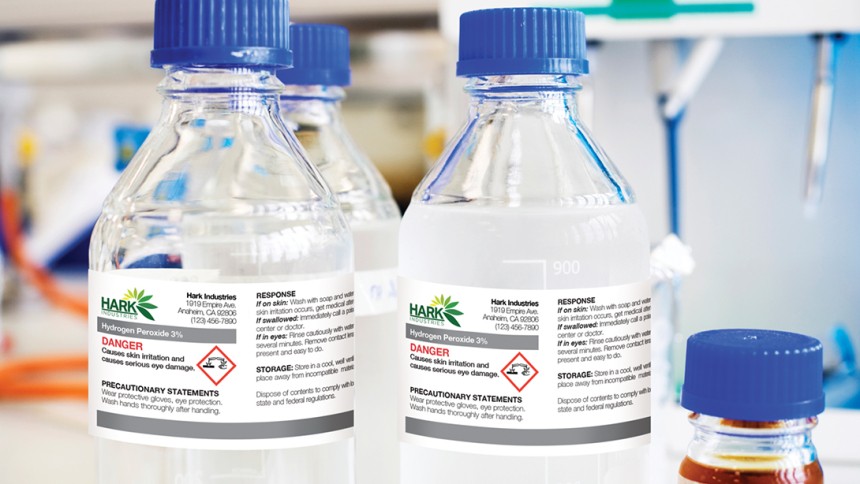 Are there minimum size requirements for the pictograms on the labels?
In relation to the hazard pictograms, CLP links the size of the pictograms to the minimum dimensions of the custom label: each hazard pictogram shall cover at least one fifteenth of the surface area of the label dedicated to obligatory labelling information, i.e. any label elements required by CLP Article 17,25 and 32(6), but the minimum area shall not be less than 1cm², see section 1.2.1.2 of Annex I to CLP. The idea behind this is that the label size and the size of the pictograms should remain proportional to the size of the packaging.
For more information see the document "Minimum Dimensions Of Labels And Pictograms"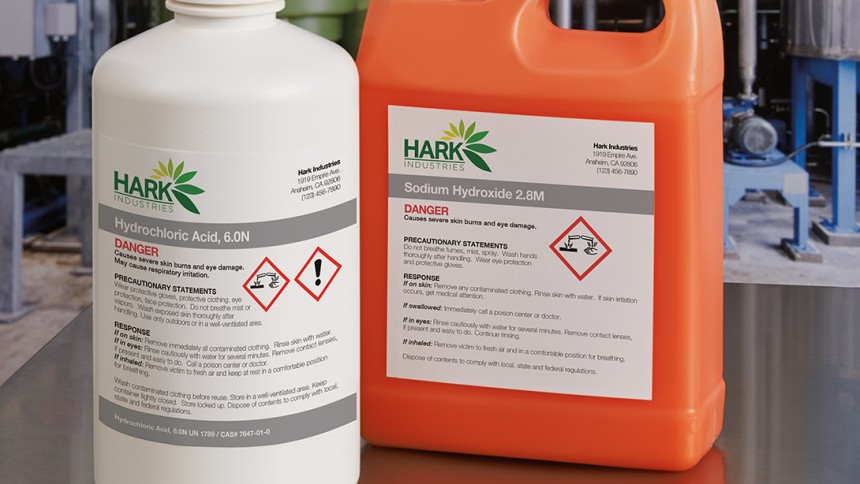 What is BS5609 Certification?
Companies with chemicals that will be exported via ocean freight must also comply with British Standard BS5609. This is a requirement for International Maritime Dangerous Goods (IMDG) certification BS5609 Section 2 requires that the blank label and adhesive can withstand a three-month salt water submersion test. It also includes artificial weathering tests (salt spray and sunlight). When a label is Section 2 certified, it means the blank label is BS5609 Section 2 compliant. BS5609 Section 3 tests the printed label for abrasion resistance and permanence of print. This includes artificial weathering (salt spray & sunlight), tape removal and abrasion resistance. This test is conducted on labels printed with specific printers Even if you are not shipping overseas, going with a BS5609 certified material ensures a durable label that will resist falling off or fading if exposed to water or sunlight. Avery® Ultra Heavy Duty Labels are BS5609 Section 2 certified.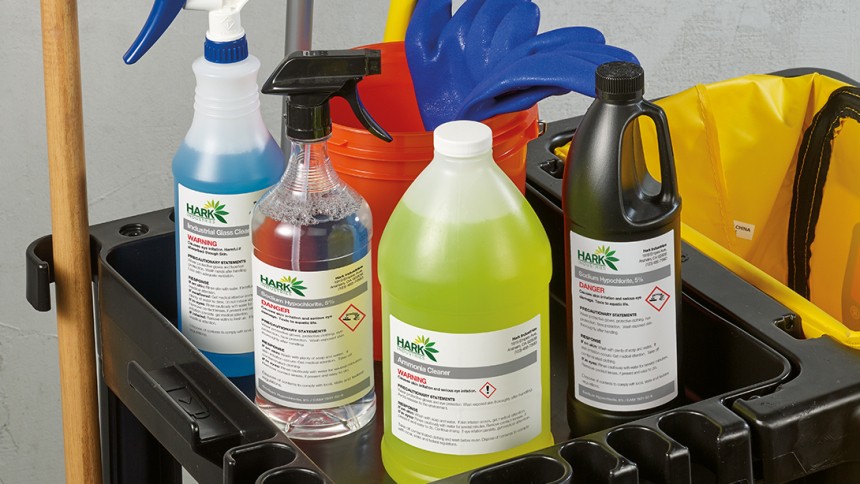 What printers can I use to print GHS labels?
If you do not require BS5609 Section 3 certification, you can use a standard colour laser printer with Avery® Ultra Heavy Duty Labels and have excellent durability. For best results use the Label setting on your printer.

If you require BS5609 Section 3 certification, Avery Ultra Heavy Duty Labels are BS5609 Section 3 certified with the following printers: OKI printer models C610, C711, C9655, C931, ES6410, ES7411, ES9431 and ES9541.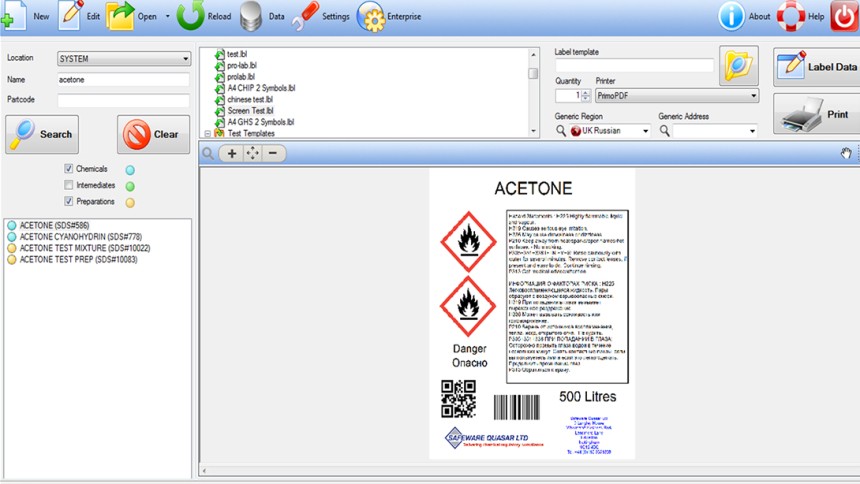 Does Avery recommend professional software?
Yes, we recommend you to use professional software as Safeware Quasar.

Safeware Quasar has developed two chemical labelling software solutions to meet the demands of printing chemical labels; ChemLabelPro, a solution that links directly to GHS Professional drawing relevant information to print compliant labels, and GHS Label , a complete solution including a database, advanced label designer and printer support

For more information see our partner Safeware Quasar.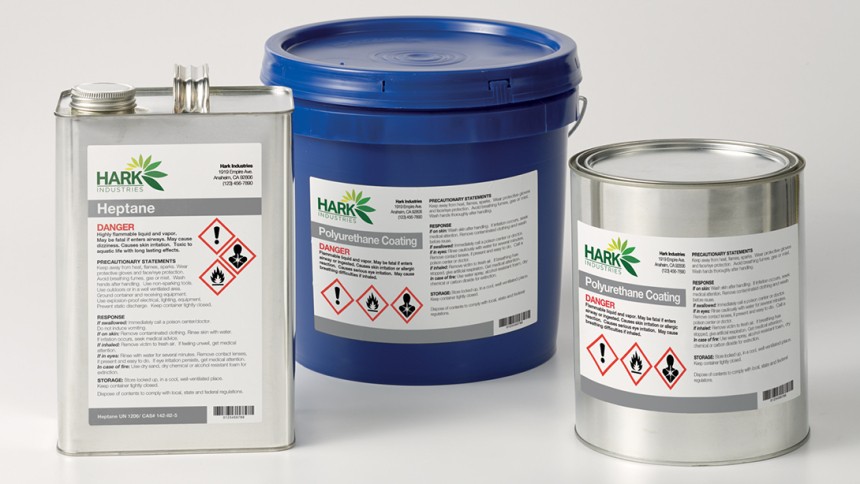 Does GHS affect current workplace hazard labelling systems?
Yes. If a chemical is supplied to the workplace with a GHS label, it must be maintained. If the chemical is transferred to a secondary container (i.e. tank or spray bottle) that remains in the workplace, then employers can choose to have it labelled it with the same information from the original GHS shipping label or safety data sheet. However, employers can also choose to use an alternative system such NFPA or HMIS. If using an alternative system, it is the responsibility of the employer to ensure that the information is consistent with GHS and that workers understand specific physical and health hazards.

If the chemical is transferred to a "portable" secondary container for use by only the person who transferred it during the same work shift, then it is considered "immediate use" and a label is not required.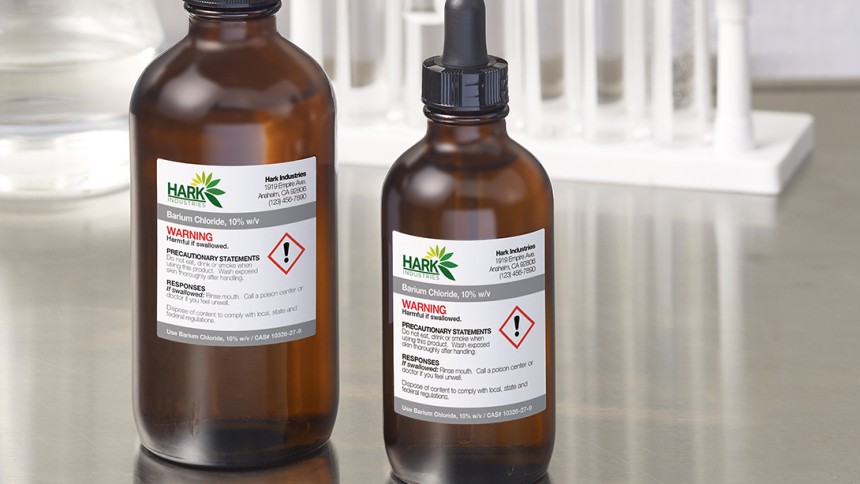 Does GHS apply to small containers of chemicals?
Yes. Even if the hazardous chemical is in a small bottle, a manufacturer, importer or distributor must attach a GHS label to a hazardous chemical's immediate container if it is to be transported. It cannot be attached only to the outside packaging of a shipped chemical.

If a chemical manufacturer is able to show that it is not feasible to use a label (i.e. pull-out, fold out label) or tags containing full GHS information, the shipped small chemical container at a minimum must contain the following:
Product identifier Appropriate pictograms Manufacturer's name and phone number Signal word A statement indicating that the full label information for the chemical is on the outside package that is holding the smaller containers.

Additionally, the outside packaging at a minimum must comply with the following: Outer label has all applicable GHS elements and it must be maintained (i.e. not torn, faded or destroyed) Information stating that the small container must be stored in the outer container which has the complete GHS label Ensure that outer packaging does not conflict with any other standard (i.e. outer packaging cannot be flammable if it contains a flammable chemical)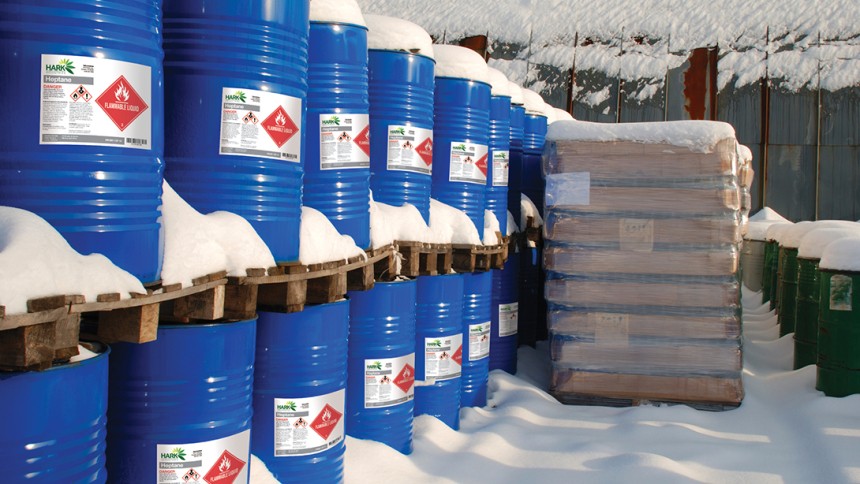 Can I use Avery® Ultra Heavy Duty Labels for other uses?
Yes, Avery® Ultra Heavy Duty Labels are perfect for any application indoor or outdoor where high durability and adhesive performance is required. These labels are underwater submersible and resistant to chemicals, abrasion, weather, sunlight, tearing and temperature. Some alternate uses include: Hazard Warning Labels & Signs Lab test Tubes Arc Flash Labels Vat and Tank Labels Automotive Labels Marine equipment labels Outdoor work labels
Avery® Ultra Heavy Duty Labels work on multiple surfaces including: plastic, metal, painted surfaces, fibreboard, polycarbonate, glass, etc.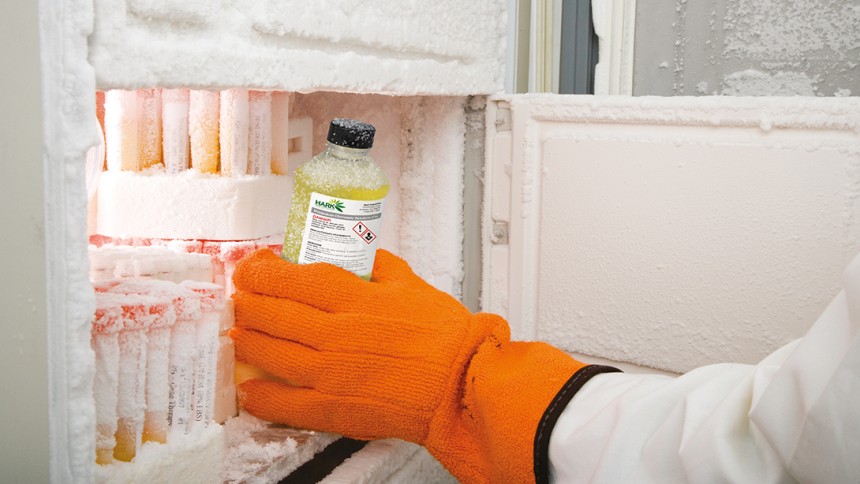 Where can I get more detailed information on GHS?
Visit our Support page for additional information about GHS, regulatory requirements and proper labelling information.

For more information on The Globally Harmonized System of Classification and Labelling of Chemicals, visit the European Commission website

*The information within this FAQ does not constitute legal advice. Every situation is unique. Please contact an attorney for specific advice.