GHS and Chemical labels
Highest durability and adhesive performance
Do you need to label hazardous products such as chemicals, pesticides or lubricant? We are here to help! On this page, your will find everything you need to create your own GHS safe and compliant labels:
If you can't find what you're looking for, please contact us or call our team on 0800 805020.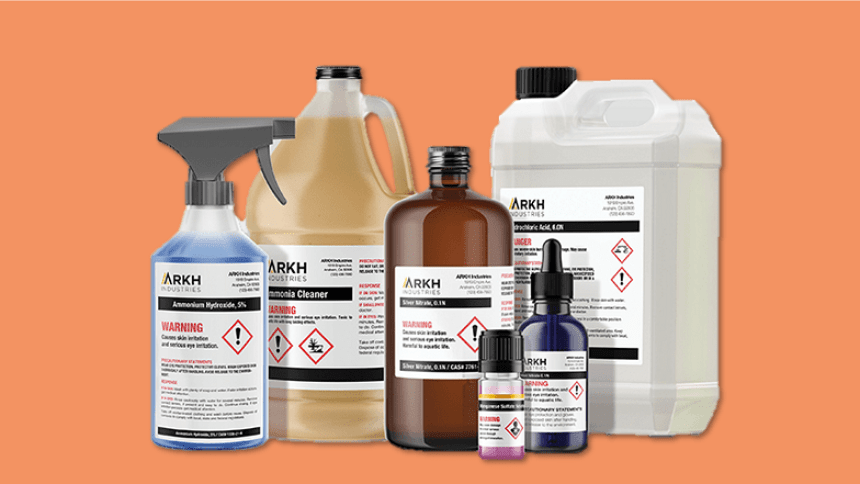 Order Ultra Resistant Labels
Our Ultra Resistant labels in polyethylene are specifically designed for labelling strongly curved, rough, dusty or oily surfaces, rubber and chemical containers.
Waterproof: can resist at least 90 days in sea water (certified BS5609 section 2)
Resistant to extreme temperatures from -40°C to +150°C
UV resistant making it safe for outdoor usage
Conformable material for an easy application on curved surfaces
Non-tear in one direction before being applied, fully tear-resistant once applied
Ultra strong adhesive making it almost impossible to remove
Steam sterilisable
Sticks to most surfaces (metal, plastic, painted surfaces, fiber, polycarbonate, glass, etc.)
Our material resistance has been tested against numerous chemical compounds 2-Propanol, Acetone, Ammonium Hydroxide, Ethyl Acetate, Glycerol, Hexane, Hydrochloric Acid, Isobutyl Acetate, Kerosene, Methanol, Methyl Ethyl Ketone, Mineral Spirits, n-Butyl Alcohol, n-Hexyl Alcohol, Nitric Acid, n-Propanol, Petroleum Ether, Phosphoric Acid, Sodium Hydroxide, Sulfuric Acid, Toluene, Tetrahydrofuran, Xylene.
Order Resistant Labels by the sheet
We also offer resistant labels that you can order by the sheet and print with a laser printer. It's simple: you decide, we dispatch. Whatever shape, size, material or quantity you need - from one sheet to infinity - we'll create your perfect label pack and pop it in the post.
What is required for chemical labels under GHS?
GHS chemical labels need to include the following 6 elements.
Signal word: "Danger" for the most serious hazard level or "Warning" for lower risks
Product identification: chemical name, code number or batch number
Manufacturer details: name and contact information including address and phone number
Hazard pictograms representing the type of health, physical and environmental risks
Hazard statements describing the nature of the hazards of a chemical, including, where appropriate, the degree of hazard.
Precautionary statements recommending measures that should be taken to minimize or prevent adverse effects resulting from exposure to the hazardous chemical or improper storage or handling.
How to print GHS labels?
Our GHS Label Wizard walks you through the process for creating compliant GHS chemical labels step-by-step. Signal words, hazard and precautionary statements and pictograms are automatically filled in when you enter the chemical name or CAS number.
Review and edit your chemical label design with our user-friendly design tools. You can then download a PDF to print on our ultra resistant labels or ask us to print it for you.
What do hazard pictograms mean on chemical labels?
Hazard pictograms signal the presence of hazardous chemicals that might cause harm to people or the environment. They appear in the shape of a diamond with a distinctive red border and white background. You can have several pictograms on the same chemical labels.
Here are commonly used pictograms for you to use as a template.