Avery® Oval Labels
Blank Oval Labels and Printed Oval Stickers
There are two options when it comes to oval labels: 
Printable Oval Labels: choose your size, material and quantity, from 1 sheet to 10,000s, we will deliver to your door within 3 working days. Print on your inkjet or laser printer with the help of our free template. Starting at £4.80.
Custom Oval Labels: Choose your size, material and finish. Upload or create a design on our free designer. We'll print and deliver to your door within 3-5 working days. Starting at £12.
Shop Blank Oval Labels   Shop Custom Oval Stickers
Avery printable oval labels are great for creating stickers, gift labels, spice jar labels, product labels and even sealing party bags. We offer a wide selection of different finishes from glossy laser and inkjet labels to Kraft and chalkboard labels for a unique look for labelling your products and gifts.
With our free template software, Avery Design & Print you can create and print your messages quickly and easily using pre-designed templates or simply create your own.
Oval sticker dimensions
We offer 6 sizes of blank printable oval labels in the most common dimensions from large to small. If you can't find the size you need there you can use our custom print service and choose a bespoke size for a little extra cost. Not sure what the correct dimensions are for your needs? Use our size guide and oval label print outs.  Please remember that our site works in mm so convert anything you measure in cm or inches into mm. 
Avery oval sticker template
If you're printing oval stickers yourself you'll need a template that you can edit and use to print, this is helpful for both complex and simple designs. Each size of oval sticker has a different template. You can find the right template for your labels by checking the sheet that came with them. On there is a template number, once you have this you just need to enter it into our design software, select the template, upload or create the design for the labels and follow the print instructions. The benefit of using a template is that it ensures your stickers print properly with all the text and images in the right place. 
What works well for oval sticker design
When it comes to designing your stickers it can be tricky to know what looks good or not especially with a stranger shape such as oval. Take a look at the images above for design inspiration. Specific things to look out for with oval labels is to fill the space. If you're placing text in the middle, use a bold font, strong patterned background or border, this stops the label from feeling empty.  
Avery Design and Print Template Software
Our free software includes all sorts of creative tools to help you design and print your Avery products, perfectly, every time.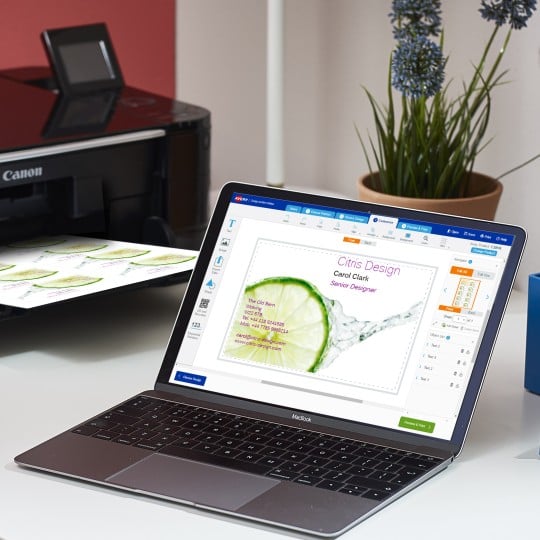 Ready to print?
Click here to open Design & Print and enter your Avery product's software code to get started.

Need some inspiration?
Why not have a look at one of our template design galleries to select a pre-design to customise