Learn about labelling beauty products properly and they won't just look amazing — they'll be legally compliant, too
You're passionate about beauty and you've seen a gap in the market. Your product is complete and fabulous. You are ready to go out into the world!
Or are you?
Did you know that there are regulations for labelling beauty products? Breaching these carries a pretty hefty fine of up to £20,000 and even a maximum prison sentence of 12 months for those convicted.
We're not in the business of scaring you. We just want you to know how important correct personalised labelling is, particularly with beauty products. We don't want to see you lose £20k before your business has had the chance to properly take off!
Regulations and legislation can be jargon-heavy. Reading through it can sometimes feel like you're trying to learn a new language.
However, the legislation isn't designed to cause you a headache. It is to keep consumers safe.
Let's take you through labelling requirements for beauty products. We're not going to overcomplicate it, instead, we are going to tell you the basics you need to know for correct and legal labelling.
If you need more information (or if reading legislation is a hobby of yours) you can find helpful links at the end.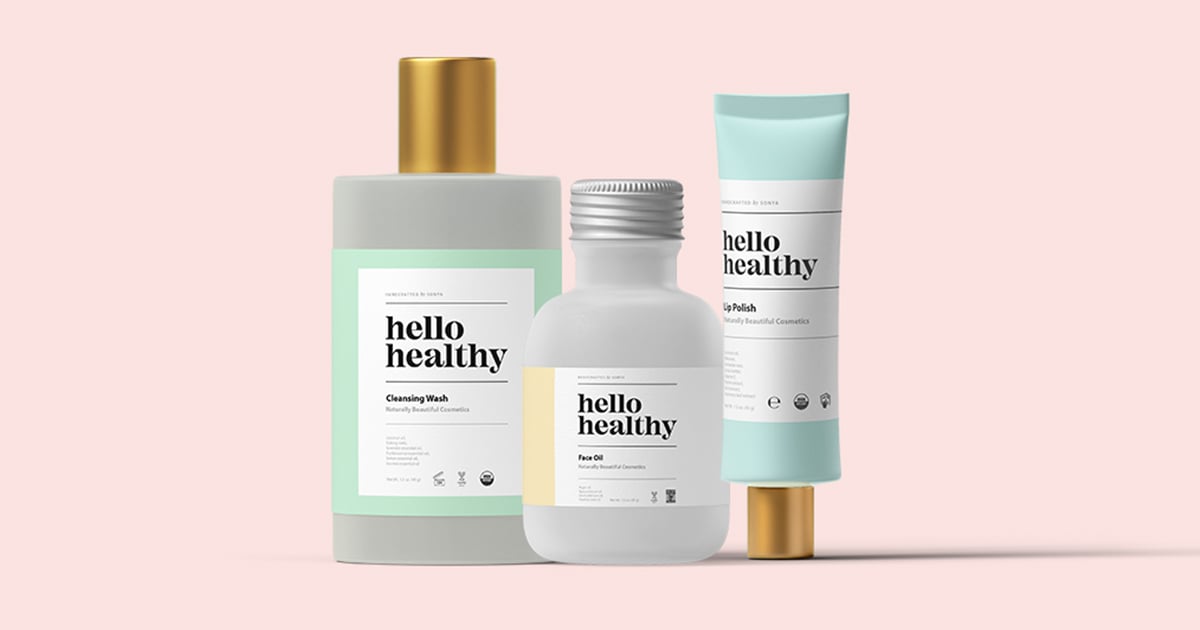 What regulation are beauty products governed by?
In 2013, EC Regulation No. 1223/2009 on Cosmetic Products became part of UK law. The regulation covers all products sold in the European Economic Area (EU countries including Iceland, Liechtenstein and Norway).
Your beauty product is likely to come under the regulation as cosmetic products are defined as:
'Any substance or mixture to be placed in contact with the external parts of the human body (epidermis, hair system, nails, lips and external genital organs) or with the teeth and the mucous membranes of the oral cavity with a view exclusively or mainly to cleaning them, perfuming them, changing their appearance, protecting them, keeping them in good condition or correcting body odours.'
What are the labelling requirements?
These are the key things that must be shown on the label or the packaging in an easily readable font:
The name and address of the company or individual (known as the 'Responsible Person') and the country of origin if imported into the EU
The net content by weight or volume if more than five grams or five ml
'Date of minimum durability' if less than 30 months. Longer-lasting products should indicate how long they will last once opened plus any information on required storage conditions
Any precautionary information such as instructions for use
Batch number or reference
The function of the product if it is not clear from its appearance
A list of ingredients under the word 'Ingredients' in descending order of weight at the time they are added (they can go in any order if less than 1%)
If the product is small and the information and ingredients are long, you might need to get creative with your packaging. You can add the required information to a label, leaflet, tape, tag or card. It must be either attached or enclosed in the product.
The terminology for listing ingredients can be found in the International Nomenclature of Cosmetic Ingredients.
Symbols used on labels and packaging
The regulations also provide the following symbols to be used on packaging for:
Reference to enclosed or attached information,
The period after opening
The 'date of minimum durability'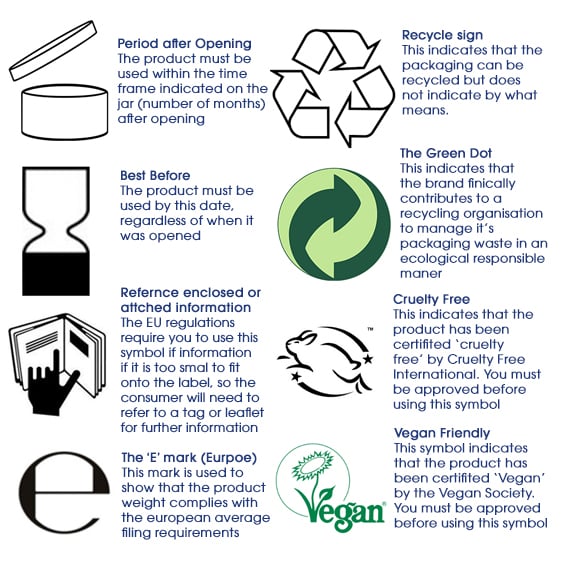 Other important information on the regulation
Local Trading Standards Officers enforce the regulations in the UK. This means that if you are operating in more than one area then you will need to form a partnership with the local Trading Standards Authority where the decisions are made.
As a company or person selling cosmetics within the European Economic Area, you must have a 'Responsible Person'. This can be either an individual or a company.
Their job is an important one. They should make sure that the regulations are followed. They must also ensure that each product has a complete Product Information File, containing all the mandatory information on the product, including the Cosmetic Product Safety Report – a safety assessment performed by a qualified professional before the product is placed on the market.
The regulation also lists prohibited substances and substances which are subject to certain restrictions. It also sets out the use of UV filters, colourants and preservatives.
How to create your beauty product labels
We hope things are a little clearer now for what to include in your beauty product labels. If you are ready to get creating then go to the labels section, choose the shape, size and materials and get busy designing!
You can also find designs and templates for cards and tags for additional information under postcards and greetings cards.
Please note that this article is based on our understanding of the law as of February 2018. We cannot guarantee the accuracy or completeness of this information and shall not be liable for any loss, damage or injury directly or indirectly caused by or resulting from this information or its use.