How to make stunning Gin Labels

Do you sell your own gin? We help many small businesses completely customise their own gin labels.
But whether you're creating gin gifts or running a business, you don't need to set up a distillery for making gin! These days, gins are all about novel flavours through infusion. It's not difficult to make gin infusions at home. So if you're looking for ideas for Christmas gifts with a homemade or personal touch, it's well worth experimenting with gin infusions.
While sloe berries have been used in homemade gin for many years, there's no limit to the flavours you can try with gin. We've seen everything from rhubarb, fresh herbs, fruits and berries, to salted caramel, chocolate and even balsamic vinegar!
But whatever type of gin you're making, it's important to remember that what's on the outside of a personalised gin bottle is every bit as important as what's inside.
In this article we're focusing on how to make your gin bottle labels stand out and look professional by focusing on:
The design of your gin labels
Your choice of materials
What to include on your label if you're selling gin to the public
Designing your gin labels
Strong branding is always important. On our gin labels page, you can see examples of successful gin label and sticker designs that we've printed here at Avery WePrint. We've also explained why these designs are successful and looked at the techniques used to attract attention and generate interest.
These label designs all use colour, colour contrasts or unusual images to stand out. They're also printed right to the edge of the label with no border, which is key for achieving that truly professional look.
Will your labels be lined up on a shelf? You can also attract attention if your labels create a neat pattern when your bottles are displayed in a row.
Gin label tip #1
Make sure you choose bottles with a large enough area to place a label on. This area needs straight sides that are even and not tapered. Labels won't work on a conical shape or on a surface that is rounded, bumpy or has ridges.
It's also important to make sure that the final printed label is true to the original design in terms of colour and clarity. We use using digital photo printing to ensure accuracy.
If you find it hard to choose from the wide range Avery WePrint label shapes and sizes, bear in mind that the oval, straight oval and plaque-shaped labels work particularly well on gin bottles using the 'portrait' orientation.
Rectangle, round and square labels are also available in many different sizes. Small blank labels are ideal for creating gin stickers to add a pop of colour or a special message.
If you're selling your gin to the general public, you must ensure that your gin is promoted in a socially responsible way, and only to the over 18s. You'll need an additional label on the back of the bottle to meet the spirit labelling regulations (see below).
Gin label tip #2
Bottles are often sold by capacity rather than measurements. Do measure your bottles to make sure you know the exact dimensions and space available before ordering your labels.
Choosing your gin label materials
Gin labels made from high-quality materials with good adhesive will help your label design stay fresh and look new. At Avery WePrint we invest heavily in label and adhesive technology to avoid fading, scuffing and slippage.
Storage conditions, transportation and handling are not always ideal, and your gin bottles need to look as good on arrival as when you sent them off.
If you have a gin business, choose a label material that reflects your brand, the type of gin you are making and the durability you need. If you're making gin gifts, you might want a more 'handmade' look.
To meet these different needs, there are six Avery WePrint label materials to choose from:
Paper – white labels with a natural, matt or gloss finish
Plastic – a water-resistant, glossy film in white for a sleek look
Textured Paper – a thick, off-white surface for a premium, antique look
Brown Kraft Paper – made from 100% recycled materials for a natural, rustic look
Clear labels – durable, water-resistant plastic with a special printing technique to make designs stand out
Waterproof labels – made to the most stringent international standards for high and low temperatures and immersion in water over long periods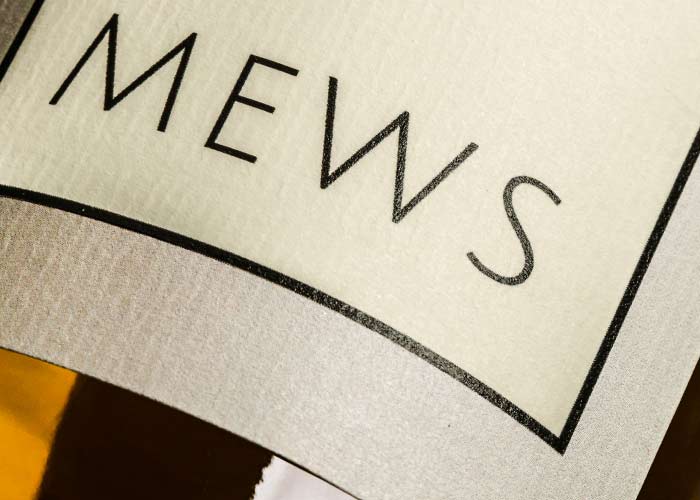 Gin label tip #3
For the ultimate personalised gin bottle, you can add a handwritten name or note. To write on labels with an ordinary pen, they need to be made from Paper (natural or matt finish) and Brown Kraft Paper. You can also write on Waterproof labels with a permanent marker.
Legal requirements for gin labels
The regulations for labelling gin that is sold and/or produced in the EU is are set out in Articles 11-13 of the European Directive (EC) 110/2008. The law protects consumers from fraudulent labelling, and it's a criminal offence to breach the labelling regulations.
This law defines a spirit as a drink that has at least 15% alcohol by volume and lists the main spirit groups, including gin.
Information has to be clear, easy to find and on the gin bottle itself, rather than on packaging that gets thrown away. You should not:
Downplay the alcoholic strength, unless it's less than normal
Associate your gin with violence or anti-social behaviour, sexual or illegal activities
Encourage binge drinking or drunkenness
The following information is required:
Name and address of the bottler
Country of origin
Net volume in litres, centilitres or millilitres.
Alcohol by volume (ABV) as a percentage
Allergy declarations
(Drinks above 10% ABV do not need to show a 'use by' date.)
Gin label tip #4
The e-mark, placed after the volume amount, allows you to sell in other countries in the European Economic Area without having to meet extra requirements on measurements.
The UK Department of Health also requires or suggests the following warnings and guidelines:
The number of UK standard units of alcohol per 25ml serving
The amount of UK standard units of alcohol in the bottle
Government guidelines for alcohol consumption
To avoid alcohol if pregnant or trying to conceive
Many producers also show the Drink Aware website on alcohol labels: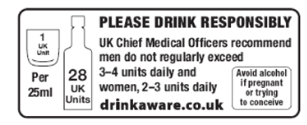 If you are selling alcoholic drinks to the public, please make sure you are aware of all the legal requirements. Although we have done our best to ensure that the information in this article is accurate, it is not comprehensive. We shall not be liable for any loss, damage or injury directly or indirectly caused by or resulting from the information in this article or its use.
Interested in labelling bottles? See these Avery WePrint blogs:
More information on drinks labels