How to get your Cosmetic Labels Right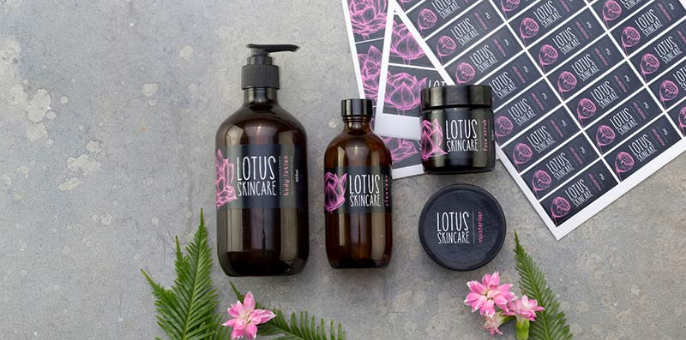 If you want to print personalised cosmetic labels or stickers, we're here to help. There are three key things to get right:
Label shape and size needs to be suitable for the container and required text
Label quality – labels should not slip or fade easily and be able to withstand transportation, being on display and damp conditions
Label design and text must reflect the product and producer or brand and help sell the product, while also meeting the legal requirements shown below
We've got the first two points covered with a wide range of shapes, sizes and materials, combined with our passion for top quality adhesive, materials and printing processes.
See our cosmetics page for inspiration, or read on to find out more about what information you need to put on your cosmetic labels.
When it comes to the design and text, you'll have to decide what fits in with your own sales and marketing strategy and your branding. Using our online Design Tool, you can make professional-looking cosmetic labels starting with a blank template, a ready-made template or by uploading your own finished artwork in PDF format.
A new feature of the online Design Tool is the 3D View, so you can see how your label looks on the product. When you're at the Preview stage, just click the 3D button at the bottom right.
Regulations for cosmetic labels
It's vital to make sure that any product going onto people's skin is safe. What's more, consumers need to know what the product is, what it's for, what it contains, how to use it safely and how to get best results.
This is why there are strict regulations for cosmetic labelling and ingredients. So before you start designing your cosmetic labels, please make sure you understand the rules.
Information required on inner and outer cosmetic packaging
Regulations apply to all cosmetics or beauty products that are being sold or given away for commercial promotion in the European Union.
There are 7 pieces of mandatory information:
Name and Address of the company or individual responsible (called the 'Responsible Person' in the regulations) ­– this can be shortened to company name and postcode. Country of origin need not be included unless the product has been imported from outside the European Union.
Declared Quantity of Contents – the net content by weight or volume of more than 5 grams or 5 millilitres.
Best Before Date if product shelf life is less than 30 months – the 'hourglass' symbol can be used to indicate this. 
Period After Opening must use the 'open jar' symbol (not applicable to all products such as single-use packs and aerosols).
Warning Statements and Precautions – including instructions for use depending on the ingredients used.
Batch Code or Lot Number – to enable traceability from raw materials to the finished product.
The Function of the Product if it is not obvious from its appearance.
Ingredient List in descending order of weight at the time they are added (any order if less than 1%) – this information does not need to be on the primary container label if there is outer packaging for it to go on.
Take a close look at the labelling of the cosmetic products around your home or in the shops to see how manufacturers are complying with these rules.
Cosmetic labels questions and answers
What language must the label be in?
Some of the required information must be in the national language of the country where the product is being sold: Function, Warning Statements and Precautions, and Instructions for Use.
What size type should be used on the label?
No minimum size is specified, but it must be easy to read, visible and indelible. Generally, anything smaller than 6pt can be difficult to read.
What if the required information won't fit on the label?
If you can't fit the precautionary information and/or ingredients information onto the product label or packaging, it can be on a leaflet, tag or card that's attached or enclosed. For small products such as soap or bath bombs, the ingredients can be shown on a notice close to where the products are on display for sale.
In these situations, use the 'hand in book' symbol on the primary container to indicate that the consumer should refer to enclosed, attached or nearby information.
Where are the regulations for cosmetic labels?
The regulations for cosmetic labels are set out in Article 19 of the EU Cosmetic Regulation (EC) No. 1223/2009 which applies in the UK.
Information about the ingredients that make it mandatory to label a product with Warning Statements and Precautions is shown in Annexes III to VI of the Regulation. Substances prohibited in Cosmetic products are listed in Annex II.
What is a 'cosmetic product' under the regulations?
All kinds of toiletries, makeup and beauty products that are being sold to the public come under this definition:
"Any substance or mixture to be placed in contact with the external parts of the human body (epidermis, hair system, nails, lips and external genital organs) or with the teeth and the mucous membranes of the oral cavity with a view to exclusively or mainly to cleaning them, perfuming them, changing their appearance, protecting them, keeping them in good condition or correcting body odours."
Who enforces the law on beauty products and cosmetic labels?
The local Trading Standards Offices enforce the regulations. If you're operating in more than one area, you should work with the Trading Standards Authority where the decisions are made.
What terminology should be used for listing cosmetic ingredients on a label?
The terminology for listing ingredients is set out in the International Nomenclature of Cosmetic Ingredients (INCI).
You can access a new online international cosmetic ingredient dictionary and handbook by signing up to the Personal Care Products Council
What are the other main requirements for selling cosmetic products besides labelling?
To place a cosmetic product on the market, you must have the results of a safety assessment ready for inspection and you must keep a product information file. Safety assessments must be carried out by someone with relevant qualifications and experience.
Cosmetic products for children under three and products for external intimate hygiene are subject to a special safety assessment.
What's the situation regarding animal testing?
The current status of animal testing in relation to cosmetic products in the European Union is that animal testing of cosmetic products and ingredients is banned, as is selling products that have been tested on animals.
The European cosmetics industry is currently researching and developing alternative methods of testing.
Where to get more information
Access the original regulation here.
The UK Cosmetic Toiletry and Perfumery Association (CTPA) has published a guide to supplying cosmetic products on the UK market to download from the homepage, which you can find here.
Cosmetics Europe, the personal care association, has a section on Understanding the Cosmetics Regulation.
How to print your custom cosmetic labels
To get started, go to our Labels section, choose your shape, size and materials and start designing. If you need cards or tags for additional product information, see Business Cards, Postcards and Greetings Cards
Please note that we have taken care to research the regulations for cosmetic labels as of August 2018. However, we cannot guarantee the accuracy or completeness of this information now or in the future, and you should also carry out your own research. We shall not be liable for any loss, damage or injury directly or indirectly caused by or resulting from the information in this article or its use.