Covid-19 Hand Washing Posters and Stickers
Buy or personalise Coronavirus Signs
With the World Health Organisation declaring the Coronavirus a global pandemic, it's more important than ever to promote healthy habits to stop germs spreading.
Avery have a selection of hand washing posters, custom stickers and virus prevention signs to purchase or personalise for the workplace, school or for reminders at home.
You can print your own COVID-19 templates below, or our printing service starts from 2 A4 sheets for £12 and fast UK delivery at £2.99. We offer volume discounts and you can choose to have posters or stickers printed on self-adhesive plastic, paper, and waterproof materials.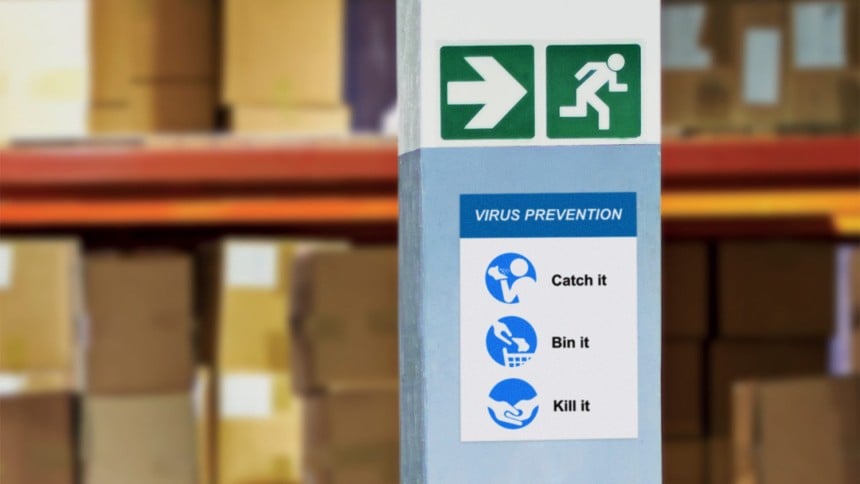 FREE CORONAVIRUS TEMPLATES
Click to select the design you'd like to use
This will open our free Design & Print template software. You can then choose which Avery product you would like to apply the design to.
We have a number of pre- designed signs to support workplaces and organisations who'd like to put up advice and notices regarding the Coronavirus. You can either purchase pre-printed signs directly from us or personalise the signs and print them yourself. There are signs that promote:
Hand washing Advice
How to stop the spread of germs
Healthy Habits and Advice
Symptoms of the Coronavirus
Don't see the one you need? All of our signs can be adapted to suit you and the occasion you need to use them.
Simply click on the links below the design you want to adapt to apply the design to any Avery product.
These links will open the design in our free Avery Design & Print software. Here you can move the images, change the text, add additional shapes and images – whatever you need. Then just print onto your Avery product, or we can print it for you.
Top Ways to Protect your Workplace from Coronavirus
1. Encourage good hand washing
The government advice is to wash your hands with soap and water for a duration of 20 seconds, rubbing and lathering the backs of the hands, between your fingers and under your names.
Need some inspiration on how to know when 20 seconds is up? A new website has been generated which generates hand washing icons based on your favourite song: https://washyourlyrics.com/
You can save these lyrics as an image and import them onto your Avery Labels using Design & Print to create personalised posters
2. Encourage regular handwashing
Wash hands before, during and after preparing food. Wash your hands before you eat and after using the toilet (Hopefully this is a given).
Wash your hands after taking public transport and try not to touch your face.
It's important to wash your hands after you blow your nose, cough or sneeze.
If you can't get to soap and water, use hand sanitizing gel instead.
Avoid touching your eyes, nose and mouth with unwashed hands.
3. Advice when Sneezing or Coughing
If you need to cough or sneeze, try to catch it in a tissue and then dispose of that tissue immediately
If you do not have a tissue to hand, catch the cough or sneeze in the crook of your arm, rather than your hands.

4. Up your cleaning regime
Routinely clean and disinfect all frequently touched surfaces in the work places such as desks, counter tops and door handles.
Communicate regularly with your teams. Be honest with them about your plans, what you do and don't know. 
Be transparent about shared objectives and how you can work together to protect yourselves. Make sure you are open and honest about how everyone can work towards
Reducing the spread of the virus day to day
Protecting people who are at higher risk
Maintain business operations safely
COVID-19 - Be back to business ready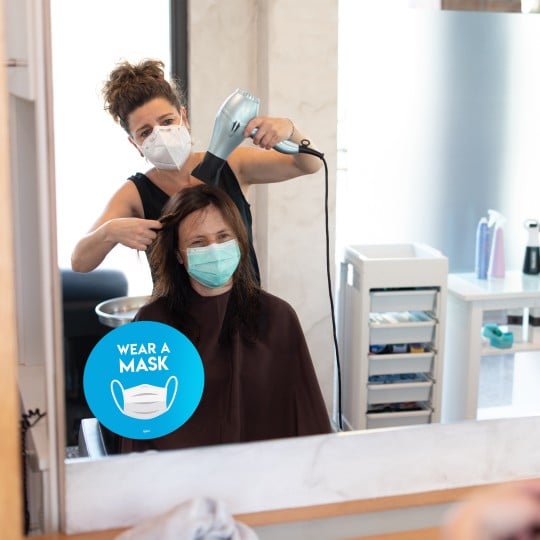 COVID-19 Business Advice and Guidance
Advice on how to get your business or office re-open for staff and customers with all the new coronavirus prevention measures. From implementing to social distancing to reassuring customer and employees it's safe to return.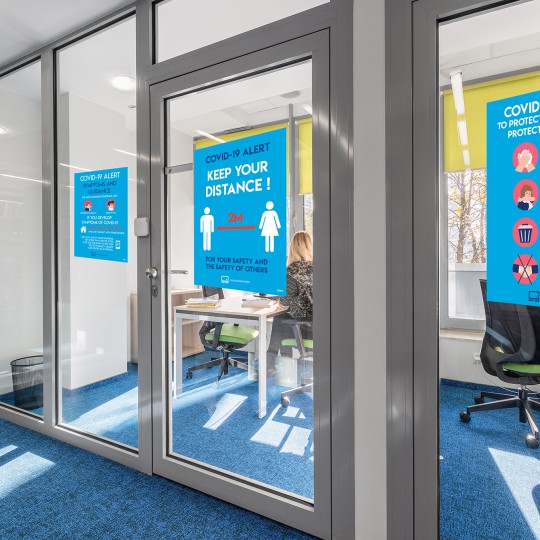 COVID-19 Signage
From social distancing posters and floor decals, to hand washing signage and Coronavirus symptoms signs, we have everything you need to get your business up and running again after the COVID-19 lockdown.