Letter Tray Set - ColorStak
250 x 46 x 312 mm
Self-stacking - no need for additional risers
Strong and sturdy for everyday use
ColorStak letter trays can be stacked one on top of the other, staggered or at a 90 degree angle.
Ideal for A4 and foolscap documents, folders and brochures
Matches other products in the ColorStak range
Description
ColorStak letter trays don't just look great, the products are incredibly sturdy and of high quality with a gloss finish. These bright blue, angular ColorStak paper trays stack neatly on top of each other, so you can save space on your desk. Without buying separate risers, you can build up as many trays as you need. Designed to hold A4 and foolscap documents, folders and brochures, these strong ColorStak Letter Trays come as a set of 2. You can stack them traditionally - one on top of the other, but they will also stack at 90 degrees and front to back. Choose the arrangement and colour combination that best suits your needs.
Specification
Dimensions
250 x 46 x 312 mm
Made from
Acrylonitrile Butadiene Styrene (ABS)
Facts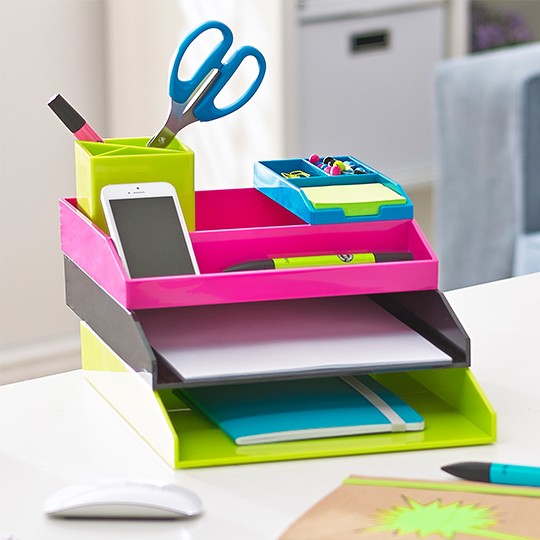 Stackable trays
With our busy lives, desk space comes at a premium. When you can't spread out you need to stack up. Avery stackable trays give you all the vertical storage you need to help keep your documents and files organised.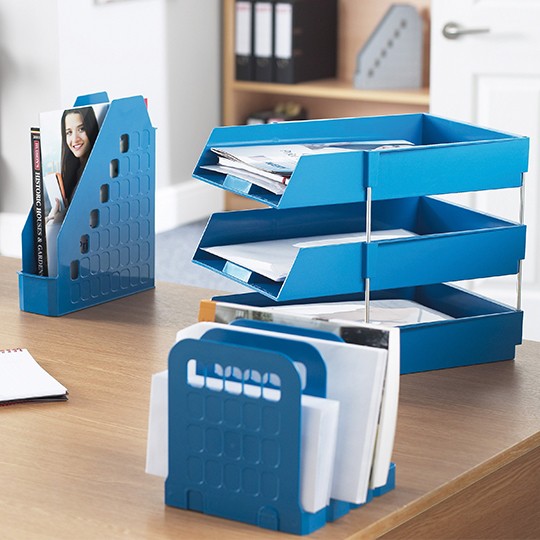 Durable and lightweight
Durable and lightweight plastic means your stationary will serve you well, whilst being easily stored and transported.

Online retailers
Payment methods:
Creditcard, bankcollection

Buy on-line

Payment methods:
Creditcard, paypal

Buy on-line

Buy on-line