CD Design Kit
117 mm, Laser, Inkjet
Kit contains: Design & Print software, unique label applicator and a selection of CD labels and case inserts
Curved applicator means the label is rolled smoothly onto the CD with no wrinkles or bubbles
Labels have practical, removable wings that help centralise the design without touching the label or the CD
Ideal for labelling your music, photo and video collections
Save time with our FREE, easy-to-use template software; Avery Design and Print
Software & Templates
Click here to design and print this product
Description
The perfect solution for professional labelling of CDs is our CD Kit. This comes complete with labelling software to create your CD label designs, a unique label applicator, 20 full face, matt CD labels, 4 full face glossy, CD labels and 10 CD case inserts. The labels have practical, removable wings that help centralise your design without touching the label or the CD, whilst the curved applicator means the label is rolled smoothly onto the CD with no wrinkles or bubbles. Also print out your design onto the CD case inserts for a complete presentation.
With our free template software, Avery Design & Print, you can easily create a smart, professional look for your CD labels and inserts with your own design and images. Whether you choose to customise a pre-designed template or to start from scratch with your own design, you can trust our software to deliver smart, stand-out results.
Specification
Printer type
Laser, Inkjet
Surface (special feature)
high-gloss
Facts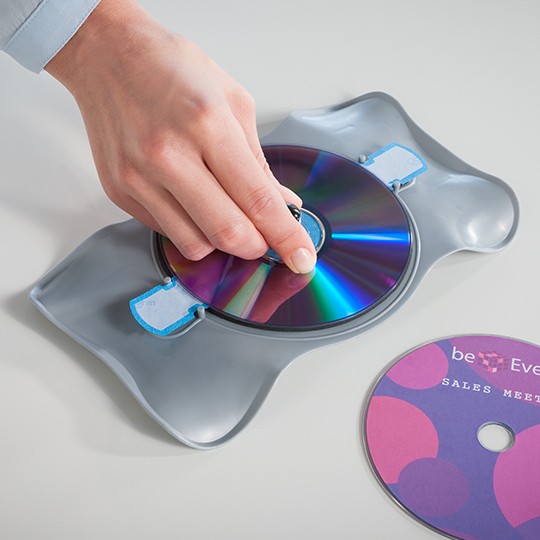 Curved label applicator
The curved CD label applicator allows your label to be smoothly rolled onto the surface of the CD avoiding bubbles or wrinkles. You can achieve a consistent and professional look, as well as being more efficient when labeling multiple CD's.

Online retailers
Payment methods:
Creditcard, bill

Buy online

Payment methods:
Creditcard, paypal

Buy online

Payment methods:
Creditcard, cod

Buy online