Design your own Personalised Antimicrobial Labels
FAST UK DELIVERY, PREMIUM SERVICE
Design your own Personalised Antimicrobial Labels
FAST UK DELIVERY, PREMIUM SERVICE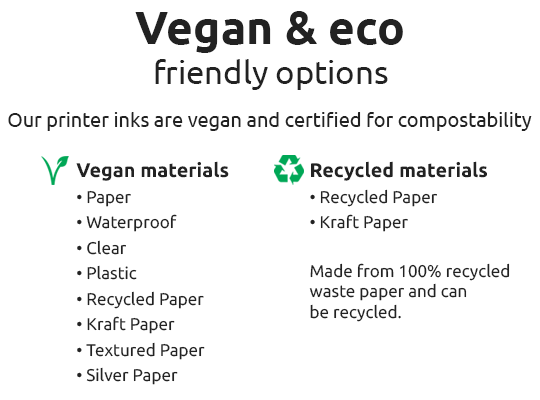 How does the antimicrobial label finish work?
Are you a small or medium-sized business looking for printed custom labels that can protect you, employees and customers? Choose any design and we'll print and finish your labels with our antimicrobial matt finish. Not familiar with the term antimicrobial? Not to worry, it simply means that it kills 99.9% of microbes, in the same way that antibacterial means kills 99.9% of bacteria. Microbes are microorganisms such as fungi, bacteria and mould and can live on any surface.
But how does an antimicrobial matt finish protect you?
If you, co-workers or customers touch the same surfaces you can easily pick up and spread microbes such as bacteria or even viruses leading to the spread of illnesses like the common cold. Using an antimicrobial finish on labels kills 99.9% of microbes on the surface of the label and without these microbes viruses are unable to replicate.
Our finish creates an environment that actively breaks down the cell walls of any microbes on the surface of the label, killing 99.9% of them. The antimicrobial finish is non-toxic, meaning that it is safe to use with children and animals. It can be applied to many different high touch surfaces including; door handles, food packaging, cosmetics, medical equipment etc. To reap the full benefits of our antimicrobial finish pair it with the right material for the job. If you'd like a water-resistant antimicrobial label make sure to choose a material that has those properties such as plastic, clear and cream-textured.
Our finish is also chemical resistant meaning you can wipe down or spray cleaning chemicals onto it without losing any protection, this is especially useful if you're using personalised labels to give you peace of mind on surfaces that are regularly touched. If you're adding this to products and surfaces that need regular cleaning and want to add an antimicrobial label as a complementary measure then rest assured that the self-cleaning antimicrobial label is able to withstand cleaning chemicals and maintain its protective properties..
Don't want to create personalised or custom antimicrobial labels but would rather cover buttons, door handles and screens in something that won't be seen? Avery's antimicrobial film may be better suited to your needs. These clear sheets come in packs and can be cut to size to suit any size requirements.