Quick and easy personalised father's day gifts
How to create homemade father's day gifts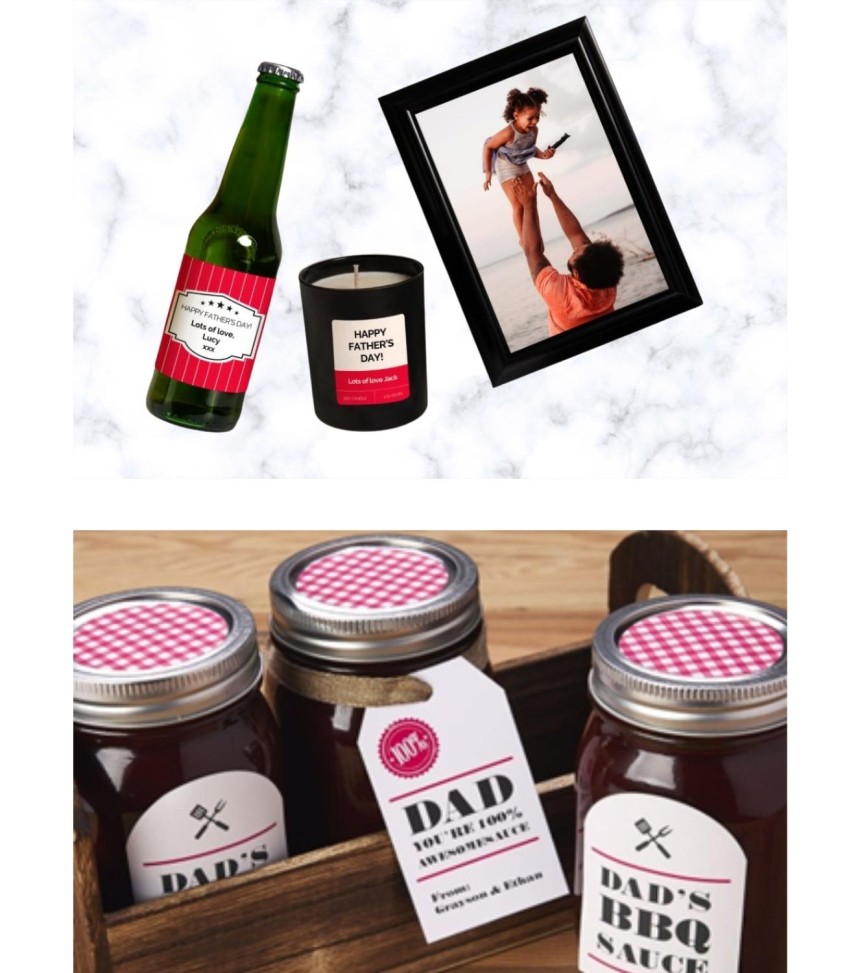 Searching for the best Father's Day gift? Don't worry, we've collated some brilliant Father's Day gift ideas for dad that you can easily make at home.
First of all, let's establish: When is Father's Day?! In the UK, Father's Day is always held on the 3rd Sunday of June. So, if you've still got time to get creative, let's highlight some gift ideas that you can make look great using Avery free templates and our Design & Print software.
The fastest way to reach a dad's heart is through his stomach and a great way to show that you care is by gifting him some of his favourite drinks and treats. You can easily add some extra flavour to Father's Day gifts with customised labels, stickers, tags and cards that look professionally printed.
Select a jar of his favourite sauce and change the label just for him. Our Arched labels look really nice – and if you choose a vinyl or plastic material, they will stay looking great even after sauce has dripped all over them!

The same goes for personalised labels on bottles of his favourite tipple. By using a waterproof, plastic or vinyl label material will ensure your customised beer labels will stay perfect while chilled in the fridge or no matter how wet they get.
You can discover more about all the different label material Avery offer on our dedicated Label Material Guide
You can purchase Bottle and Jar labels that you can print yourself:

Homemade Goodies with Personalised Touch
If you are handy in the kitchen, why not make Dad's favourite treat extra sweet with a personalised message? Select a template from our Father's Day Gallery and customise it for your dad. You can use our predesigns on any Avery label or card, whether you are printing yourself or asking us to print for you. A personalised touch makes a world of difference and goes perfectly with a delicious plate of muffins or brownies.

Add a Personal Touch to Any Father's Day Gift
While something handcrafted or home-cooked is always nice, sometimes the right gift for him will be something that only money can buy. For example, does your dad love to spend time at the driving range? Pair some brand new golf balls with a sincere message or dad pun to really drive home how much you care. That extra effort is all it takes to turn a Father's Day present into a story he tells his friends for years.

If you already have an idea for the perfect Father's Day gift, printable greeting cards or using our card products as bag tags are a fast and affordable way to take your present up a notch. Choose from one of our many Father's Day templates including all of the designs shown here.
If you want to make sure that your jar labels, gift tags and cards look their best, you can also have us print your design for you through our WePrint printing service. Our expert team of printers will make sure that your labels and cards are printed at the highest quality with perfect alignment.
Free Avery Design and Print Template Software
It's easy to design and print on your Avery products using our free template software; Avery Design & Print. Our online label designing software offers thousands of pre-design templates for you to choose from or you can start your own design from scratch using blank templates.
FREE Father's Day Label Design Templates
Here are the Father's Day design templates we have featured in this blog. If you want to replicate the ideas you see here, click the design you'd like to use - this will open our Design & Print template software. You can then choose which Avery product you would like to apply the design to.
Product Recommendations
Here are some other Avery Products that can help you make Father's Day extra Special: