Side Hustle (Part I) - Make Money Fast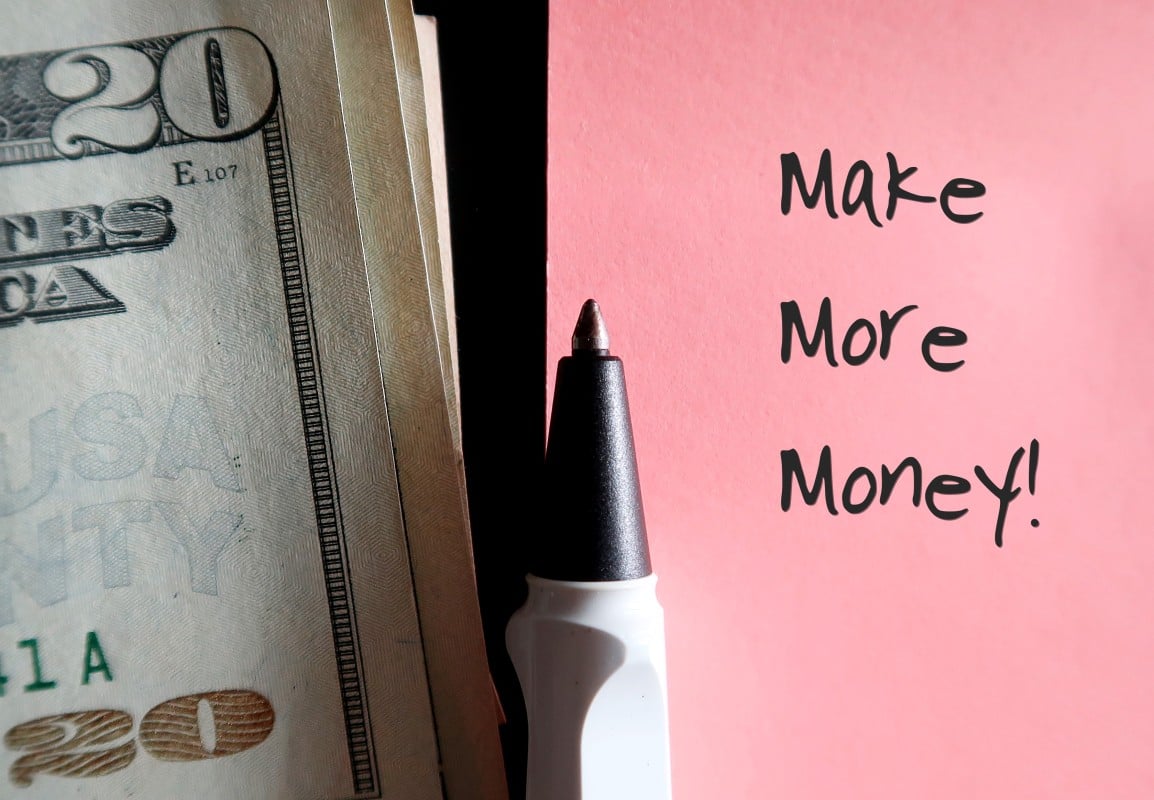 With all of us facing rising costs from utilities to food, to fuel and mortgage rates – it is fair to say it is a worrying time! Many of us have probably laid in bed staring into space think "how can I make money fast?"
The good news, you are not alone, we have thought about this and millions others too – so you're in good company.
Here are some ways to help you make money fast in the UK. Whilst not an exhaustive list, these are all sure fire ways to help you make a bit more money quickly and are quick to action. It is worth noting that if you are seriously concerned about your financial position you should contact a professional body who can help you, we'll provide details of some of these below too.
#1 Have a clear out
Not only is it therapeutic to de-clutter, you'll also be amazed at how much you can make from selling old items rather than taking them to the tip or charity shop. There has never been a better time to list and sell used items, with so many platforms allowing you to sell to millions of users across the world. Below we will give you some pointers and places we recommend trying depending on which items you have.
So you've identified some items you don't need, take a breath, boil the kettle and have a cup of tea and think of how much money you'll make after the next step! We'll now look at the best way to advertise and sell these.
Electronics, mobiles, games consoles and games
Normally these are high value items which command a healthy resale price. We recommend eBay as the perfect place for selling these sorts of items. It is great for sellers as listing is easy, you can even choose which auction style will work best for your item. For the highest price possible try a 'Buy It Now' listing with 'accepts offers', this allows sellers to offer negotiate with you.
Furniture and bulky items
Bulky items like furniture can be a pain to sell - but definitely worth it. How do you ship a chest of drawers or big wardrobe? Truth is you probably don't want to concern yourself with this and buyers on conventional platforms probably won't too. Instead list locally. We love Facebook Marketplace for listing big bulky items. Simply take a photo, add a few details and list! You can even share to local groups to boost the chance of someone getting in touch.
The best part? Listing on Marketplace is FREE!!!
Clothing & shoes
So you've rummaged through your wardrobe and got a bag of old jeans you never wear, t-shirts which are too small. These can be worth selling. Jeans on average are selling for £xx on eBay with designers jeans selling for much more. Our top pick for selling clothing items is Vinted. Simply download the app, and list for free – you'll be amazed at what you can sell!
Top Tip: UK retailer H&M also pay you for taking your old clothes and fabric goods to store. Take your bag into store, take it to the cash desk, they weigh it and give you a voucher for money off your new clothes. We love this, because it recycles old clothes and also gives you a reward – everyone's happy (including the planet 🌎).
#2 Switching
What do we mean by this? Suppliers often offer rewards and cashback for switching to them. From mobile phones to utility providers to banks. It can be lucrative to check what deals are available and how they can help put some extra cash in your pocket.  Example, www.Nationwide.co.uk are currently offering £200 cashback when you switch your banking to them. It is quick and easy to do this using the switch service.
Top Tip: We love moneysavingexpert.com as they always give really good advice and up to date deals available.
#3 Get rewarded on essential purchases
Being savvy with how you pay for essential purchases like food shops and filling your car up can be made a little less painful if you have a payment method which gives you cashback.
Some credit cards will reward you for spending money on the card. Obviously check the small print and pay amount in full each month, but this can be a great way to get a bit more money.
The American Express Rewards Gold Card currently has 30,000 points available when you spend £3,000 in the first 3 months – this is worth £150 in vouchers which can be redeemed with multiple retailers and services. Okay, okay, we know that is a lot of money to spend, but don't worry. Even without this deal for every £1 you spend on the card, you get 1 point. 1 point is worth 0.5p in vouchers. So spend £100 on your food shop and petrol and get 50p in Rewards. Doesn't sound like much right? Do this every week and you've earnt £26 in Rewards for spending what you needed to anyway. Rewards can be redeemed at loads of places including Amazon, Boots, Currys.
Visit www.americanexpress.com/uk/credit-cards for more info.
Best non-Amex Reward Card
The Nectar Rewards Card has an offer of 8,000 points when you spend £400 in Sainsbury's, Argos, Habitat or TU Clothing in the first 2 months. This is worth £40. Again, don't worry if you aren't likely to spend that in the first two months. Similar to the card above, you get appoints for each £1 you spend. If you spend £1 in Sainbury's or Argos  you get 2 points OR 1 point for every £5 of spend elsewhere. 
Visit www.sainsburysbank.co.uk/credit-cards/nectar-reward for more info.
Top Tips:
How to use a cashback credit card effectively
With a cashback credit card, there are a few things to bear in mind to make sure you use them effectively. We've set out the golden rules below.
1. Avoid borrowing
Cashback credit cards are a rewarding tool if you only use them to spend money you actually have like you would with a debit card.
They're generally not very good for borrowing, with few cards offering competitive 0% deals.
If you're already paying interest on credit card debt, it's worth considering a 0% balance transfer card, or if you want to spread the cost of a new purchase try a 0% purchase card.
2. Pay off the balance in full every month
It's important to make sure you pay off the balance of your cashback credit card in full every month otherwise the interest could outweigh the rewards.
With this in mind, we recommend you set up a direct debit to clear your balance each month so you don't forget.
3. Maximise your cashback with everyday spending
To get the most out of your cashback credit card you should try to use it as much as possible.
The best cashback credit cards reward you every time you make a purchase, so it makes sense to use them instead of cash or debit cards whenever you can.
#4 Work
So kind of a 3 for the price of 1 here, so bear with us.
Pay rise
If you are working currently and feel that you are due a pay rise and can back up your ask with hard facts and really demonstrate your value – do it! For sure it is hard to approach this, but also hard for the employer to say no. As the old saying goes, if you don't ask, you don't get.
Negotiate
With travel costs rising significantly in recent years, each time you catch the bus or train to the office or fill the car up to get you to and from the office you are paying more than you should be. With more employers adopting more flexibility, this offers a great way to get more money without earning a penny more.
Approach your employer and ask about their hybrid working policy. Below shows the potential cost savings based on the average commute. Clearly you can see the potential cost savings illustrated below if you can start working from home regularly.  

Why we love this? It doesn't cost your employer anything! It saves you a ton of money, meaning that you earn more and the best bit, you get more time in the day to be productive. More time to take up a new hobby (more on that later), more time with family and friends, more time for you!
Second job
Work a second job to suit your time table. There are so many opportunities to earn more money from a second job now. Home deliveries for groceries have gone through the roof, so delivery drivers are always needed and with flexible hours available, this is a great option to get a boost for your income.
We could spend a long, long time going through every option here, but instead here a great link for you do more research. One thing is for sure, with the emergence of rapid delivery companies like Deliveroo, Uber Eats, Amazon there will always be the option to earn a little more.
#5 Start a side hustle
So we eluded to this earlier, with your new found time from spending fewer hours a day commuting, you have the perfect opportunity to learn a new skill, or perfect one you've already started. Hobbies are great for our mental health, they help us relax, they help us stave of boredom but do we ever think they can help us make more money? We think not, but why not?
Why not start a side hustle from your hobby or something you love?
Start small, not every product will go on to make millions, but there will be a buyer out there for you and your product, we promise you.
How do you start? Test products on friends and family first, do they have feedback, would they use/buy product? Once ready, look for a local craft fair or car boot sale, this is a great way to start selling on a small scale with people looking for individual and unique items.
Want to reach more people or don't want to sell face to face? Platforms like Etsy and Not On The High Street are perfect for testing the market and selling your wares. Many users sell small handmade products on these platforms to a wide audience. Individual, thoughtful and handmade pieces are trending right now. Who doesn't love receiving something thoughtful that can't be bought in a mainstream store. These platforms have millions of active customers browsing just looking for a product like yours!!!
10 products to make and sell:
Candles
Jam
Honey
Beer
Fudge
Cakes
Soap
Wax melts
Craft kits
 
On top of actually making a product and selling it, what if you hobby is less product orientated. Start videoing it. You'll be amazed at how many people have a similar interest and will view your content. Youtube, TikTok and other content sharing platforms offer a huge audience who may watch you doing what you love. You can even get paid for it…
10 hobbies to try:
Woodwork
Baking
Drawing
Photography
Knitting/Sewing
Soap making
Cooking
Gaming
DIY