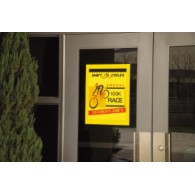 Create a Self-Laminating Adhesive Sign Using the Avery® Wizard

Create your own Avery® Self-Laminating signs to place on doors, windows and cupboards to allow you to create instructions or warning signs. If you need a standard design for your label look through our pre-designed templates without the need to download any software onto your PC.
Instructions:
After you've completed your download, open up Microsoft Word and click on the Avery icon in the tool bar. Navigate to the product selection screen and enter the product number or description of your self-laminated signs, then click on the
Search
button. Choose your product from the list, then click
Next
.
Instructions:
Now you've selected the right template for your product, you can get down to the design work! Simply use the unique design features within the Avery Wizard to create the perfect design for your sign. You can add text logos and images, change fonts and colours - perfect for everyone to use! One you're happy with your design, click on the
Finish
button to print preview.
Instructions:
When you have completed any changes or adjustments you want to make, go to
File
and
Print
. Ensure that your printer is on manual feed before printing onto your self-laminating sign.
Instructions:
When your sign is printed, peel off the backing strip and apply to where you need it. And hey-presto! A perfectly professional sign, designed by you!
For further assistance with using this guide, please
email us
or call our Consumer Information team on 0800 80 50 20.