Comic Relief 2015
Avery UK is very pleased to have Comic Relief as the Avery Rewards chosen charity of the quarter.
Comic Relief is a major charity based in the UK, with a vision of a just world, free from poverty.
Since they first set up shop in 1985, they've been doing three main things… They raise millions of pounds, mainly through their two big fundraising campaigns: Red Nose Day and Sport Relief; they spend the money raised to tackle the root causes of poverty and social injustice in the UK and across the world; they use their power and influence to raise awareness of issues where they feel they can make the biggest impact.
To see how you can raise money and get some fun ideas for fund raising visit comicrelief.com.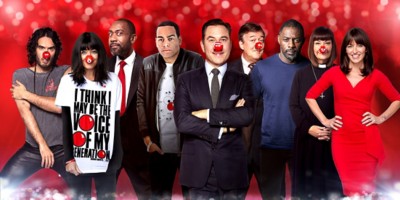 This quarter you can choose to donate your Avery Rewards codes to Comic Relief.  Visit www.averyrewards.co.uk to find out how.
The team at Avery are holding their own fund raising events in the build up to Comic Relief.  Hopefully these simple, but enjoyable events will give you some inspiration on how you can raise some money whilst having fun in your office, school, club or at home.
Make a face funny for money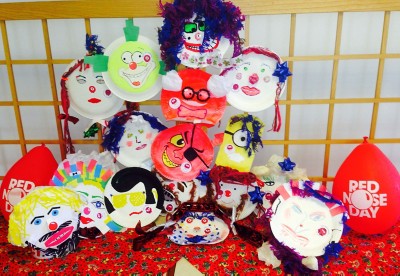 The team bought in materials to decorate paper plates.  All entrants submitted £1 to take part and Avery offered an incentive prize to the most imaginative (not best!) design. The creative and competitive juices were flowing in the room.
Wear your Onesie to work day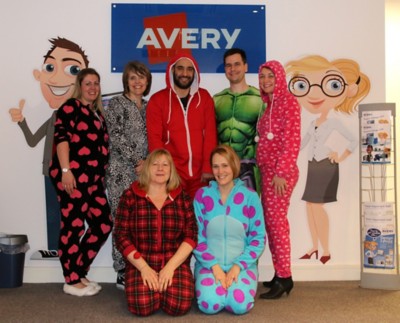 Tuesday was the wear your onesie to work day.  Some went even further and settled down to a very comfy day by bringing their slippers.  A prize was given to the best dressed person.  All those not taking part were asked to donate £2 to Comic Relief. 
Mystery Thursday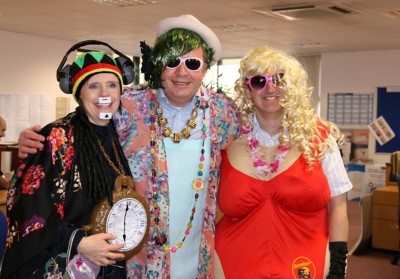 Thursday, the Avery Team decided it was a mystery day as we wanted to keep it secret from everyone until today. We paid £1 per person to dress up the managers in outrageous costumes. Once they were dressed up they had to parade around the office catwalk. We awarded the funniest with a bottle of wine (and kept some extra images for future bribes!)

The Great Avery Bake Off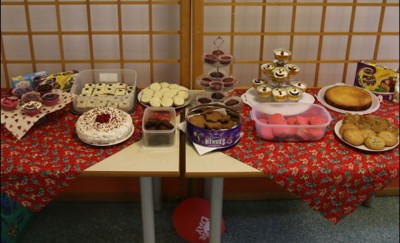 Over the weekend the Avery team were baking cakes which were judged purely on presentation and a ittle bit on taste. Judging was done by everybody in the office with red nose stickers being applied to the cakes that peopled liked the most. Everyone seemed happy to partake in the tasting and donating and it seemed to cheer up everyone's Monday morning!

The Red Nose Quiz
Thursday the whole Avery office participated in a fun, but sometimes challenging Red Nose Day Quiz with a £1 entry fee. We all racked our brains but at the end had one clear winner who won a nice bottle of wine.

Red Nose Day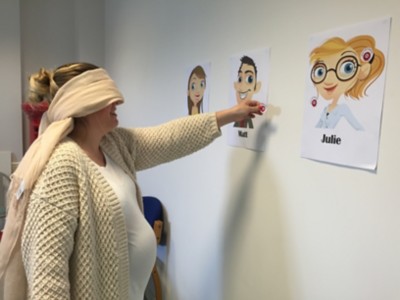 The final day of activities from the Avery team saw them sticking red noses onto the Avery Characters for £1 a go. The stickers were placed more on the wall than the character, although we did have a winner who actually managed to stick it on the nose. A simple bit of fun but a great way to raise some money for such a great cause.

As well as all the activities here in the office we set up a Comic Relief tuck shop where we had red noses, wristbands and treats to purchase for a donation.