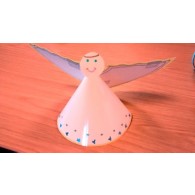 Create Your Own Christmas Angel

You can use Avery® products in a variety of ways. Here we show you how to convert an Avery round Write & Wipe sheet into a perfect Christmas Angel. The added bonus of using Avery Write & Wipe as the foundation of your angel is that you can decorate it using dry erase pens, then simply wipe it off and start again.
Instructions:
In the middle of your circle draw a smaller circle, and from that circle draw a vertical line to the outside of the larger circle. Then draw 2 more lines, to the left and right of the smaller circle as shown.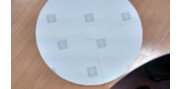 Instructions:
Cut all the lines and around the smaller circle,  but leave a little uncut at  the bottom of the circle, because it is the neck of the angel.
Instructions:
Decorate your angel as you desire. I have decided to cut the edge of the wings so they have a wavy effect and used gold and silver pens….glitter would also be a nice touch.
Instructions:
Twist the wings and insert each half through the cuts you made either side of the smaller circle, like an X.
Instructions:
You have your finished angel, which will sit perfectly on top of your Christmas tree