Halloween Party Invites
Halloween house parties are definitely on the rise in the UK so why not go all out and make your party something to remember for many more Halloween's to come?
It's the attention to detail that really makes a party stand out and Halloween is a great theme in itself but you can also have specific Halloween themes such as Zombie Apocalypse, Vampires versus Werewolves or even a good old Witches Coven, which can easily be applied to all aspects of the party. I've chosen a Zombie theme for my Halloween get-together and used Avery products to really bring my theme to life. (Or should I say back from the dead?) All you need is a printer, a computer or tablet and an imagination!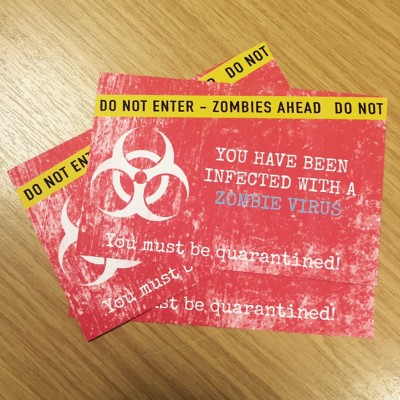 So where do you start? As Halloween can be a hot date for a party it's best to get the invites sorted first so that people can make sure they reserve the date for your party. It's easier these days to send out an email or a request on social media however these can easily be forgotten about or deleted so why not give your party goers a stand-out invite. These will not only create interest for your party but they are also more likely to be placed in view (such as stuck to the fridge or tucked into a diary) so that your guests don't double book themselves.
A great way to create quick and easy Halloween party invites is to use Avery's
double-sided postcards
. These are great invite-size cards that can be printed at home and, what's even better, Avery has free Halloween templates available in their
Design & Print
software to help you get these created in no time.
Simply go to the
Halloween Gallery
, pick the design you fancy and click on it. It will then take you straight into the free-to-use
Design & Print software
for you to apply the design to the product. From there you can add in your details (make sure you use as many Halloween puns as you can to emphasize the theme) and then you're ready to print!
*Handy tip*
– if your printer cannot print double sided then all you need to do it set it to print page one for the front of the cards and then you can turn the card over and print page two on the back of the cards.
Hand these out to your friends and you'll have acceptances for your party in no time!